Todays Opening Hours
Tuesday : 9:00-5:00
closed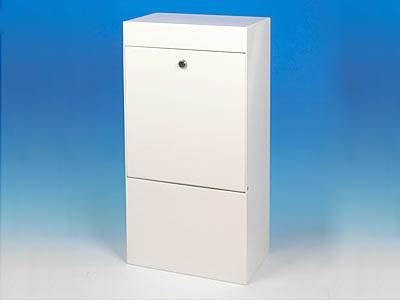 Mail Boxes, Letter Boxes and Post Boxes from Simply Postboxes
Simply Postboxes is one of the UKs leading suppliers of one of the most comprehensive ranges of postboxes around.

With over 5 years of experience in the supply of postboxes for all types of applications we are simply `The Postbox Specialists`.

When you talk to us about your postbox requirements you just know you're speaking to the experts.

So whether itís for commercial applications, residential use or if you're an architect looking for technical information about any of our letterboxes please get in touch.

With one of the largest ranges of letter boxes for sale it would be impossible to list them all, however just below is a summary of some of our more popular items:
Outside Postboxes
Simply Postboxes is able to supply a vast choice of elegant outside postboxes that provide the perfect solution for all of your postal collection needs while at the same time blending in with your surroundings.

We have over a dozen styles to choose from including residence post boxes, compact post boxes, nature post boxes and master post boxes so to find out more why not visit our online shop.
Wall Mounted Letter Boxes
We supply a great range of wall mounted post boxes to cover almost every application including fixed depth wall mounted post boxes, contemporary wall mounted letter boxes and reverse mounted letter boxes so why not take a look at our website for more details.
Large Post Boxes
With one of the largest range of post boxes for sale Simply Postboxes is able to supply every possible post box in order to meet your exact requirements. Itís always important when choosing a post box to consider exactly how much mail you will be having delivered each day.

Our large capacity post box range are superb value for money and also extremely popular. Available in a wide range of styles, colours and designs our large post boxes provide that extra volume required and also make it more difficult to have your post stolen.
Wooden Post Box
If itís a wooden post box you're after then look no further.

We offer one of the largest ranges of wooden postboxes around all of which have been designed to fit perfectly into your surroundings so please take a look around our website for more detailed information.
Stainless Steel Letterboxes
If you would like to give your home a modern and sophisticated feel then why not take a look at the wide range of stainless steel letterboxes we have on offer.

All of our stainless steel letterboxes are robust, durable, fully weather resistant and will not rust particularly in coastal areas.
Anti-Arson Letterboxes
Arson attacks are one of the largest fire risks for both homes and businesses!

Protect your home against arson attack with one of our anti-arson mailboxes or our MAILGUARD post catcher which have been designed to catch burning liquid and extinguish shortly after detection.

For more information about our anti-arson post boxes please call us.
Multiple Letterboxes
Simply Postboxes have a large range of multiple letterboxes which can be used for all types of applications including vertical front, horizontal, in front out back and in front out front so please get in touch for more information.
Budget Post Boxes
Our budget post box range is extensive and varied with products starting from as little as £14 plus vat with next day delivery.

A budget post box provides the perfect solution for the safety and collection of your daily postal delivery so why not get in touch with Simply Postboxes to find out more.
Areas
Aberdeen
Andover
Ashford
Avon
Aylesbury
Banbury
Bangor
Basingstoke
Bath
Beaconsfield
Bedford
Bedfordshire
Belfast
Berkshire
Birmingham
Bishops Stortford
Borders
Bournemouth
Bracknell
Bradford
Bridgend
Brighton
Brighton and Hove
Bristol
Buckinghamshire
Camberley
Cambridge
Cambridgeshire
Canterbury
Canterbury
Cardiff
Carlisle
Central
Chelmsford
Cheltenham
Cheshire
Chester
Chichester
City of London
Cleveland
Clwyd
Colchester
Cornwall
Coventry
Crawley
Cumbria
Derby
Derbyshire
Devon
Dorchester
Dorset
Dover
Dumfries and Galloway
Dundee
Durham
Durham
Dyfed
East Sussex
Edinburgh

Ely
Essex
Exeter
Exeter
Fife
Folkestone
Glasgow
Gloucester
Gloucestershire
Grampian
Greater Manchester
Guildford
Gwent
Gwynedd County
Hampshire
Hemel Hempstead
Henley
Henley-on-Thames
Hereford
Herefordshire
Hertford
Hertfordshire
High Wycombe
Highlands and Islands
Humberside
Inverness
Ipswich
Isle of Wight
Kent
Kingston upon Hull
Lancashire
Lancaster
Leeds
Leicester
Leicestershire
Lichfield
Lincoln
Lincolnshire
Lisbon
Liverpool
London
Lothian
Luton
Maidenhead
Maidstone
Manchester
Merseyside
Mid Glamorgan
Milton Keynes
Newbury
Newcastle upon Tyne
Newport
Newry
Norfolk
North Yorkshire
Northampton
Northamptonshire
Northumberland
Norwich

Nottingham
Nottinghamshire
Oxford
Oxfordshire
Peterborough
Plymouth
Poole
Portsmouth
Powys
Preston
Reading
Reigate
Ripon
Rutland
Salford
Salisbury
Sheffield
Shropshire
Slough
Somerset
South Glamorgan
South Yorkshire
Southampton
St Albans
St David's
Staffordshire
Staines
Stirling
Stoke-on-Trent
Strathclyde
Suffolk
Sunderland
Surrey
Swansea
Swindon
Taunton
Tayside
Telford
Truro
Tyne and Wear
Wakefield
Warwickshire
Watford
West Glamorgan
West Midlands
West Sussex
West Yorkshire
Westminster
Weymouth
Wiltshire
Winchester
Windsor
Wolverhampton
Worcester
Worcestershire
Wrexham
Yeovil
York
www.simplypostboxes.co.uk
Related Products and Services
Commercial Anti-Arson White Post Box

Wall Mounted Post Box

Large Capacity Letter Boxes For Sale

Behind the Door Postboxes

Elegant Wall Mounted Letter Boxes

Stainless Steel Postboxes

Illuminated Postboxes

Mailroom Post boxes

BKS Mail System 6 units

Double Access Post Boxes

Outside Post Box

Through The Wall

Wedding Post Boxes

Parcel Safe Drop Box

Plastic Post Boxes

Anti-corrosive Post Boxes

Postbox & Newspaper Sets

US American Style Post Boxes for Sale

Letter Cages

Newspaper Holders

Ashbins

0

stars based on

0

customer reviews
Write a review
Key Contacts

Steve Farrin
Sales Manager
Tel: 0800 0988777
Email: sales

simplypostboxes.co.uk
Payment Methods
Visa
Visa Debit
MasterCard
Paypal
Maestro
Opening Hours
| | |
| --- | --- |
| Monday | - 9:00 to 5:00 |
| Tuesday | - 9:00 to 5:00 |
| Wednesday | - 9:00 to 5:00 |
| Thursday | - 9:00 to 5:00 |
| Friday | - 9:00 to 5:00 |
| Saturday | - 10:00 to 2:00 |
| Sunday | - Closed |