Todays Opening Hours
Monday : 9:00-5:00
Open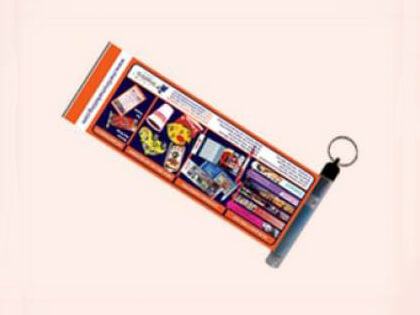 Welcome to Merlins Marketing Ltd

Incorporated several years ago, Merlins Marketing Limited is the marketing arm created from a strong pedigree of companies including Elegant Greeting Cards which was first first established in 1969 and is still trading today some 48 years later.

Merlins Marketing Limited are committed to offer you, our discerning customer, some of the hottest promotional/marketing products available today.

Promotional Nail Files

IT'S NOT JUST NAIL FILES - IT'S ADVERTISING!! - THE PERFECT PROMOTIONAL GIFT FOR WOMEN.

Number One for 2017 is our genuine salon quality branded nail file. Each nail file is supplied with your logo, pictures or in fact virtually any design you may care to include printed in full colour on one side or two. And now for 2017 we are delighted to introduce our "Mirror File". Again, one side is a genuine salon quality nail file printed in full colour whilst the other side is a genuine mirror. This really is going to be one of the must have promotional products for 2017.

Promotional Air Fresheners

IT'S NOT JUST AIR FRESHENERS - IT'S ADVERTISING FOR THE WHOLE WORLD TO SEE!!

Custom designed air fresheners are the perfect 'giveaway' - appreciated by the end user, your client will also benefit from having their 'advert' placed in such a premium position, hanging from the rear view mirror. With over 700 stock shapes and 24 scents to choose from; and printed on one side or two with one colour to full colour, we can make your air freshener as personal as you wish.

Banner Keyrings

Looking for a great pen which allows you to say as much as you like – then look no further as our BANNER MESSAGE PENS are just what you are looking for. Each banner pen incorporates an 18cm x 7cm pull-out banner printed in full colour on both sides of the banner pen and at no extra cost. Imagine just what you can include - adverts, important messages, calendars, maps, photographs of your product range, pharmaceutical information - the possibilities are endless. Our range of Banner pens includes both transparent bodies and silver bodies which can also be printed with your information on it. Even the clip of the Banner Pen can incorporate your name etc.

..• ECO friendly - made from recycled plastic
..• LOW minimum quantity - only 1000 units
..• FAST turnaround; Choose from yellow, black or white caps.
..• (Other pantone matched colours available at extra cost)
..• FREE set-up
..• FREE delivery to one UK address
..• LOW PRICES:
..• Each key ring incorporates 17cm x 7cm pull-out banner printed in full colour on both sides
..• Origination to be supplied as per our technical specifications - Adobe Illustrator
..• Delivery on standard quantity orders is 18 - 20 working days from artwork sign off.

Image Showcase (mouse over images to enlarge)

Letest News

We at Merlins Marketing Limited would like to update you with our latest news.

We are very excited about the launch of our latest products. At the same time we have some great news regarding our Banner Message Pens.

FIRST THE NEW PRODUCTS:

LED COMPACT MIRRORS:
Have a look at our LED Compact Mirror
Available in a variety of colours and branded with your logo etc.
Minimum quantity only 1000 units.

NAIL FILE NEWS:
Following on from the success of our 3.5in nail file Keyrings, we have now launched our Rectangular Nail File Keyring. Same genuine salon quality nail file but with a larger area on which to put your full colour designs . (Size 85mm x 35mm). Our Rectangle Keyrings further compliments our complete range including 7in and 3.5in nail files; 7in and 3.5in Mirror Nail Files; 7in and 3.5in Buffer Nail Files. Credit Card Size and Rectangle Size Mirror Nail Files.

Please remember that all our nail files are genuine salon quality and printed in full colour to your requirement. With minimum orders of only 120 units, our range is second to none.

BANNER MESSAGE PENS:
Not only do we pride ourselves with our market leading service, price and lead-time (don't forget we GUARANTEE to beat any genuine quote for a similar product) but we are now offering even better value. When you order our Banner Message Pens (minimum quantity only 500 units) you can now have a one colour print on either the barrel (solid colour barrel pens only) or the clip absolutely FREE OF CHARGE. When you combine this great extra value offer with our 20 day lead-time and our Genuine Price Guarantee, you can see why we are the only place to come for Banner Message Pens.

Finally, please feel free to contact us should you require prices, free samples or further information on any of our great products.

Contact us now for more details.
Related Products and Services
Banner Keyrings

Hand Held Roller Banner

Nail Files

Banner Message Pen with Torch

Banner Pens

Locking Banner Pens

Luggage Tags

Flashing LED Fans

Air Fresheners

Matchbook Nail Files

Rotating Message Pens

5in1 Highlighter Pens

0

stars based on

0

customer reviews
Write a review
Opening Hours
| | |
| --- | --- |
| Monday | - 09:00 to 17:00 |
| Tuesday | - 09:00 to 17:00 |
| Wednesday | - 09:00 to 17:00 |
| Thursday | - 09:00 to 17:00 |
| Friday | - 09:00 to 17:00 |
| Saturday | - Closed |
| Sunday | - Closed |