Todays Opening Hours
Tuesday : 8:00-5:00
Open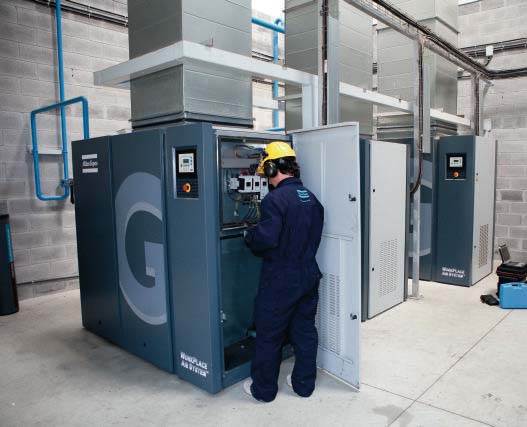 Pneumatic & Hydraulic Equipment Manufacturers

Welcome to Control Gear Group Ltd we are leading manufacturers & suppliers of Pneumatic and Hydraulic Equipment, Atlas Copco Spares and Parts. Control Gear was established in 1973 giving us many years of experience within the industry.


We offer "The Total Industrial Solution" with our service capabilities and products completely unrivalled.

Compressor Servicing (Spares and Parts)

In today's industries there is often a requirement for a reliable supply of high quality compressed air. Control Gear are proud to be associated with Atlas Copco who are the worlds leading manufacturer of control gear and compressed air equipment. We stock a wide range of Atlas Copco Spares and Parts, supply compressors and also provide Air Compressor Repairs. From the smallest to the largest, we will have a solution for you.

Automation (Pneumatic Equipment Suppliers)

Many industrial process are automated with pneumatics becoming one of the best methods of control. Control Gear are leading Pneumatic Equipment Suppliers with our product range including; Fittings, Valves (all types), Pipes, Tube, Pumps, Spray Equipment, Power Tools, Assembly Tools, Grinders, Ait Motors, Hoists, Abrasives, Engineering Supplies and much more. To view our full product range please visit our website now.

Hydraulics (Hydraulic Equipment Manufacturers)

Our Hydraulics division based in south Wales has become the leading manufacturer, supplier & service provider of Fluid Power Equipment. As manufacturers we ensure we have every product to suit the needs of each customer. Whatever your requirements may be, Control Gear will have the Hydraulics for you. We have been awarded the HTC Status in Wales and are partners with The Parker Group.

Filtration (Air Filter Distributors)

As part of our diverse product range we are also Air Filter Distributors with over 20 years experience in filtration. We offer one of the most comprehensive product ranges for Filtration products and services. Some of the Filtration products we offer are as follows; Ambient Air Filters, Water Filters, Sand Filters, Air Filters, Absorption Dryers, Separators, Duplex Strainers and more. Visit our website for our full product range.

Working With Leading Companies

www.controlgear.net
Related Products and Services
Compressor Installation and Compressor Service

Compressed Air Installations & turnkey projects

24 hour call out Service and repair

Skydrol Test Rig 047

Complete System Design and Build

Aeroshell 41 Hydraulic Test Rig

Hydraulic Swivel Joints

Steel Plated Plugs

Pneumatic Quick Release Couplings

Pneumatic and Vacuum Equipment

316 Stainless Steel Couplings

Push-in Non-return Valves

5

stars based on

5

customer reviews
Write a review
By Andy Riddick ,
Hi Paul/Mike, the bid analysis process has now been completed, and I am pleased to tell you that your bid has been successful. In addition to the installed cost and service package you were able to offer, your attitude, knowledge and patience played a large part in the decision making process, and you should be congratulated for that, so thank you.
Was this review useful?


By Andrew ,
Thank you for your excellent service and support over the last year. You have helped us out here in the Power Plant so many times I have lost count. You have always gone the extra mile when we needed it. We really appreciate your support.
Was this review useful?


By Paul ,
I would like to take the time to thank your engineer for the service and standard of his visit yesterday to the call out to the FCC vehicle at Briton Ferry. I am sure that like most service providers most of the feedback you receive is not always positive, but I feel that the service which we were shown yesterday from both the branch telephone reception to the engineer was very good and therefore wish to inform you of this. Many thanks again for the high service levels demonstrated yesterday.
Was this review useful?


By Sean O'Brien ,
Please pass on my thanks to Graham and Richard for the installation work completed on Saturday. Both engineers were working flat out all day ensuring that the installation was finished and that the department was once again ready for production on time.
Was this review useful?


By Jeff Wallace , Interfit
I have used Control Gear for over 20 Years and I have been very happy with the Products or Services they have provided.
Was this review useful?


Key Contacts

Mr . Gareth Bevan
Director
Tel: 01443 843126
Email: gbevan

control-gear.com

Mrs . Ceri Davies
Health and Safety Manager
Tel: 01443 843126
Email: cdavies

control-gear.com

Mr . Mike Morris
Service Director
Tel: 01443 843126
Email: mmorris

control-gear.com

Mr . David Robbins
Internal Sales Manager
Tel: 01443 843126
Email: sales

control-gear.com

Mr . Chris Morris
sales Director
Tel: 01443 843126
Email: cmorris

control-gear.com

Mrs . Sian Holder
Purchase Ledger
Tel: 01443 843126
Email: sholder

control-gear.com
Payment Methods
Visa
Cash
Visa Debit
Cheque
BACS
Online Bill Payments
Paypal
Direct Debit
Postal Orders
Payment Terms
Pro-Forma
15 days
30 days
Opening Hours
| | |
| --- | --- |
| Monday | - 8:00 to 5:00 |
| Tuesday | - 8:00 to 5:00 |
| Wednesday | - 8:00 to 5:00 |
| Thursday | - 8:00 to 5:00 |
| Friday | - 8:00 to 5:00 |
| Saturday | - Closed |
| Sunday | - Closed |