Todays Opening Hours
Wednesday : 8:30-5:00
closed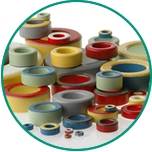 Magnetic Components at Very Competitive Prices
Power Magnetics supplies a competitive range of magnetic components to the coil winding industry both in the UK and Europe.

From an up to date facility based in Buckingham, England, Power Magnetics is able to stock a vast range of products from some of the industry's leading manufacturers some of which include:

...• Micrometals
...• Arnold
...• Furukawa
...• Cosmos Ferrites
...• NORWE
...• Lodestone
...• Tomita
...• Hitachi
...• Magnetec

Power Magnetics offers technical support and friendly advice to all customers whether designers, end users or sub-contractors and will do our level best to source an `equivalent` product in the event of us not exactly matching your needs.

As a leading distributor for Furukawa we not only supply triple insulated (Tex) winding wires but can also provide a de-reeling service for customers requiring smaller quantities of wire so do not hesitate to contact us with your requirements.

To download our Brochure Click Here
Products & Services
Iron & Alloy Powder Cores
Power Magnetics offers a wide range of powder core product types including Iron Powder, Super MSS, Hi-Flux, Molypermalloy and Iron Silicone (Fe-Si).

More information and technical data of all products may be found on our website.

To download our powder core brochure Click Here
Ferrites
We supply a wide range of ferrite cores to cover most applications including:

...• E Cores
...• RM Cores
...• ETD Cores
...• PQ Cores
...• U Cores
...• Toroid's
...• Large & Small Bobbing Cores
...• Rods
...• Fair-Rite Beads

To view our Ferrites Brochure Click Here
To view our Materials Cross Reference Chart Click Here
Triple Insulated Wire
The range of Furukawa triple insulated wire meets all of the leading international safety codes and allows transformers to be manufactured to meet safety isolation standards without margin and tape requirements.

TEX –E wire is acknowledged as a leader in the design of transformers and offers significant advantages over other varieties of wire. We hold large stocks of TEX wire in most sizes all of which are ready for dispatch.
Mounts & Headers
As a leading stockist and supplier for Lodestone Pacific and Plasmetex, Power Magnetics is able to offer a vast range of mounts and headers for both pin and surface mounting applications many of which are in stock with samples readily available on request.
Nanoperm Cores
Power Magnetics relationship with Magnetec means we can supply a wide range of soft magnetic cores and components to the electronics and electromechanical industries.
Bobbins & Clips
We are able to supply a vast range of bobbins and clips from NORWE whose current range of products runs to in excess of over 25,000 parts.

Types include E Cores, PQ cores, ETD Cores and RM Cores.
Gapping Service
Power Magnetics offers a full in-house gapping service for customers that purchase our ferrites so please contact us for further details about this service.
www.powermagnetics.co.uk
Related Products and Services
Micrometals Iron Powder Cores

Micrometals Powder Cores

Triple Insulated Wire

HF Hi-Flux

Mounts & Headers

Super MSS (Improved Sendust)

Coilformers

Toroid Mounts

Nanoperm

Nanocrystalline Cores

Coilformer Clips

Gapping Service
Key Contacts

Mr . Michael Morton
General Manager
Tel: 01280 817243
Email: m.morton

powermagnetics.co.uk
Opening Hours
| | |
| --- | --- |
| Monday | - 8:30 to 5:00 |
| Tuesday | - 8:30 to 5:00 |
| Wednesday | - 8:30 to 5:00 |
| Thursday | - 8:30 to 5:00 |
| Friday | - 8:30 to 3:30 |
| Saturday | - Closed |
| Sunday | - Closed |

0

stars based on

0

customer reviews
Write a review