Todays Opening Hours
Monday : 9:00-5:00
Open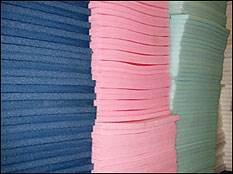 Zouch Converters is an international Foam and Adhesive Tape supplier of an extensive range of material and component products like Foam Tapes, Acoustic Foam, Foam Gaskets, Double Sided Foam Pads for bonding, sealing, joining, protecting, insulating and the control of various noise issues such as vibration, motion and mechanical shock. The company converts adhesive and non-adhesive foam tapes onto rolls, spools or precise die-cut parts. The huge array of products are manufactured for use by a wide range of market sectors including agriculture, horticulture, furniture, electrical, trunking, automotive, medical, construction, building, industrial, solar, energy, optical, commercial and retail.

Zouch Converters has clients located throughout the world who demand superior quality and high performance products. The foam materials available include neoprene, EPDM, polyethylene, EVA, polyurethane, PVC, reticulated, impregnated, silicone, cork, felt, Nitrile/PVC blend, latex, HF weldable vinyl's and flame retardant foams. The majority of the materials can be produced with a wide range of pressure sensitive adhesives such as rubber based or acrylic, permanent or temporary bonding and a vast array of carrier substrates for numerous applications. Zouch Converters offers the same flexible, efficient and reliable service for slit rolls, master logs, precise die-cut parts and spools in plain or tailored packaging.
Services
The experienced and professional team at Zouch Converters has extensive knowledge and understanding of application technology and works closely with the client to ensure an appropriate solution is found. The design team can provide prototype parts based on technical drawings and material specifications allow the team to source the best and most cost effective materials for particular applications. Zouch Converters will oversee the whole project from the initial enquiry and quotation through to manufacture and delivery. The company has worked with many renowned and innovative brands and organisations such as BMW, Kraft Foods, Triumph, Bosch, Johnson & Johnson and 3M.
Products
ZOUCHmount Series
The ZOUCHmount series is a range of high performance double-sided self-adhesive foam tapes that are specified for applications such as joining, bonding, fixing and mounting in interior and exterior situations. This range is an ideal alternative to mechanical fasteners and rivets and liquid adhesives. The foam tapes are clean and easy to use, have a long shelf life, do not require any pre-mixing, produce less waste, offer a neat finish, reduce labour requirements, do not require specialist tools or skills for application and have superior vibration dampening and shock absorption properties. ZOUCHmount double-sided bonding tapes can be fabricated in numerous formations to satisfy the requirements of each individual application.

Single-sided tapes are specified for sealing and protecting applications and include ZOUCHlen 120, ZOUCHlen 111 and ZOUCHexpandafoam BG1 and are produced in rolls, pads, logs, sheets, gaskets or any die-cut shape. One of the leading suppliers of expanding sealing tape.

Double-sided foam and adhesive tapes offer strong, versatile and effective adhesion for bonding, fixing and joining of paper, ABS, polystyrene, polycarbonate, metal, rubber, UPVC, soft PVC, polyethylene and polypropylene. UK's leading self adhesive foam tape suppliers.
Zouch eFoam Closed Cell Polyethylene Foam
Zouch eFoam products are made up of closed-cell cross-linked polyethylene foam in continuous extruded rolls or block format buns and can be used to form the simplest single density designs through to multi-density composite layers. The foams are manufactured as physically irradiation (IXPE) or chemically cross-linked (XLPE) and offer increasingly diverse market sectors with cost-effective, lightweight, high performance material options. The eFoam ranges include ethylene co-polymer, conductive and static dissipative foams and also flame retardant grade foams in various combinations of density, colour and size. eFoam has superior impact absorbing properties, is durable and non-toxic, UV resistant and thermally insulating. It is available in various forms ranging from soft and flexible to hard and resilient and is chemical and moisture resistant. All Zouch foams can be routed cleanly to produce complex shapes in any size and can be split, sawn, scoured, water jet cut, die cut, butt welded and heat laminated together to produce larger blocks. Zouch eFoam is specified for applications including:

Automotive:
Panelling, sound and heat insulation, vibration pads, seals and gaskets and anti-rattle pads

Packaging:
Case inserts, cushion packaging and display packaging

Sport and Leisure:
Mats, buoyancy aids, liners, protection padding, playground safety, seats and swimming floats

Marine:
Life jackets, lifebuoys, wetsuits, boat seat fenders and seat cushions

HVAC:
Pipe insulation, Heating and power system insulation, copper and pipe insulation of internal and external A/C units and HVAC duct work sealing tapes

Military:
Camping mats, helmet lining, padding and packaging

Footwear and Bags:
Laptop computer cases, back-packs, suitcases, leather and artificial leather lamination, Skiing boots, trekking, training and walking boots, cell phone cases, soles, bootlegs and flaps

Healthcare and Medical:
Splinting, orthopaedic aids, collars, mats, cushions, foam wedges, heel and ankle stabilisers and thermoformed materials for brace and orthotic supports

Building and Construction:
Pipe insulation, floor underlay, expansion joint fillers, frost blankets, concrete curing blankets, Eaves fillers, insulation and cold bridging tapes.
Zouch Converters is committed to delivering a wide range of superior quality products which are competitively priced. The company is motivated by the extensive client-base who utilise the products in everyday situations for a diverse range of applications. The product range undergoes continuous research and development to satisfy the ever changing requirements of the client. Zouch Converters welcomes enquiries from all industry sectors and has a vast knowledge and understanding of the product range to provide cost effective and reliable solutions regardless of the size and complexity of an application.
We Cover The Following Areas
Aberdeen
Andover
Ashford
Avon
Aylesbury
Banbury
Bangor
Basingstoke
Bath
Beaconsfield
Bedford
Bedfordshire
Belfast
Berkshire
Birmingham
Bishops Stortford
Borders
Bournemouth
Bracknell
Bradford
Bridgend
Brighton
Brighton and Hove
Bristol
Buckinghamshire
Camberley
Cambridge
Cambridgeshire
Canterbury
Canterbury
Cardiff
Carlisle
Central
Chelmsford
Cheltenham
Cheshire
Chester
Chichester
City of London
Cleveland
Clwyd
Colchester
Cornwall
Coventry
Crawley
Cumbria
Derby
Derbyshire
Devon
Dorchester
Dorset
Dover
Dumfries and Galloway
Dundee
Durham
Durham
Dyfed
East Sussex
Edinburgh

Ely
Essex
Exeter
Exeter
Fife
Folkestone
Glasgow
Gloucester
Gloucestershire
Grampian
Greater Manchester
Guildford
Gwent
Gwynedd County
Hampshire
Hemel Hempstead
Henley
Henley-on-Thames
Hereford
Herefordshire
Hertford
Hertfordshire
High Wycombe
Highlands and Islands
Humberside
Inverness
Ipswich
Isle of Wight
Kent
Kingston upon Hull
Lancashire
Lancaster
Leeds
Leicester
Leicestershire
Lichfield
Lincoln
Lincolnshire
Lisbon
Liverpool
London
Lothian
Luton
Maidenhead
Maidstone
Manchester
Merseyside
Mid Glamorgan
Milton Keynes
Newbury
Newcastle upon Tyne
Newport
Newry
Norfolk
North Yorkshire
Northampton
Northamptonshire
Northumberland
Norwich

Nottingham
Nottinghamshire
Oxford
Oxfordshire
Peterborough
Plymouth
Poole
Portsmouth
Powys
Preston
Reading
Reigate
Ripon
Rutland
Salford
Salisbury
Sheffield
Shropshire
Slough
Somerset
South Glamorgan
South Yorkshire
Southampton
St Albans
St David's
Staffordshire
Staines
Stirling
Stoke-on-Trent
Strathclyde
Suffolk
Sunderland
Surrey
Swansea
Swindon
Taunton
Tayside
Telford
Truro
Tyne and Wear
Wakefield
Warwickshire
Watford
West Glamorgan
West Midlands
West Sussex
West Yorkshire
Westminster
Weymouth
Wiltshire
Winchester
Windsor
Wolverhampton
Worcester
Worcestershire
Wrexham
Yeovil
York
www.zouchconverters.co.uk
Related Products and Services
ZOUCH eFoam

EPDM Sponge Rubber Profiles

EPDM Rubber Sealing Strips

Cellular Rubber Sealing STrips

Cord Rings

ZOUCHcord N - Cord Rings

ZOUChkousti RX28150 Roll format

ZOUCH Expandafoam BG1

Zouch eFoam Foam Inserts

ZOUCHflex CM-L Die Cut Pads

ZOUCHmount Adhesive Tape

ZOUCHmount

High Performance Acrylic Foam Tapes

Expanding Joint Sealing Tapes

Zouch Cork

Sealing Foam Tapes

High Performance Foam Tape

Foam Packaging

Foam Case Inserts

Foam Gaskets

Foam Mats

Extruded Polyethylene Protection Foam

Closed Cell Polyethylene Foam

Open Cell Foam - Filtration

5

stars based on

7

customer reviews
Write a review
By Ben Popple ,
I just wanted to say that I have received the samples, and how impressed I am by the quality and presentation of them. A lot of samples go through my hands each week and I have never emailed someone to compliment them on how they have arrived. Really impressed by your standards. I will get these out to my customer tomorrow and get back to you asap. I'm going to look through your website when I get 5 min and hopefully we can start doing more business with yourselves throughout 2017.
Was this review useful?


By Simon Peacock ,
Hi Rob and Claire and the Zouch team. I have known Rob and the team for a couple of years now and to be honest, there isn't anyone I've come across in my twenty years that matches these guys. Nothing is too much trouble and going the extra mile is average to them, more like 10 miles! Really enjoy the Spurs banter between us and roll on the new season. Best wishes to all for your continued support and hope your success goes from strength to strength. Simon and the Global Supply Services team. COYS!
Was this review useful?


By Alexandra Burkinshaw ,
I am a Purchasing Manager for a Telecoms company and have recently started to do business with Zouch. I have received excellent service from Rob and all his staff, and would highly recommend this company. A Burkinshaw.
Was this review useful?


By Dawn Marshall ,
Great company to deal with, professional and efficient, helped to sort out my problem. Looking forward to dealing with them again.
Was this review useful?


By MR Roofe Karim ,
Great company to deal with, professional, would highly recommend them, thanks to all the team.
Was this review useful?


By Dathan Wells , UC4
Our dealings with Zouch Converters have been extremely satisfactory. Rob and his team are reliable and provide excellent customer service. They have an undoubted passion for the products and solutions they provide.
Was this review useful?


By Tony Lee , AFTC UK Limited
Absolutely top class company! Carry work out professionally and do what they say on time, every time!
Was this review useful?


Payment Methods
Visa
Cash
Visa Debit
Cheque
BACS
MasterCard
Online Bill Payments
Opening Hours
| | |
| --- | --- |
| Monday | - 9:00 to 5:00 |
| Tuesday | - 9:00 to 5:00 |
| Wednesday | - 9:00 to 5:00 |
| Thursday | - 9:00 to 5:00 |
| Friday | - 9:00 to 5:00 |
| Saturday | - Closed |
| Sunday | - Closed |
Specialising In