Todays Opening Hours
Monday : 9:00-5:00
Open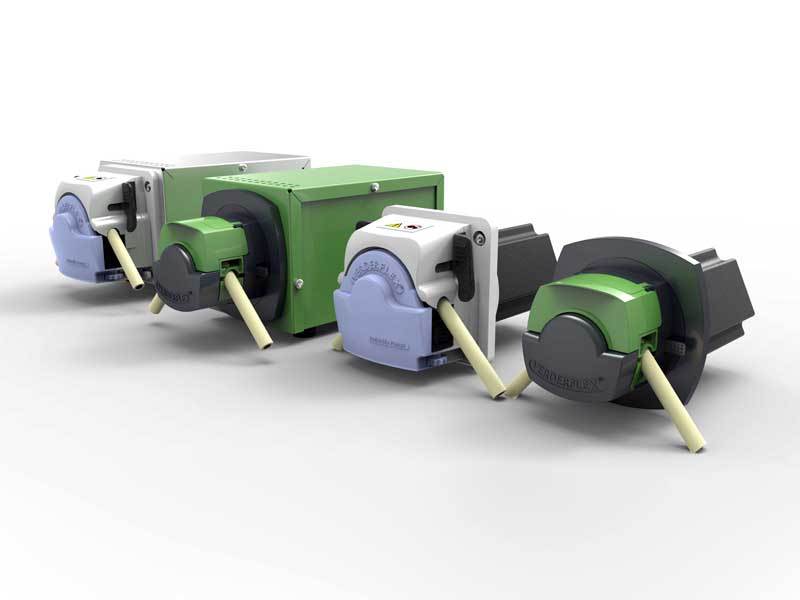 Chemical Metering Pumps, OEM Peristaltic Pump Suppliers
Verderflex are specialist suppliers of OEM Peristaltic Pump, Chemical Metering Pumps, Industrial Hoses and are leading Peristaltic Tubing Suppliers providing solutions for pumping liquids and dosing chemicals for many years which has led us to become one of the most recognised and trusted names in the industry. Our range of products are capable of pumping highly corrosive, abrasive, high density, shear sensitive and viscous materials.

The stringent quality control process we have in place which is certified to ISO 9001:2008 makes sure all of our products are fully traceable and manufactured to the highest standard possible.

Verderflex can also offer many associated products and are able to provide solutions for all pumping applications including consumable products such as hosing, tubing and lubricants. Our range of products to date includes Peristaltic Industrial Hose and Tube Pumps, Peristaltic Cased Tube Pumps and Peristaltic OEM Pump Heads.

Verderflex Peristaltic Pumps are currently being used for a wide range of applications including: PRINTING & PACKAGING, MINING, WATER AND WASTEWATER, CHEMICALS, FOOD & BEVERAGE, PHARMACEUTICALS & LABORATORY, ANAEROBIC DIGESTION & BIOGAS AND ORIGINAL EQUIPMENT MANUFACTURE.


Popular Products
PERISTALTIC INDUSTRIAL HOSE & TUBE PUMPS
Our Verderflex peristaltic pumps are extremely robust and are ideal for heavy duty operations on intermittent or continuous duty cycles and are a simple to use, easy to control, versatile and provide a reliable way to pump liquids.

PERISTALTIC TUBE SUPPLIERS
These are ideal for bench top, laboratory and process environments. Tube pumps are perfect for lower flow rates and are fully programmable with multiple head options. They provide accurate dosing and repeatability and are capable of handling viscous and chemically aggressive liquids as well as shear sensitive products.

OEM PERISTALTIC PUMPS
Verderflex OEM tube pumps are designed for panel mounting or incorporation into 3rd party machines that require accurate, low maintenance dosing solutions and can be used in a wide range of applications.

Verderflex Peristaltic Pumps provide excellent solutions particularly when handling abrasive, viscous and corrosive products and are inexpensive to maintain due to of the lack of valves, glands and seals. The gentle action produced by these pumps makes them ideal for shear sensitive polymers and fragile cell structures and because the only part of the pump in contact with the fluid is the inside of the tube or hose makes it easy to clean and sterilise the inside pump surface.

If you would like more information about any of our products and their applications please visit our main website which contains Technical Datasheets, Brochures, Manuals, Parts Lists and useful advice on selecting Industrial Pumps.
Company Video - Peristaltic Hose Pump
Company Video - Peristaltic hose and tube pumps
www.corexis.co.uk
Related Products and Services
Steptronic Family

Dura Family

OEM Family

Verderflex Rollit

VF Peristaltic Hose Pump

Rapide Industrial Tube Pumps

Economy Cased Tube Pumps

Smart Cased Tube Pumps

Vantage 3000 Cased Tube Pumps

Verderflex Vantage 5000

Verderflex Hose

0

stars based on

0

customer reviews
Write a review
Payment Methods
Cheque
BACS
Opening Hours
| | |
| --- | --- |
| Monday | - 09:00 to 17:00 |
| Tuesday | - 09:00 to 17:00 |
| Wednesday | - 09:00 to 17:00 |
| Thursday | - 09:00 to 17:00 |
| Friday | - 09:00 to 17:00 |
| Saturday | - Closed |
| Sunday | - Closed |
Promotions
Showing of 2 Promotions