Todays Opening Hours
Tuesday : 8:30-5:00
Open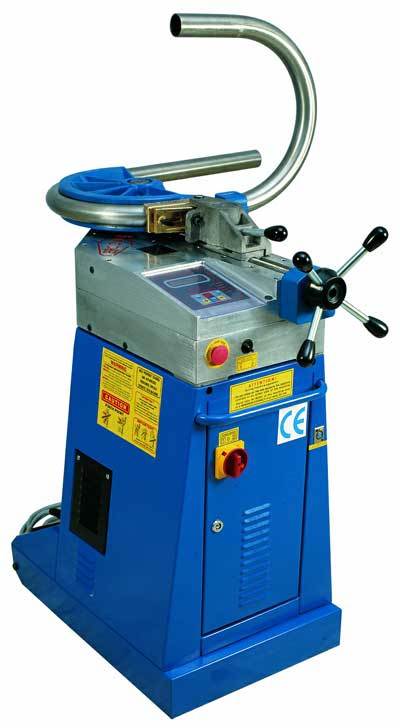 Pipe & Tube Machines Ltd - New & Used Machines

Pipe & Tube Machines Ltd is an Essex based Family business that specialises in providing its customers with the right type of machinery for their pipe and tube processing needs.

We have many years of experience in this sector and can offer advice in choosing the right piece of machinery for the right job.

Pipe & Tube Machines also offers a free demonstration service whereby we will drive to your site or workshop to show you exactly how the machinery works so you can try before you buy.

Having invested in our own demonstration van we are able to offer this service saving you time, money and fuel travelling to our showroom.

We offer an ever expanding range of machinery and equipment so whether your requirements are for general fabrication of a roll cage or a specialist tube fabrication we will find a solution.

To find out more about us Click Here
Machines
Pipe & Tube Machines is able to supply a vast range of professional and high quality machinery both new and used all of which have been designed to suit a wide range of applications.

New Machines

...• Ercolina Mandrel Benders
...• Ercolina Tube Benders
...• Ercolina Ring Rollers
...• Belt Grinders
...• Tube Notchers
...• Bandsaws Horizontal
...• Icaro Bar Benders/Shears
...• Metal Forming Machinery
...• Ercolina Manual Pipe Benders
...• Mingori Manual Pipe Benders

To view our range of new machinery Click Here
Ercolina Mandrel Benders
The range of Ercolina Mandrel Benders from Pipe & Tube Machines is available in both CNC and NC formats and can include options such as different bed lengths so whatever your capacity requirements are we will have a piece of machinery to suit your exact requirements.
Ercolina Tube/Bar Benders Essex
This range of tube benders are by far the most popular mainly because they are suited to a wide range of applications such as handrails, roll cages, marine applications and hydraulics.

Available in a range of voltages the Super Ercolina Benders are here now in stock in the UK so please do not hesitate to get in touch to find out more.
Bandsaws
Pipe & Tube Machines Ltd offers a range of Semi-Automatic and CNC Bandsaws all with 2 year warranties as standard.

The Carif 450 BSA is just one of the high quality and robust bandsaw systems available from Pipe & Tube Benders Ltd and is capable of performing inclined cuts by two stops adjustable up to +60 to – 45 Degrees.

It's also well suited for mass production purposes and capacities up to 500mm in length so if you need more information on this machine or any others on our website please get in touch.
Manual Pipe Benders
Designed and manufactured in Italy the range of Icaro Bar Benders are extremely robust and have been developed primarily with the construction industry in mind.

Our huge customer base have in the past utilised these unique manual pipe benders to suit a wide range of applications, from the fabrication of railings and bow top gates to flat bar bending and general fabrication.

With several models available in stock we are able to deliver immediately so why not head over to our website for further details.
Belt Grinders/Tube Notchers
We supply a range of belt grinders and tube notchers all of which can be seen working at our showroom in Colchester Essex. Applications include roll cages, cages and general fabrication.
Used Machinery
Pipe & Tube Machines Ltd also offers a range of quality used machines including used mandrel benders, used ring rollers, used tube benders, used tube notches and ex-demo special offers so to view our current range of equipment please visit our website.
Areas Covered
We supply our machinery to the following locations and the rest of the UK:
Aberdeen
Andover
Ashford
Avon
Aylesbury
Banbury
Bangor
Basingstoke
Bath
Beaconsfield
Bedford
Bedfordshire
Belfast
Berkshire
Birmingham
Bishops Stortford
Borders
Bournemouth
Bracknell
Bradford
Bridgend
Brighton
Brighton and Hove
Bristol
Buckinghamshire
Camberley
Cambridge
Cambridgeshire
Canterbury
Cardiff
Carlisle
Central
Chelmsford
Cheltenham
Cheshire
Chester
Chichester
City of London
Cleveland
Clwyd
Colchester
Cornwall
Coventry
Crawley
Cumbria
Derby
Derbyshire
Devon
Dorchester
Dorset
Dover
Dumfries and Galloway
Dundee
Durham
Dyfed
East Sussex
Edinburgh
Ely

Essex
Exeter
Fife
Folkestone
Glasgow
Gloucester
Gloucestershire
Grampian
Greater Manchester
Guildford
Gwent
Gwynedd County
Hampshire
Hemel Hempstead
Henley
Henley-on-Thames
Hereford
Herefordshire
Hertford
Hertfordshire
High Wycombe
Highlands and Islands
Humberside
Inverness
Ipswich
Isle of Wight
Kent
Kingston upon Hull
Lancashire
Lancaster
Leeds
Leicester
Leicestershire
Lichfield
Lincoln
Lincolnshire
Lisbon
Liverpool
London
Lothian
Luton
Maidenhead
Maidstone
Manchester
Merseyside
Mid Glamorgan
Milton Keynes
Newbury
Newcastle upon Tyne
Newport
Newry
Norfolk
North Yorkshire
Northampton
Northamptonshire
Northumberland
Norwich
Nottingham

Nottinghamshire
Oxford
Oxfordshire
Peterborough
Plymouth
Poole
Portsmouth
Powys
Preston
Reading
Reigate
Ripon
Rutland
Salford
Salisbury
Sheffield
Shropshire
Slough
Somerset
South Glamorgan
South Yorkshire
Southampton
St Albans
St David's
Staffordshire
Staines
Stirling
Stoke-on-Trent
Strathclyde
Suffolk
Sunderland
Surrey
Swansea
Swindon
Taunton
Tayside
Telford
Truro
Tyne and Wear
Wakefield
Warwickshire
Watford
West Glamorgan
West Midlands
West Sussex
West Yorkshire
Westminster
Weymouth
Wiltshire
Winchester
Windsor
Wolverhampton
Worcester
Worcestershire
Wrexham
Yeovil
York
www.pipeandtubemachines.co.uk
Related Products and Services
Pipe Tube Benders

Large Capacity Pipe Benders

Ring Section Rollers

Bar Bending Machines

Tube Notchers

Bar Cutter Machine

Abrasive Belt Grinders

Used Tube Benders

Bandsaws

Used Ring Rollers

Used Ercolina Mandrel Bender

Used Almi Notchers

5

stars based on

1

customer reviews
Write a review
By Steve Adkins , S A Motorsport
We purchased the Ercolina TB050-EDT from Pipe & Tube Machines LTD due to its ease of use, repeated accuracy, speed & quality of bend. Accuracy & quality are key to us manufacturing our roll cages. The staff at Pipe & Tube Machines LTD have been very helpful in assisting us with choosing the correct machine for our needs and taking time to demonstrate the machines capabilities. We spent alot of time comparing tube bending machines for our requirements. Most companies machines were either over priced, not suitable for the job, or used up too much space when operating. The Ercolina TB050-EDT is a machine that can easily be moved, easy to operate, and does not use half of the workshop to operate. Steve Adkins Managing Director
Was this review useful?


Payment Methods
Visa
Visa Debit
Cheque
BACS
MasterCard
Opening Hours
| | |
| --- | --- |
| Monday | - 8:30 to 5:00 |
| Tuesday | - 8:30 to 5:00 |
| Wednesday | - 8:30 to 5:00 |
| Thursday | - 8:30 to 5:00 |
| Friday | - 9:00 to 5:00 |
| Saturday | - Closed |
| Sunday | - Closed |
Specialising In