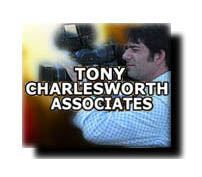 info

tonycharlesworthassociates.com
Phone: 020 839 [Reveal]
Video Production Companies London
Tony Charlesworth Associates, Video Production Companies London. We are a Video production company of former BBC producers delivering video production for the corporate and public sectors in London, all over UK, and worldwide. Affordable, quality video services. Streaming Video, DVD and other media for communications by a public sector organisation, corporate body or company. Our Videos can be designed for many different reasons -- such as marketing, training, product demonstration and general information purposes. Tony Charlesworth Associates Ltd is the number one choice in the UK for Corporate Video Production in London.
VIDEO PRODUCTION
Video production from Tony Charlesworth Associates for corporate, public and third sector organisations in London, throughout the UK and worldwide. We are a London-based video production company of award-winning former BBC, ITV, AP and Reuters producers. Working with streaming internet video, DVD, and traditional media platforms, Tony Charlesworth Associates has the experience and video production know-how to create a very broad range of visual styles that match client requirements to the needs of specific audiences.
CORPORATE VIDEO
We deliver complete end-to-end strategic, creative, editorial and technical digital video production services for corporate video, including: project consultancy, project planning, location directing, interviewing, video editing, audio editing, graphics, encoding, streaming, authoring, web design, video sharing, search, and secure hosting. Boost your corporate communications, marketing and advertising with our services
DVD PRODUCTION
All our clients benefit from our strong video production, broadcast media and journalism experience. We deliver highly effective advice and DVD products that deploy the most effective strategies focused on a wide range of communications media. All our services are interlinked. They support and enrich each other.
MARKETING VIDEO
As well as advising on communications strategies that focus on media, production, and training, we consider it vitally important also to look at marketing messages and the marketing approaches used. Through tightly focused messaging workshops we will help you prepare for all kinds of situations where clarity of communication is essential, such as briefings, interviews, internal and external meetings, presentations, press conferences and speeches.
MEDIA TRAINING
Learning to communicate well in media interviews means regarding the media as an opportunity for you and your organisation, rather than a threat. Media training is about learning the techniques for avoiding the many pitfalls that await the unprepared. These are pitfalls which could, in the few short minutes of a media interview or conversation with a journalist, turn out to be disastrous for your personal reputation as well as that of your organisation.
Tony Charlesworth Associates (Click 'Play' to View Video)
To have a look at some of our other videos please visit our
Video Production Channel by Clicking Here
 
Please visit our website to find out more
Related Products and Services