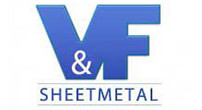 sales

vandf.co.uk
Phone: 01489 5 [Reveal]
Fax: 01489 889 008
V & F Sheetmetal Co. Ltd
V & F Sheet Metal are a Hampshire based UK sheet metal fabrication, sheet metal work and subcontract engineering company, providing manufacturing services from CNC punching, CNC bending, welding and power presswork for the electronics, lighting, heating and audio industries in the UK. Using the power and efficiency of CAD, CAM and 3D software modelling we can take your sheet metal design ideas and make them a reality.

Established in 1985, we have the ability to handle engineering projects from one off newly designed prototypes; small and large batches of sheet metal components through to higher volume bespoke press work. V and F Sheet Metal are flexible enough to offer you the complete subcontract engineering service for your growing company. We pride ourselves on offering our customers free design advice to help reduce the cost of manufacturing their sheet metal fabrications enabling them to be more competitive, sell more products and come back again and again.

V and F Sheet Metal support a vast range of manufacturing companies in the UK but they specialise in lighting for the UK. Whether it's bespoke reflector assemblies, LED gear trays, modular fittings, floodlight accessories, gear boxes etc. There are hundreds of examples of lighting products manufactured using sheet metal fabrications on their website.

http://www.vandf.co.uk/about/sheet-metal-for-the-lighting-industry/

Whether you need sheet metal work manufacturing from just a few samples up to many thousands of components you need a supplier with the flexibility to produce sheet metal work quickly and efficiently. V and F Sheet Metal with their Trumpf CNC punch presses offer just that service, CNC punching materials from 0.4mm reflector aluminium and tin plated steel up to 3mm thick stainless steel, 4mm thick mild steel and even 5mm thick aluminium alloys.

To see the CNC punching machines in action follow the link:
http://www.vandf.co.uk/plant-list/trumpf-3000r/

Producing hundreds of different sheet metal components every month V and F sheet Metal need to be able to change from one sheet metal component type to another in minutes. Having invested in the best CNC press brakes available for small sheet metal work their Trumpf 7036 CNC press brakes are perfect for a fast moving sub-contract sheet metal working environment.

To see the CNC bending machines in action follow the link:
http://www.vandf.co.uk/plant-list/trumpf-7036/
Image Showcase (mouse over images to enlarge)

We have now grown to a size where we can offer a complete sheet metal fabrication service to our customers in the UK from our factories based in Fareham, Hampshire. This may include advice on the suitability of sheet metal fabrication designs for manufacturing, sub-assembly work or treatments and finishing to your sheet metal design specification. We are continually investing in the latest CNC equipment (Trumpf manufacturing equipment featuring heavily recently) and CAD/CAM software enabling us to offer the best combination of quality and price to suit your purchasing requirements. We have a company blog on our website where you can view many sheet metal design case studies illustrating some of the modern CNC techniques that can be employed to help reduce your costs.

We have a long history of working with UK based lighting companies to help reduce their sheet metal component costs & improve the quality of their subcontract engineering projects. With many standard CNC punching and CNC bending tools & materials such as reflector aluminium, set-up costs can be kept to a minimum when considering new fabrication projects.
The range of bespoke sheet metal parts and assemblies that we manufacture is huge and we can only illustrate a few here but among them are:



Lighting Reflectors, sheet metal modular housings, chassis, gear trays, fibre optics enclosures, LED
plates etc for the Lighting Industry in the UK.


Perforated ventilation grilles for the Heating Industry.


Perforated speaker grilles for the Audio Industry.


Front panels, enclosures and housings for the Electronics Industry.


Many welded sheet metal fabrication assemblies utilising Tig, Mig, Gas, Spot and Stud welding.

3D software models of complex sheet metal fabrications and full assemblies can be generated to help eliminate design errors before any sheet metal work is undertaken. 3D and 2D images can then be used to help you visualise your own designs for manufacturing suitability. Where you only have a sample we can take this and produce 2D drawings to work to in our manufacturing plant and for your future reference when placing orders. These drawings can be output in AutoCAD compatible file formats DWG and DXF. We can also import your 3D data from Autodesk Inventor and Solidworks software to speed up CNC punch press and CNC press brake program generation. 2D developments can be automatically and accurately produced ready for CNC tooling and nesting of our Trumpf CNC punch presses.

We believe that Trumpf produce the best CNC punching machine that money can buy for manufacturing CNC punched sheet metal blanks. When this is combined with our Radan CAD/CAM software you have a truly unbeatable combination for manufacturing the best quality sheet metal work at a very competitive UK price. There's only one way to see how effective this combination can be, ask for a quote and see the benefits for you can enjoy for yourself.

V and F Sheet Metal's Trumpf 7036 CNC press brakes are one of the fastest CNC machines in the world for bending sheet metal components. These brad new CNC bending machines were installed in the summer of 2010 and in the spring of 2011. Both machines benefit from off line CNC programming Trumpf Tru-bend software. The Tru-bend software has the ability to take data both in 3D and 2D formats directly from our customers or from our own Radan 3D modelling system, thus enabling us to check out jobs for bending problems before starting sheet metal production in our factories. Selecting the correct CNC bending tooling and the most efficient bend sequence enables us to reduce manufacturing cycle times and keep your costs down when quoting you for your new sheet metal parts.

We have various sheet metal case study gallery pages on our website where you can view many past projects and a blog with case studies and sheet metal manufacturing ideas. We have several design data pages to help you with your new designs as well as CNC punching tooling which you can use to create a new sheet metal work design knowing that all the features you dimension can be CNC punched without any new tooling costs or drawing updates.

In conclusion, this data page can only be a starting point in showing you all the services we can offer you. Please contact us by phone or visit our website and our engineering team will be pleased to talk through your requirements and start to help you today.
Please visit our website for more information
Related Products and Services
Spring stainless steel fixing clips for lights

Zinc plated mild steel brackets

Mild steel chassis for fibre optics unit

CNC punched aluminium nest

Welded mild steel housings

CNC bent trays for LED displays

CNC bent 3mm thick mild steel angles

Stainless steel brackets

Mild steel bent enclosures

Lighting reflector CNc punched and bent

0

stars based on

0

customer reviews
Write a review
Key Contacts

Mr Ray Frith
Director
Tel: 01489 577786
Email: sales

vandf.co.uk
Payment Methods
BACS
Cheque
Payment Terms
Pro-Forma
15 days
30 days
60 days
Opening Hours
Monday
08:00 to 16:30
Tuesday
08:00 to 16:30
Wednesday
08:00 to 16:30
Thursday
08:00 to 16:30
Friday
08:30 to 13:30
Saturday
Closed
Sunday
Closed