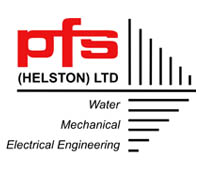 info

pfs-uk.co.uk
Phone: 01326 [Reveal]
Fax: 01326 565 505
Suppliers of Variable Speed Water Booster Pump Sets

PFS (Helston) Ltd specialise in Variable Speed Water Booster Pump Sets and are UK national distributors for Dab, EBARA, ESPA, Grundfos, Lowara, Mono and Pedrollo Pumps, as well as sole UK & Ireland distributor for Mono's Solar Pumps stockists of the Sun-Sub, Sun-Ray and SB3 Products.

We supply to Agricultural, Domestic, Commercial, Industrial and Marine sectors, ranging from pipe fittings to complete instillations. We carry out the design, installation and commissioning of Many filtration systems, including Ultra Violet sterilisation, PH correction, Iron and Manganese removal systems. Rainwater Harvesting and sewage pumping stations.

With 20 years experience we have the expertise and flexibility to design and build a system to your exact requirements and offer our best advise to ensure that robust and efficient solution is the result. We custom build our own Booster Sets to suit the unique pumping requirements of your system.
Image Showcase (Mouse over images to enlarge)
We offer a range of fixed speed and variable speed options (including Hydrovar and Tecnospeed drives) for single or multiple pump configurations. We hold a number of Zilmet Membrane Pressure Vessels and Lowara Genyo electronic pump controllers.

We stock a wide range of pumps, filtration spares, pipe and fittings, both at our stores in Helston, Cornwall and on our service vehicles. We offer door to door servicing and 24-7 emergency call out (unfortunately Devon & Cornwall only). Major Stockiest of Plasson Pipe Fittings (from 15mm to 63mm), as well as Galvanized and Brass fittings.
www.pfs-uk.co.uk

Welcome to PFS Solar we are Solar Powered Water Pump Suppliers supplying not on Solar Powered Water Pumps but also Replacement Parts, Control Boxes, Tracker Parts and Additional Solar Voltaic Panels. Power Inverters, Charging Batteries and Off Grid Equipment can also be supplied by PFS Solar.

Solar Powered Water Pumps
Mono Solar products are pumps that require very little maintenance and are supplied as an easy to install kit. They offer zero running costs and are the ideal systems for areas in which a mains utility would be too costly or impossible to install.
PFS Solar are proud to be the Official UK Distributor for Mono Solar Products

Solar Pumping Systems Image Showcase (Mouse over images to enlarge)
Our Solar products are split into 2 main categories, Sun-Ray Surface & Floating Pumps and Sun-Sub & SB3 Borehole Pumps. The SB3 & Sun-Sub are our range of submersible pumps and the former are our range of surface pumps.

For more information on any of our products please visit out website now. Alternatively you can pick up the phone and contact a member of our team who will be happy to help with any questions you may have.
www.solarwaterpumpsuk.com
Related Products and Services

0

stars based on

0

customer reviews
Write a review
Opening Hours
Monday
08:00 to 17:30
Tuesday
08:00 to 17:30
Wednesday
08:00 to 17:30
Thursday
08:00 to 17:30
Friday
08:00 to 17:30
Saturday
08:00 to 12:00
Sunday
Closed