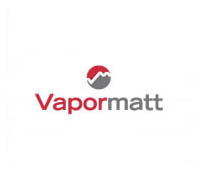 sales

vapormatt.com
Phone: 01823 2 [Reveal]
Fax: 01823 336 446
Vapour Blasting Services / Wet Blasting Services
Welcome to Vapormatt we specialise in the design and manufacture of both automatic and manual Surface Cleaning, Finishing and Peening machines that incorporate the Vapormatt High Pressure Water and Wet Blast Systems. We also offer a range of applications including; Wet Blasting Services and Vapour Blasting Services.
Our Vapormatting process is done by use of a nozzle with compressed air from which an abrasive medium and water is accelerated from. It is environmentally friendly and very effective method of closed loop surface conditioning and cleaning.
Applications we offer:
Vapour Blasting Services and Wet Blasting Services -  Wet and Vapour Blasting services are performed by a skilled team and are the best around.
Extrusion Die Cleaning - We have developed a Die Cleaning systems that uses a mix of compressed air, fine aluminous oxide and water, this reduces damage that is caused by soft shot blast cleaning leaving little of no damage to fine profiles and sharp edges.
In-Line Wire Processing - Using the Vapormatt process to clean continuous strip / wire and short length rod. We use our special purpose Vapormatt machine for this process.
Decomatt - This process is today's answer for decontaminating and cleaning radioactive equipment and parts in nuclear establishments.
Surface Conditioning - This is the accepted procedure for surface finishing prosthetic components using Wet Blasting, this method has certain advantages over other finishing techniques.
Lost Wax Castings - We are the market leaders in the replacement of expensive and highly toxic cleaning methods.
Peening and Wet Peening - This process is perfect for any parts that are subject to bending or twisting stress, it is ideal for the treatment of unsupported edges, grooves or fillets.
Precision Rubber & Plastic Mould Cleaning - We have a new Liquid Lapping Process, it is faster and environmentally friendly. Any possibilities of damage to the mould are removed using this process.
and much more...
There are a whole host of other applications we can provide, please visit out website to find out more. If you have any questions please contact a member of our team who will be happy to assist you in any way possible.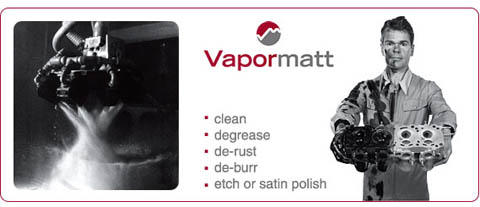 Visit our website to view other services we offer
Related Products and Services

0

stars based on

0

customer reviews
Write a review
Approvals & Certificates
ISO 9001 Quality management systems – Requirements
Key Contacts

Mr Phil Dawes
Sales Engineer
Tel: +447889 664517
Email: phil.dawes

vapormatt.co.uk
Payment Methods
BACS
Direct Debit
MasterCard
Visa
Visa Debit
Opening Hours
Monday
08:30 to 17:30
Tuesday
08:30 to 17:30
Wednesday
08:30 to 17:30
Thursday
08:30 to 17:30
Friday
08:30 to 17:30
Saturday
Closed
Sunday
Closed