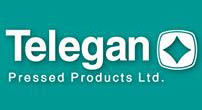 belinda

teleganpressedproducts.com
Phone: 01255 5 [Reveal]
Fax: 01255 554 900
Manufacturing Plate Pressed PVC Sheeting
As a manufacturer of plate pressed PVC sheeting, Telegan Pressed Products Ltd have utilized more than a total of 75 years of experience and expertise they have acquired to achieve their position in becoming one of Europe's leading manufacturers of PVC sheet, and indeed one of the main aims of our production team based at our manufacturing facility in Harwich is to become "the" leading manufacturer of pressed sheet in Europe. Here at Telegan Pressed Products Ltd we understand the technically demanding and adverse requirements of businesses, and so we are able to offer our customers greater scope, flexibility and realisation of projects in the form of our high quality visual surface finishes which are second to none.

Products

Our range of products are designed to give our customers a much more secure product, and this in turn frees them from the constraints of using less superior and sophisticated alternatives. Our largest sheet size 1250 x 2500 enables a much greater design flexibly and superior finish, some of which are displayed below along with their applications.

 

• TELBEX Rigid PVC Sheet - this product was developed as an alternative to the Darvic, Pacton, Cobex, Lumex and Vynalast ranges. Applications: machine guards, radiotherapy masks, protective visors, welding screens, safety screens, signage, electrical components, decorative cladding.

 

• TELBAK C-Sharp - A flexible transparent sheet for all high end applications where superior clarity and excellent UV properties are required. Applications: high end glass applications, low temperature applications, windows, cabriolet hoods, medical, pharmaceutical.

 

• TELBEK FLEXIBLE PVC Sheeting - Developed as an equivalent of Vybak and Velbex products. Applications: flexible protective clothing, radiation suites, medical equipment, uniform trim, bench tops, graphic display, marine, flexible ducting, stationary.

Much more technical information and associated data on all of the above products may be obtained by viewing the "Specs & Standards" section on our main website.

Our Services

We are able to offer customers our products in a wide range of surface finishes including polished, matt and satin along with a huge choice of paper embosses and a range of coloured foils which we keep in stock ready for pressing. By using our extensive technical knowledge we are extremely confident in liaising closely with our clients and discussing the commercial considerations to achieve their special technical requirements.

 

• Sheets guillotined and cut to any size
• Colour matching service
• Product matching service
• Bespoke service for pressing customers own material

Within the Telegan group, we also have access to a brand new multi-functional digital printer which has the capability to produce high quality and high definition colour prints of up to 2440mm in width which in turn allows highly specific designs in fairly small quantities at competitive prices, thereby not restricting the customer to order minimum quantities.

With our extremely efficient and modern production facility based in Harwich we are sure all of your enquiries and requirements will be met with a "can do" attitude from our highly experienced and technically achieved team. We can provide products from our regular stock right through to some of our highly specialised and technically demanding engineering products, all of which provide cost effective solutions for your business.

Whether you require information on our stocked product items or have any precise product requirements we will be more than happy to discuss them with you and supply further technical data, so please give us a call, e-mail us or visit our main website.
www.teleganpressedproducts.com
Related Products and Services

0

stars based on

0

customer reviews
Write a review