First time here?
Pellentesque habitant morbi tristique senectus et netus et malesuada fames ac turpis egestas. Vestibulum tortor quam, feugiat vitae, ultricies eget, tempor sit amet, ante. Donec eu libero sit amet quam egestas semper.
Businessmagnet Apps
Browse the UK's leading b2b search

engine on the move, store contacts, email suppliers fast and from anywhere in UK
more info
Activity Feed
The Angle Ring Co. Ltd
Place pointer

here

to reveal number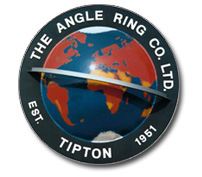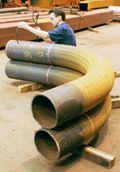 Established in 1951, we offer a comprehensive range of Section Bending, Press Braking, Plate Rolling, Heavy Plate Forming, Tube Manipulation, Pipe Forming and Spiral / 3 Dimensional Bending, all from our single site production facility.

Our in-house designed steel bending, steel forming and cambering machines give us significant advantages over other metal bending methods, and produce smooth accurate bends whilst maintaining the section geometry, essential for architectural or Power Generation steelwork involving curved sections, bar or tube.

From the manipulation or mandrel bending of small sections, pipe and tube, to the cold rolling, hot bending or pressing of the largest beams, heaviest columns and longest plate available.
Steel Bending
Angle Ring offer the UK's most comprehensive range of steel bending services including section bending, plate rolling, press braking and induction bending

Curved Steel
From the smallest sections to the largest tube, beams and plate available Angle Ring are able to offer a variety of curved steel products to suit a myriad of end uses.

Whether you require a single bend, a large production run, or just information about how we can help with your project, we are confident that Angle Ring can offer a solution to suit your needs... ...

Recent acquisitions have now led to an increased capacity in our Plate Rolling / Forming.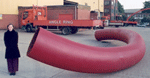 Either using your free issue material or complete supply, we can offer plate rolling or plate forming in a wide range of carbon and stainless steels from 5mm thick in up to 3 metre lengths, or up to 200mm thick on our plate forming equipment.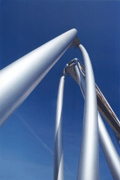 Above the 3 metre length, we can the utilist our press braking machinery to form tight or smooth radius bends in lengths up to 10m long.

To compliment our plate rolling, forming and press braking operations we offer an in-house welding service enabling us to re-roll to tight tolerances prior to despatch and join tubes with full penetration circumferential welds to achieve longer lengths. All our Submerged Arc, M.I.G. and T.I.G. weld procedures and welders are coded to the latest American and British standards.

We have strong links with local subcontractors and are able to offer the full range of N.D.T. operations including;- radiography, ultrasonic test, dye pen and M.P.I. also heat treatment operations including;- stress relieve, normalise and solution anneal.

At the forefront of our continuous development is our Spiral Bending (3 Dimensional Bending)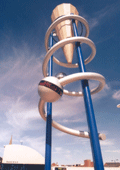 With a comprehensive range in Tube, Sections, Plate and Solid Bar, our abilities in 3 dimensional bending are second to none, worldwide!

Plate or Flat Bar has been spiralled for use in spiral staircases for many years, but now the ability to bend accurately heavy plate, or structural sections to 3 dimensional shapes or helical profiles has opened new scope for the design of spiral staircases, or feature steelwork.

Channels up to 430x100 PFC, RHS up to 300x100, Beams to 406x140, plate to 200mm thick, tubes up to 914Ø, and fabricated RHS up to 430x200mm can be curved to helical shapes.

Flat bar can also now be offered spiralled _on edge _ for the handrail or Infill sections of staircases, to strengthen stringers, or produce fabricated hollow sections.

Technical sheets are available in the download area to assist you in specifying spiral bending of steelwork.
Products and Services
Payment Type
Select the payment types that you accept below
Payment Terms
Select the payment Terms below
Login to your account to add more information to your advert
Adding more information to your advert is a proven way to increase the enquiries your advert is generating.
You can add or edit all contact information, opening hours, photo's, business description, upload press releases and a whole lot more.
Login below to take full advantage of your advert