sales

1stcontainers.com
Phone: 0870 24 [Reveal]
Fax: 0870 241 8737
…..Any Area, Any Size, Any Type!
1st Containers are committed to providing you with a winning combination of value and service.
Containers of any size, any kind and delivered anywhere within the UK or the rest of the world. You can hire or buy our containers - we offer both new or used shipping containers.
If you need containers for shipping, storage or specially converted for use as site offices, ki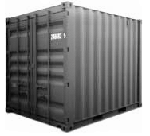 tchens, accommodation units - we can help you. Whether you need to acquire one or one thousand shipping containers.
We can supply our shipping containers nationwide and we pride ourselves on the quality of service that we provide.  Because of our excellent service and product, our customers keep coming back again and again.
Frequently Asked Questions
These are a few of the most frequently asked questions, if you cannot find the information you need, please call us.
How durable are shipping containers?
They are designed to a very high specification in order to withstand a long life at sea in all kinds of harsh conditions.

Are shipping containers expensive to purchase?
Used shipping containers are less expensive than new, we can supply both kinds at prices less than you might expect.

Can 1st Containers UK arrange delivery?
We can transport our containers virtually anywhere, we can also assist with all other logistics.
We buy Shipping containers
We are constantly looking for large numbers of containers to buy, we also buy single containers. 1st Containers UK recondition and repair many kinds of containers, so no matter what the condition we will consider buying or removing the container for you.
To enquire about our great range of shipping containers, and ISO shipping containers, call, click or use the submit form below...
Related Products and Services