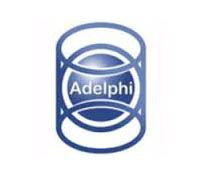 sales

adelphi-coldstream.uk.com
Phone: 01444 4 [Reveal]
Fax: 01444 472 329
Leading Supplier Of Stainless Steel Vessels
Adelphi Coldstream is a leading supplier of process equipment, including stainless steel vessels, processing equipment, stainless steel buckets, stainless steel churns and storage vessels all made to pharmaceutical standards in 304 and 316L grade stainless steel. Our experience, gained over 50 years, is available to help you obtain exactly what you need to meet your requirement. We are committed to providing you with outstanding service at all times, backed by our registration to ISO 9002.

Our range of stainless steel vessels can be mobile, jacketed for heating or cooling, and fitted with air or electric mixers. Standard ranges of 316L or 304 stainless steel vessel are in volumes from 1litre to 240 litres. The stainless steel vessels can be supplied with lids, frames on castors, fitted toggle clamps and seals for recessed lids, inlets and taps.

Each of the 316L vessel is etched with the material certificate number for ease of traceability and can be additionally etched with customer's specific requirements. Any combination of letters and numbers can be etched into the surface of any item, e.g. serial number, contents, location. Logos and other graphics can also be etched.

Adelphi Coldstream also specialise in supplying customised mixing vessels from 5 litres to 1,000 litres. To meet your precise needs we can adapt our products - using our range of optional modifications or by customising to order. Our on-site engineers can modify our standard range of vessels or design a customised vessel to match your needs precisely. If you require something completely different, we would be pleased to quote for it.

Our stainless steel vessels are made to pharmaceutical standards and are designed to help you maintain the highest standards of hygiene. They have crevice free and pit free interiors and most are available in 316L grade stainless steel.

Our range of stainless steel measuring and pouring equipment is batch traceable. All jugs, beakers, funnels and strainers are available in 304 stainless steel and some jugs are available in 316L stainless steel. We also offer a range of stainless steel utensils and catering equipment which are suitable for use in hospitals, kitchens and laboratories where hygiene is of top importance.

Our stainless steel mixers are robust and reliable, and external surfaces are generally stainless steel to help you keep them clean and looking good. The mixers are available as single or twin units, and the single unit comes in two versions: one for standing on a counter and the other for fixing to a wall. All the mixers are simple to operate: a powerful motor is automatically switched on when the beaker is in position and stops when the beaker is removed.

Material traceability and quality is what sets us apart from our competitors and ensures customers receive the highest quality goods every time they order. To learn more about what Adelphi Coldstream can potentially do for your company please give us a call, send us an email or take a look at our brand new website.
Company Video
Capsule Filling Machine
Visit our website to find out more
Related Products and Services
Stainless Steel Mixing Vessel

Stainless Steel Special Etching

Stainless Steel Process Equipment

Stainless Steel Drinks Mixer

Stainless Steel Scoops

Ladles

0

stars based on

0

customer reviews
Write a review
Associations
Key Contacts

Ms Nicola Jones
Customer Services
Tel: 01444 472300
Email: sales

adelphi-coldstream.uk.com
Payment Methods
American Express
BACS
Cheque
Maestro
MasterCard
Online Bill Payments
Postal Orders
Pro Former Invoice
Visa
Visa Debit
Opening Hours
Monday
09:00 to 17:00
Tuesday
09:00 to 17:00
Wednesday
09:00 to 17:00
Thursday
09:00 to 17:00
Friday
09:00 to 17:00
Saturday
Closed
Sunday
Closed