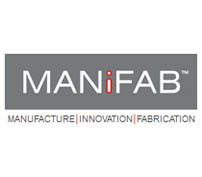 websales

manifab.com
Phone: 01952 [Reveal]
Custom Stainless Steel Fabricators
At MANiFAB we pride ourselves in being market leading aluminium and Custom Stainless Steel Fabricators of components and assemblies. Our skills have been fine tuned over decades to meet the industry and quality standards required and audited to BSI ISO 9001:2008. Whatever your requirements MANiFAB can offer a dedicated service for the design, development and manufacture of your products.
We are specialists in our field with unique design and project management capabilities.

Being leading Custom Stainless Steel Fabricators we offer a wide range of services from laser cut components to complex fabricating projects, our capabilities in design and manufacturing through to installation and after service have benefited a wide range of industries from rail, aerospace, nuclear, pharmaceutical, food processing, marine, leisure and many more.
Design and Innovation
All of our customers are assigned to a member or members of our in-house engineering team. With their experience and knowledge they can take customer's existing or new designs and concepts and work together closely to achieve results superior to industry standards.

Key areas MANiFAB can help you at design level include:

- Updating components from existing dated drawings
- Validating designs, with latest analysis techniques
- Innovating engineering
- Material optimisation
- Updating 2D designs to 3D
Image Showcase (mouse over images to enlarge)
MANiFAB's core skills and fabrication services include:
Prototyping
Developing a product or assembly often requires justification of the idea or process before an initial production run. MANiFAB can adapt our manufacturing processes, enabling cost effective prototyping. Our skill base allows us to replicate production in stainless steel or aluminium to the standard of batch produced products. During the prototyping stage our experienced team work closely with the customer to suggest improvements to designs and fabrication processes prior to manufacture and when required following through to final product production.

Stockholding
Holding extensive stocks of 304 and 316 grade stainless steel and aluminium sheet and tubing in 6 metre lengths of popular sizes allows MANiFAB to respond quickly and efficiently to customer demand and requirements.

Punching
Linked with our lasers and compatible with our latest software, linear long laser cuts can be integrated onto the punch press for secondary hole and slot forming, the best of both worlds. Quick unit time for hole and slots without the usual straight cut marking makes MANiFAB the ideal choice for your punching requirements

Laser Cutting
MANiFAB's flat bed laser cutting facilities can accommodate 4m x 2m maximum sheet size for cutting up to 20mm thick stainless steel and 12mm thick aluminium. Through optimising material utilisation our laser cutting service provides minimum waste with maximum quality. Specialising in the latest laser cutting technology coupled with ongoing investment enables MANiFAB to constantly review output achieved with the view to passing savings onto customers.

Laser Tube Cutting
Laser tube cutting allows outstanding quality and accuracy for cutting round or square tubes in one operation, eliminating the need for sawing, drilling, punching and milling. MANiFAB's experience, knowledge and technology in laser tube cutting provides an excellent platform for fixtureless fabrication techniques.

Tube Bending
MANiFAB can achieve accurate complex compound tube and box bends with consistent quality and repeatability thanks to our CAD / CAM simulation and laser measuring software. With our large range of tooling we can accommodate your tube bending requirements from 15mm to 100mm diameter with fixed and variable radiused tube bending in 3 planes.

Press Brake Forming
With various tonnage press brakes MANiFAB's forming range covers sheet to plate. With full CNC control linked to previous laser and punching operations use the same software to ensure repeatability and accuracy allowing flexibility to form complex precision parts. This level of setup and control ensures commitment to a quick and accurate turnaround.

Spot Welding
Spot welding is a low cost method of joining material that does not require a seam. It also permits the welding to occur without excessive heating to the rest of the sheet. MANiFAB's spot welding is of the highest calibre and of automotive standard for the industry

Seam Welding
MANiFAB's linear seam welding machines employ the latest TIG and plasma welding processes as well as arc pulsation, enabling lower heat, less distortion and high quality linear hermetic seam welding.

Robotic Welding
MANiFABs pride in the quality of our welding team is unquestionable. However certain designs require the latest welding technology for repeatable precision, or cost effective larger batch production. Our robotic welding is an investment that could offer you a competitive edge without compromising quality.

Skilled Welding
MANiFAB are leading experts in welding stainless steel and aluminium using the latest process through to plasma and TIG manual welding. Coded to MOD and CAA you can be sure that all specialised procedures setup will be strictly adhered to and where appropriate subject to outside third party approval.

Grinding, Linishing and Finishing
MANiFAB offer a wide range of automated and manual finishing techniques including deburring, grinding, Linishing, polishing, stainless steel bead blasting, and chemical etching.

Assemblies - Sub Assemblies
One of the reasons MANiFAB is set apart from standard fabrication companies is a complete approach to manufacture. Our skilled engineers are able to create sub assemblies and completed products. These assemblies are often as varied as precision glass bonding with fabrications, or electronic assemblies within full system designs.

Our experience and expertise ensures a service that we believe is unrivalled in our industry making MANiFAB the stainless steel and aluminium fabricators perfect for you.
www.manifab.com
Related Products and Services

0

stars based on

0

customer reviews
Write a review
Approvals & Certificates
ISO 9001 Quality management systems – Requirements
Opening Hours
Monday
08:30 to 17:00
Tuesday
08:30 to 17:00
Wednesday
08:30 to 17:00
Thursday
08:30 to 17:00
Friday
08:30 to 17:00
Saturday
Closed
Sunday
Closed