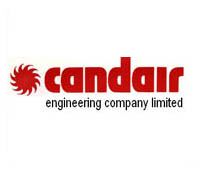 info

candair-engineering.co.uk
Phone: 0161 36 [Reveal]
Fax: 0870 922 3511
Welcome to Candair Engineering Co Ltd
Specialists in the manufacture of heating, ventilation, air conditioning (HVAC) ductwork and other sheet metal products.

Candair Eng Co Ltd was established in February 1965. Originally, the company designed, manufactured, installed and serviced warm air heating systems. More recently the company has diversified and consolidated into mainly manufacturing ductwork systems and gas flue collector boxes and other sheet metal products.

We specialise in the manufacture of ductwork components, filter frames, fan housing units, dampers and grille linear, side and top entry plenums, and pan adapter boxes for the HVAC industry.
Image Showcase (Mouse over images to enlarge)
Product Range:
| | |
| --- | --- |
| Square and Rectangular Ducting | Vertical or Flat Tee or Y Branch |
| Flanged Sleeves | Enclosed Box |
| Bird Mesh Cowls | Filter frames and housing boxes |
| Damper Blade | Square to Rounds |
| Plate spigots | Canopies / Extract boxes |
| Transitions and Reducers | Offset Ducts or Reducers |
| Grille Adapter Box to Spiral | Flat 90° Air Turn Bends or Radial bends |
| 135°/45° Bend | Vertical Bend |
| Linear plenums | Air Flow Extractor / Heating / Ventilation |
| Brackets, collars, blank plates | Register Grilles |
| Heat recovery systems | Chimney gas flue collector boxes |
| Side and Top Entry Plenums | Pan Adapters |
Ducting is manufactured from 0.8mm to 1.2mm galvanised steel with a Pittsburgh lockform, buttonlock, crimped, internal capped or a spotwelded construction. Generally, the materials we use are light gauge 0.56mm to 3mm galvanised steel, aluzinc, zintec, aluminium and "316" or "304" stainless steel.

If you have different specifications, then we would gladly source items specific to your needs.

Quality Assurance

Ducting will conform on in accordance with specifications for sheetmetal ductwork under DW 144 Low, medium and high pressure/velocity air systems 1998 and DW 145 the Guide to good practice for the installation of fire and smoke dampers (revised June 2010).

Our fire rated type grille boxes are manufactured from 1.6mm galvanised steel to satisfy BS 476: Fire Tests on building materials and structures: Part 24 (1987) Method for determination of the fire resistance of ventilation ducts and ISO 6944 (1985) Fire resistance tests – Ventilation ducts. From 1 July 2011, these regulations will be replaced by BS EN 12101 Part Construction Standards.
Flue gas collector boxes are manufactured in accordance with BS5258 (part 5). We make them from galvanised steel, aluminium and stainless steel.
Please visit our website for more information
Related Products and Services