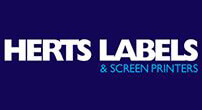 info

hertslabels.com
Phone: 01727 8 [Reveal]

Screen Printing Labels | Digital Labels Supplier
Herts Labels, Digital Labels Supplier have been producing high quality labels, Screen Printing Labels, panels and signs since 1981. Our friendly sales service allied to our reputation for quality and reliability means we have many loyal customers who have been with us since our early days.

With our expert knowledge of the screen printing labels industry we can offer solutions to all your labelling requirements, using traditional printing methods and the very latest digital technology.
Reel Labels
Supplying on rolls is the most economical way of producing good quality reliable labels; we have a vast range of options to cover all your possible requirements. We have added digital inkjet technology to, letterpress, flexo and foil machinery. This new equipment produces lightfast, durable labels, which are also suitable for exterior use. Printers Proofs are FREE on digital orders!
We have thousands of stock cutters available to produce all your labelling needs.
Screen Printing Labels & Membranes
Sometimes only screen printing labels and panels will do, they can greatly enhance the quality and design of your product. High quality screen printing labels, graphic overlays, membranes, keypads, panels, signs and stickers can be made from your production drawings, existing labels or be designed from scratch. They can include led's, windows, cut-outs, and adhesive free touch or embossed buttons.

Our Membranes and Keypads can be made to your required specification. From economical prototypes through to full production, we offer a quality reliable product.

• Quality materials
• PCB Technology
• Embossing, Integral LED's, Backlit
• Tactile and Non-Tactile
• Circuitry
• RFI and EMC shielding

Domed badges
Nothing stands out like these labels, ideal for company and product branding. They are digitally or screen printed before a knock and scratch resistant crystal clear polyurethane domed surface is added. The labels can be produced to almost any shape or size, with a range of adhesives ensuring bonding to almost any surface.

Vinyl graphics
Computer cut-out lettering, graphics and logos, ideal for machinery, equipment and exhibitions. Easy to apply, long lasting results.

Metals
Whether it's solvent resistant internal labels, or durability in harsh environments that you require, our range of metals can provide all the solutions.

Stainless Steel
These plates are extremely hardy, suitable for marine use, high temperatures and corrosive atmospheres.

Anodised aluminium
Anodising allows the printed detail to be sealed inside the surface of the aluminium. This makes them very durable/solvent resistant and suitable for internal and external use.

Brass
Another very durable and stylish material. Corrosion resistant ideal for internal and external use.

Engraving
We do all forms of engraving including, control panels, warning signs, labels, dials, and badges, door nameplates, sporting tags, gifts and I.D discs. Materials include Traffolite, Perspex, Gravoply, Aluminium, Stainless Steel.

Please contact us with any questions you may have
Related Products and Services