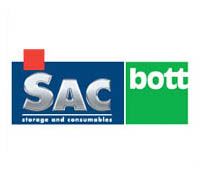 chriseyles

spaceway.co.uk
Phone: 01794 8 [Reveal]
Fax: 01794 835 616
Welcome to SAC-Bott Ltd
SAC – Storage and Consumables is an independent distributor of Workshop, Storage and Handling Equipment based in Romsey, Hampshire. A division of Spaceway South Limited (please visit www.spaceway.co.uk for more details), SAC prides itself on offering its customers a wide selection of products for use in the Warehouse, Workshop or Office environment.

As one of the UK's leading distributors of Bott Workshop Equipment, SAC has supplied a variety of Bott products to a wide range of customers all over the UK – and beyond.

The Bott product range includes items such as Drawer Cabinets, Workbenches, Cupboards, Perfo and Louvre Panels, Trolleys – plus a whole host of accessories. From a single drawer cabinet to a complete workshop design and installation service, no enquiry is too big or too small for SAC to handle.
Image Showcase (click images to enlarge)
SAC has been a distributor of Bott products for over 20 years. There are many reasons why we continue to distribute the Bott range to so many of our customers, but here are a few of the most significant ones:

Quality
All Bott products are guaranteed for 5 years – however, they are made to last a lot longer.
Style
The durability of the Bott range is complimented by a stylish, professional appearance which allows you to have not only a functional workshop, but also one which will impress during customer visits.
Flexibility
The Modular design of the Bott product range allows you to add additional products as and when you need to, allowing your production, workshop or factory areas to expand and develop as your business needs change.
Choice
With 2 different product ranges incorporating all manner of products in a wide selection of dimensions, colours and configurations, the Bott Workshop Equipment range covers almost all bases. And if it doesn't…
Speciality
As the majority of Bott's products are manufactured in the UK at their factory in Cornwall, we are often able to supply our customers with bespoke items that suit their exact requirements – if you cannot find precisely what you are looking for in the standard range of products, then we may still be able to help.
Our knowledgeable and friendly sales team have a wealth of experience of the Bott Workshop Equipment range, so if you have any queries please do not hesitate to contact us.
www.sac-bott.com
Related Products and Services