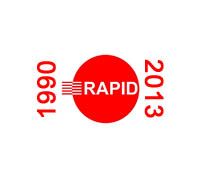 Phone: 023 9 [Reveal]
Todays Opening Hours
Friday : 8:00-5:30
Open
Welcome to Rapid Welding & Industrial Supplies Ltd
One of the largest independent welding suppliers in Europe, Rapid Welding & Industrial Supplies Ltd, is a dedicated and forward thinking distributor of top quality welding products.
For more than 22 years, Rapid has been supplying the welding industry in the UK and abroad, and is constantly striving to bring new, innovative products to the marketplace. Committed to the welding industry, Rapid has formed partnerships with many major manufactures including Kemppi, CK, Elga, Alexander Binzel, Harris, Avesta, Lincoln, Saf Oerlikon, Esab, Murex, Miller, Gullco and many others.
In April 1990, Brothers Roy Edwards, an Aircraft Approved Welder, and Rob Edwards, a Ministry Approved Senior Design Engineer, pooled skills and knowledge to create a company now recognised as one of the largest independent Welding Suppliers in Europe.

Then in April 1999, Rapid moved into the Industrial Gases sector and Rapid Industrial Gases Ltd became an agent for Air Products Plc, now delivering over 2300 cylinders each month from three independent sites covering South Hampshire, East Dorset and West Sussex. From initial concept to a thriving reputable business, Rapid has grown its sales force and customer and technical support teams, and with a growing distribution area, the Company has expanded to meet the needs of a widening customer base.

Trading from Porchester Park Industrial estate, nr Portsmouth, Hampshire, Rapid has gone from strength to strength and now operates from two sites in the south and employs thirty one industry trained individuals who share the same objectives: to supply top quality products with a back up service second to none.
This strategy includes a vision where by:

• Rapid is a recognised, respected & competitive industry supplier everywhere it does business.
• Our business model allows us to be willing and able to adapt to change.
• Our products, delivery, and after-care service allows our customers to achieve.
• Our performance is constantly monitored by the experience of our customers.
• Rapid brings innovation to the world of welding and welding distribution.
• Rapid provides an unswerving commitment to service, quality, and above all, customer satisfaction.
Rapid is currently obtaining an ISO9001 Accreditation with Lloyds Register. The ISO9001 is aimed at businesses wanting to develop and improve management systems and performance. Not only does this undertaking prove Rapid's commitment to its own ethos, but it will ensure that the growing needs of customers are met, and that the Company is providing the products, service and quality people really want.

Rapid has been trading online since 2003, but developing technology and the desire to explore this avenue to its fullest prompted an investment which took sales to a wider market. Secure, visually informative, and easy to use. Via the website, customers now have a myriad of products, information, and expertise available to them. Retrieving orders, creating quotes, accessing brand information and product libraries for welding guides and videos: information is readily available at the click of a button. For a more personable touch, Rapid's very own friendly online specialist, Andy, is always available to answer any queries and go through product choices over the phone, while Twitter, Facebook and blogging have enabled the team at Rapid to interact with customers directly, keeping them informed of events and news via social media channels.
To shop for any of the below products please click the relevant image:
Related Products and Services

4.5

stars based on

1

customer reviews
Write a review
By Nicola Williams , B S Steels Ltc
We have used Rapid Welding for many years, their service has always been excellent and the staff helpful. We will continue to use them for years to come.
Was this review useful?


Key Contacts

Mr . Andrew Doe
Internet Sales Specialist
Tel: 023 92214214
Email: andrew.doe

rapidwelding.com
Opening Hours
| | |
| --- | --- |
| Monday | - 8:00 to 5:30 |
| Tuesday | - 8:00 to 5:30 |
| Wednesday | - 8:00 to 5:30 |
| Thursday | - 8:00 to 5:30 |
| Friday | - 8:00 to 5:30 |
| Saturday | - Closed |
| Sunday | - Closed |