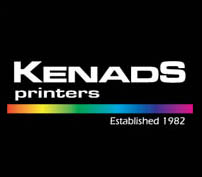 info

kenads-printers.co.uk
Phone: 0845 26 [Reveal]

Kenads Printers are a friendly commercial printers based in Worthing, Sussex.
After being in the industry for over 28 years we feel we have all the knowledge and experience to help you with all your print requirements, whether you are a large corporation or an individual we treat all our clients with the same professional approachable attitude. No job is classed as too big or too small.
We offer litho and digital processes in-house; we use the latest digital technology for short run, on demand, high quality digital print which is complimented by our Litho presses. These are used for all your pantone specific and metallic inks, generally for high volume print runs, heavier and specialist stocks.

Service/ Product Range



Print
we offer both Litho and Digital Print solutions, both of which we excel in. Each side benefits from different aspects, whether they be long print runs, pantone specific inks or short run on demand turnaround.

We print all forms of stationery, leaflets, brochures, newsletters, flyers, postcards which can be achieved with either of these print solutions.

Brochure Printing
From a simple folded brochure to a multipage brochure with added features such as spot UV gloss varnish you will find our prices very competitive.

Leaflet Printing
We produce thousands of leaflets every day from a charity fund raising event to promotional material for your company, we have the solution for you.

Newsletter Printing
We produce many newsletters every month, from a glossy colour school newsletter sent out every term to monthly newsletters posted out on a monthly basis; we will have the solution for you.

Document Printing
our colour and black and white document printing are second to none; we can take files in various formats, including pdfs, word, PowerPoint and publisher. We can also work from hard copy originals for those needing to reproduce an already formed document.

Whether it be a training manual, office document, user guide or report we have the full service in house, meaning your information can be produced and presented in the most professional manner easily.

Large format
our large format Epson Printer with its onboard Harlequin rip is extremely sophisticated. Offering fantastic colour matching with photo quality finish, it prints at 2400dpi and is perfect for fine art and photography.

Other Services
As well as everyday printing we can also offer other services such as CD/DVD duplication, fulfilment, mailings and even photography services.


Summary
At Kenads Printers we pride ourselves on service. We take great joy in knowing that we understand your printing requirement, but more importantly that we can accommodate them, and generally at an extremely competitive price.

You can rest assure that when you deal with Kenads Printers, your job will be handled with the up most professionalism and well within your budget.

To understand how we work and to see how competitive our prices really are, please feel free to contact us by phone or visit our website at www.kenads-printers.co.uk
Related Products and Services