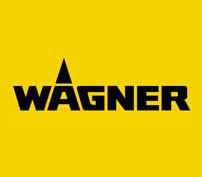 enquiries

wagnerspraytech.co.uk
Phone: 01295 7 [Reveal]
Fax: 01295 710 100
Welcome to WAGNER
Wagner Spraytech, incorporating internationally known brands Wagner has the largest and most diverse spray painting equipment, powder coating equipment and Fluid Pumping range in the Finishing Industry, manufacturing equipment for Liquid, Powder and Adhesive applications supplied Worldwide offering unrivalled expertise.
This means that if you have a finishing or application requirement then we will have the equipment that will give you the best results at the most cost effective prices. Whether it's a single pump system or a complete spray system, we can offer a competitive design and installation solution for your needs.
Wagner Spraytech (UK) Ltd offers a range of electrostatic and conventional spray technologies for solvent and water based paints. ATEX approved LVLP, HVLP, Conventional Airspray, Air Assisted Airless (Air Coat), Electrostatic, Mechanical and Electronic proportioning systems, Powder Coating, ICR Breeder Pumps, Large capacity transfer pumps, Powder kitchens, Complete powder plants, Plastic powder booths, Reciprocators, electrostatic paint or powder Bells are all offered as either independent components or as part of a turn key engineered solution.
Some of the products and services we offer
Whether it's powder coating equipment, paints, stains, mould release agents, primers, adhesives, chemicals, whether it's high or low viscosity, watery or with a high solids content - WAGNER provides the right transfer pump for each material, for each application.
Constant power, low icing pneumatic motors, reliability, easy maintenance, low wear and energy consumption - as a result of practical development work, a wide range has developed which is right in the best possible way for all requirements.

But WAGNER does not only supply pumps and suitable accessories for these. We also design and build complete paint supply systems right up to piping systems matched your requirements

PrimaSprint Airfluid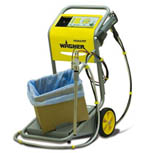 The PrimaSprint Airfluid system is new to our range, it is a manual system, using a manufacturer's powder box it is perfect for coating. The powder box has diagonal positioning which makes it very easy to empty.

This systems is very flexible and allows the use of either a Tribo gun or WAGNER Corona. It has a high dynamic remote function, this allows you to immediately select a pre adjusted program, without the need of looking at the controller.

PrimaSprint 60L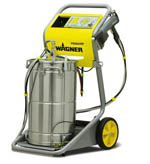 The PrimaSprint 60L powder coating equipment differs from the Airfluid system by using a stainless steel hopper. The hopper can be dismounted with ease making it simple to clean.
An integral fluid bed and an optional vibrated table are used to achieve Fluidisation of the powder. It is the combination of vibration and fluidization that give the best coating results. This coating system is manual and is perfect for the coating of series production. Once again either WAGNER Corona or Tribo guns can be used.

Electronic Mixing & Dosing Equipment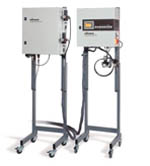 The electronic mixing and dosing equipment from the FlexControl, we offer a range that is extremely precise and meet the high demands required in the dosing and mixing fields.

No matter what type of coating you require Electronic, Electrical, High, Low pressure, manual or automatic coating. 2,3 or 4-component materials can be applied to suit the customers requirements. Our equipment use volumetric mixing and offer extremely high mixing accuracy.

AirCoat guns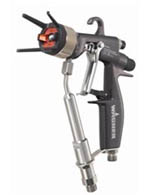 We had an objective when creating this unique gun line; Perfect handling was the objective, the end result was the AirCoat guns GM 4600AC and GM 4600AC.

These guns were designed around ergonomic interaction with comfort for the operator in mind. These guns are lighteand requires less holding and trigger force, in turn reducing the operators fatigue considerably.

The new Wagner air guidance system with its optimized atomization capabilities AirCoat Guns produces a premium finish in every application due to the new air guidance system by WAGNER, it has been optimised for atomization.

WAGNER AquaCoat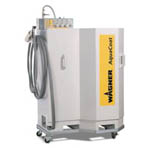 Due to strict environmental protection laws a lot of companies have started using water based paint. There are however a lot of users still very reluctant to use water based paint. The reason it is seen as dangerous is because of the mixture of personnel, water and high voltage.

WAGNER have come up with an answer and developed a system that offers optimal protection for the user. WAGNER AquaCoat is easy to use, very safe and easy to maintain.

Portable Twin Control

WAGNER offers a unique entry solution for 2K applications. The portable TwinControl is an economical, compact and easy-to-use system for a wide range of demands, including high viscosity material applications and high delivery rates.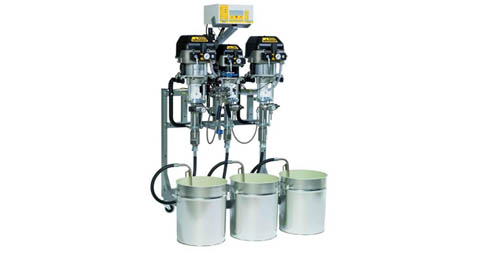 We offer many more Products & Services, please visit our website to find out more. Alternatively call a member of our team and we will be happy to help with any questions you may have.
Related Products and Services