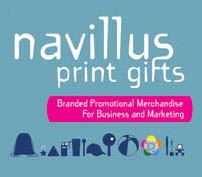 info

print-gifts.com
Phone: 020 740 [Reveal]
Fax: 020 7403 4812
Welcome to Navillus Print Gifts Ltd
Navillus offer a fantastic selection of corporate branded products, which means whether you are planning a small office award ceremony, or a nationwide marketing campaign, we have got it all covered.

Choose a customised product to suit your occasion from our selection of original ideas and well -known brand names. Our services are truly unique and varied; our philosophy is to offer the very highest standards to our customers, coupled with the widest range of products to suit every budget.
Our range of skills and services reach across all markets, to make us uniquely placed to bring to our customers creative and innovative thinking, bespoke and original design with affordable products. We have over twenty years' experience of supplying a wide range of clients with promotional merchandise.


We use our experience and resources to help deliver projects on any scale, and bring the same high level of quality and commitment to every assignment.


We believe in acting ethically and responsibly in serving our customers. We continually raise awareness of sustainability issues amongst our staff and strive to make our own business and behaviour as sustainable as possible.


Our use of lateral thinking and innovation results in added value for our customers.


Navillus provides a truly integrated service offering high quality, cost-effective promotional solutions.

Our extensive knowledge of product design, branding and sourcing has proven valuable to our clients for their campaigns, along with quality assured products that last the test of time. This is why we are ranked one of the top distributors of the year.

The Navillus team really are energetic and creative; we are a group of product designers, graphic designers, marketing and product experts who can turn our hand to anything. Apart from distributing promotional products we have been involved in designing and supplying technical drawings for manufacture and implementing park signs for London parks.

We provide a service for local councils, banks, charities and sports organisations amongst others. With an in-house graphic design team, state of the art printing technology and production techniques, we will assist you through every stage of your promotional requirements, from initial discussions to the delivery of your final finished product.

As well as supplying traditional printed promotional products such as pens, bags and clothing, if you are looking for something out of the ordinary, we have a range of products that are just that little bit different. Why not explore our website www.print-gifts.com and check out the exciting variety of merchandise we can offer? Our products are always being revised and updated, therefore ensuring an exciting range of innovative promotional merchandise that will make a difference to your marketing campaign.

We source the highest quality products for branding, and work closely with our clients to achieve a dynamic and fruitful relationship and for the resulting branded product to have a lasting impact on the end user.

Call Abi or Richard on 020 7403 4786 to discuss your promotional requirements and be reassured you will be in the hands of friendly and reliable experts who will make a difference to your advertising and marketing needs.

www.print-gifts.com
Related Products and Services