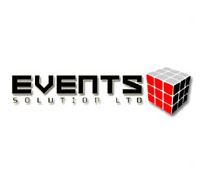 james

eventsolutions.co.uk
Phone: 0844 87 [Reveal]
Fax: 0844 870 9803
.
.
Leading suppliers of Mojo & Front of Stage Barriers & Fences
Events Solutions are constantly developing new and innovative additions to our services. As an example of this we have recently developed a load monitoring system which enables us to monitor the load applied by the crowd onto our Front of Stage Barrier.

This enables Events Solution to advise Event Organisers not only when their crowd is reaching the barrier limits but also on other barrier layouts to prevent this Event.

The site line blocking barrier was also recently developed. These front of stage barriers enable an event organiser to block the site line of the stage for safety reasons. .e.g. prevent the public crowding near an emergency exit etc.

Not only do we have a specific research and development officer but we also listen to our clients needs. We have a manufacturing division enabling us to develop ideas from the note pad into reality.
Barriers & Fencing We Offer:
Events Solutions currently offer all of the specified barriers systems as well as a few additional systems which have been added through our experience of other clients requirements.
Barriers

Pedestrian Barriers

    - 2.5m fixed or loose leg barriers
    - 1.5m pedestrian barriers

FOS Barrier

    - Tested to 8.3 Kn exceeding pop code requirement of 5Kn
    - Vehicle gates, pedestrian gates and cable gates available
    - Flexis corners, footplated corners available
    - Security step extensions
    - Site Line blocking barriers

Pedestrian Guard
Water filled road safety barriers with a pedestrian barrier extending from the water barrier

Site Guard
As above but with Heras fencing panel.

Site line Guard
Vehicle contra-flow protection barrier with a solid panel addition

Road Barriers
Vehicle contra-flow barriers

Fencing

Heras Fencing

    - Standard anti climb panels
    - Roll top panels with increased safety and strength
    - Inc heavy duty rubber block, single or double clips
    - Vehicle gates and pedestrian gates available
    - Anti lift devices available

Hoarding Panels - standard 2m by 2m panels including block, clip, in-fill section and brace

Steel Shield

    - Standard solid High Hoarding including gates etc
www.stagebarriers.co.uk
Related Products and Services