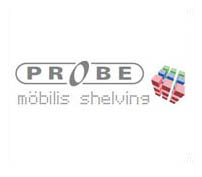 sales

oraclestorage.co.uk
Phone: 01635 [Reveal]
Fax: 01635 32032
Oracle Mobilis Mobile Shelving & Roller Racking Storage Systems.
The ideal high-density, mobile storage system that maximises floor space and efficiency. Our compact probe storage system can create up to 100% more storage capacity for your filing, archiving and product needs.

WHAT IS MOBILE SHELVING | ROLLER RACKING?
A Mobile shelving or as it sometimes referred to as roller racking, rolling stacks, moveable shelves, office mobile shelving storage solution has many advantages over fixed static shelving in terms of space utilisation. Conventional static shelving provides greater storage
capacity than conventional four-drawer filing cabinets and combines versatility with good accessibility of either side of the shelving bays.

However, this is where mobile shelving, roller racking, rolling stacks, moveable shelves, office mobile shelving is so effective. By eliminating the need for several access aisles between shelving runs and because the mobile shelving system moves along floor tracks, the space for only one aisle is needed. When an item / file is required, the particular shelving bay is identified and an adjacent aisle is created, by moving the mobile shelving | roller racking units apart.

IS MOBILE SHELVING | ROLLER RACKING SAFE TO USE?
Oracle's mobile shelving system is very safe to use. The lockable hand wheel, which comes as standard, on all of Oracle's mobile shelving systems, ensures that the open aisle is locked and that the adjacent mobile units, cannot close, whilst personnel are accessing, the mobile shelving units.

HOW HARD IS IT TO MOVE EACH MOBILE SHELVING | ROLLER RACKING UNIT?
The chain driven system with mechanical gear reduction, makes the operation simple, light with minimum effort. The gearing can be changed to make it even easier to turn, should it be required.

CAN THE MOBILE SHELVING | ROLLER RACKING UNITS LEAVE THE TRACK?
No. Guide rails are used in each design & installation. The drive wheels of the mobile base sit within the rail and as it says, guide the mobile units accurately along the track. This also where the anti tilt system is used within the track. By using guide rails throughout the installed system, will help prevent what is called fishtailing, which is where on some other systems, as you turn the hand wheel the front of the mobile moves, but the back plays catch up.

IS MOBILE SHELVING | ROLLER RACKING IT EASY TO MAINTAIN?
Yes. The mobile system will be under warranty, which means it will be maintained if need be for a period of time. The most maintenance you will have to carry out, is the occasional hovering out of the tracks, to get rid of paper clips or other items that may stop the wheels running smoothly inside and along the track.

HOW ARE THE RAILS / TRACKS FITTED TO THE FLOOR?
A completely freestanding mobile shelving system, no drilling, no fixing down, no messy ground or civil works. It will not damage or disturb your carpet or floor covering in any way. Height adjustable tracks enable installation on uneven floors and as the tracks are not
fixed to the existing floor. The tracks are held in place by the floor panels making the entire mobile system easily relocated.

WHAT IF WE HAVE AN UNEVEN FLOOR?
The unique screw adjustment from above ensures a level track even on uneven floors. Track joints are doweled and screwed for security and efficiency.

DO YOU HAVE COLOUR / FINISHES THAT MATCH OUR SURROUNDINGS?
Oracle Storage offers a large range of, optional, high quality timber effect decorative end panels and colour options to suit your environment.


WHAT'S THE NEXT STEP?
STEP 1: CONSULTATION WITH NO OBLIGATION
STEP 2: PLANNING SPACE WITH NO OBLIGATION
STEP 3: DETAILED SITE SURVEY
STEP 4: DELIVERY & INSTALLATION

We at Oracle storage systems, are confident that you will not only be satisfied but delighted with your new storage system
Related Products and Services