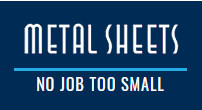 sales

metalsheets.co.uk
Phone: 01515 2 [Reveal]
Fax: 05601 157 793
Sheet Metal Sales and Sheet Metal Products
Sheet Metal Sales
Copper, Brass, Zinc, Aluminium, Stainless Steel and Galvanised Steel. We specialize in Cut to Size, Part Sheets & Small Batches of Full Sheets.

Additional services include Hole Punching, Bending, Plasma Cutting, Welding, Soldering and Composite Panel Press Work
Sheet Metal Products
We manufacture products for the Building, Shop Fitting, Restaurant and Hospitality, DIY and Domestic
markets.

Splashbacks, Kitchen Wall Cladding, Kick Plates, Push Plates, Anti Vandal Mirrors, Copper Gaskets, Heat Sinks, Designer Table and Counter Tops in Brass, Copper and Zinc, Composite Panels, Cills, Flashings and Cappings.
No Minimum Charge - No Job Too Small - Nationwide Delivery
Sheet Metal Stock
Aluminium
- Mill Finish
- Bright Polished
- Brushed Finish
- Anodised
- Chequer Plate / Tread Plate
- Perforated
- Stucco
Stainless Steel
- Brushed Finish
- Super Bright Polished
- Circles Polish
- 2B
- Patterned - 5WL, Cambridge, Canvas, Linen, Squares
- Perforated
- Rimex Super Mirror (No Blemishes & No Grain)
Brass
- Bright & Polished
- Copper
- Bright
- Polished
- Green Patinated
- Zinc Sheet & Coil
- Natural Bright
- Pre-weathered Quartz
- Galvanised
- Spangled
Sheet Metal Products (All items made to order)
Splashbacks
Available in all of our metals and finishes.
Kitchen Wall Cladding
We have a budget system for the self installer, manufactured from stainless steel sheet the system includes internal corners, external corners and joint covers.
Kick Plates & Push Plates
Typically manufactured in Aluminium, Brass and Stainless Steel although Copper is becoming popular due its antibacterial properties.
Wall Corner and Threshold Protectors
Typically manufactured from aluminium chequer plate, folded as required and supplied with countersunk screw holes.
Unbreakable Mirrors / Anti Vandal Mirrors
These are manufactured from our Super Mirror grade 304 stainless steel sheet. The mirrors are suitable for use in difficult public situations indoor or outdoor where broken glass would pose a problem or where plastic mirrors do not have the durability factor. The mirrors are 1mm thick, they can be fixed to a backer or directly to any smooth surface. Fixing holes and chromed mirror screws are available if required.
Copper Gaskets
Manufactured from half hard copper sheet on CNC machinery
Heat Sinks
Manufactured from 99.9% pure copper sheet, grade C106 / CW024, sizes from 8mm x 8mm.
Zinc Table Tops and Counter Tops
We manufacture table and counter tops for Restaurants, Bars and Domestic Use. There are many styles as can seen on our website. Finishes include Patina Zinc, Bronzed Brass, Bronzed Copper
Composite Glazing Panels
Facings Available:
- Powder Coated Aluminium
- PVF2 Coated Aluminium
- Stelvatite / HP200 Vinyl Coated Steel
- Patterned Aluminium
- Patterned Stainless Steel
- Super Mirror Stainless Steel
- Quartz Zinc
- Green Patinated Copper
- GRP
- Galvanised Steel
Core Materials
- Styrofoam
- Plywood
- Kingspan
Related Products and Services

0

stars based on

0

customer reviews
Write a review
News & PR
Key Contacts

Mr John Rutter
Owner
Tel: 0151 526 4777
Email: John

MetalSheets.co.uk
Payment Methods
BACS
Cash
Cheque
Direct Debit
Maestro
MasterCard
Online Bill Payments
Paypal
Postal Orders
Visa
Visa Debit
Opening Hours
Monday
09:00 to 17:00
Tuesday
09:00 to 17:00
Wednesday
09:00 to 17:00
Thursday
09:00 to 17:00
Friday
09:00 to 17:00
Saturday
10:00 to 14:00
Sunday
Closed