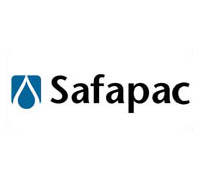 martin.steele

safapac.co.uk
Phone: 01733 3 [Reveal]
Established in 1997 Safapac is one of Europe's leading contract packers of chemicals. Specialising in formulating, blending and packing hazardous liquids, providing an outsourcing solution to the Agrochemical and Speciality Chemical Industry.

Privately owned Safapac specialises in providing bespoke outsourcing solutions for all sizes of client from blue chip companies to smaller sales and marketing organisations who need their own "Virtual Factory". Safapac produces for a range of industrial sectors including Medical, Agriculture and Veterinary. ISO 9001:2008, and ISO13485:2003 standards and ECPA compliant.

Safapac is housed in a purpose designed and fully equipped factory capable of handling a wide range of materials to the highest safety and environmental standards. Liquid manufacturing and packing includes handling flammable and toxic materials. Safapac offer a highly flexible processing facility for small, medium and large batch production.

Services include:

• Contract Packing
• Bead Milling
• Suspensions
• Emulsions and solutions
• Flammable products
• Toxic handling areas with full extraction and containment
• All vessels on load cells
• Batch integrity and traceability
• Segregation/ cross contamination – compliant with ECPA guidelines
• UN packaging
• Dangerous Goods Safety Advisor
• MSDS & DGN generation

As contract packers we offer a highly flexible range of filling lines, capable of liquid packing presentations from sachets to tankers. With automatic fillers, cappers, induction heat sealers, labellers and batch-coders.

Safapac offer a highly flexible range of services for companies who require repack or neutralisation services:

• De-labelling and re-labelling
• De-batching and re-batching
• Tipping / decanting and repacking
• Re-cartoning

Safapac work closely with clients on existing formulations to improve efficacy and yield, and to improve existing formulations:

• Formulation Development
• Formulation Improvement
• Scale up Projects

Formulation and Packing

Safapac are a highly qualified contract manufacturer with a history and reputation for formulating and packing liquid products to the very exacting standards required by a number of sectors of the chemical industry requiring a high degree of product integrity and traceability.

For contract packers and manufacturers quality is an essential aspect of our processing and to support this we have a fully equipped quality control and assurance laboratory, including FTIR, GC and HPLC instruments.

Manufacturing chemists oversee all production ensuring compliance to ECPA guidelines and quality management systems accredited to ISO 9001:2000, and ISO13485:2004 standards.
Related Products and Services