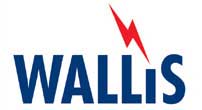 info

an-wallis.com
Phone: 0115 92 [Reveal]
Fax: 0115 875 6630
Welcome to A.N. Wallis - Earthing & Lightning Protection
A N Wallis & Co Ltd was established in 1946 as a Non Ferrous Foundry and shortly afterwards extended its scope to include the manufacture and marketing of its own range of Lightning Conductor and Earthing Fittings.

A N Wallis has always been based in Nottingham and moved to the present site in the mid fifties. The factory, which was designed and purpose built, comprises of a large two storey office block a non ferrous foundry, a machine shop and two warehouses.

A N WALLIS TODAY

A N Wallis are one of the UK's leading suppliers of Earthing and Lightning Protection & Exothermic welding equipment, we employ 39 people and turnover approximately £8 million. Mains areas of activity are the UK, Middle and Far East.

A.N Wallis is accredited with assessed capability to 9001: (2000) and products include copper & aluminium conductor, earth rods, clamps and fixings as well as exothermic welding sold under the CU-NNECT brand name. We also manufacture Electronic Systems Protection sold under WSP "Wallis Surge Protection" brand.

In recent years there has been substantial capital investment in new technology to increase our business efficiency. This has ensured we continue to grow and play a major role in this industry.
The continued investment contributes towards delivering quality products at competitive prices with minimal delivery time to our clients.

In addition to our own range of specialist cast products, we manufacture castings to customers own design and specification, including, where required, company name, logo or trademark.

Manufacturing takes place through three divisions with the emphasis on quality and customer service.
EARTHING AND LIGHTNING PROTECTION DIVISION
This is the company's largest division. Its core business is the design, manufacture and marketing of the equipment..

The division sell products internationally, through a network of agents in the Middle East, Far East and UK. It enjoys significant market share in these areas and a well recognised brand name. Wallis products comply with British (BS6651 & BS7430), International and most other influential world standards including the new European Standard BSEN 62305.

Wallis has become the choice for specifiers, consultants and contractors around the world. Technical backup and design services are a part of this divisions..

CU-NNECT (EXOTHERMIC WELDING)

Cu-nnect Exothermic welding equipment provides a highly portable method of producing welded connections of great electrical & mechanical integrity for copper conductors and for copper to steel surfaces. Cu-nnect is utilised widely on substations and power station earthing grid projects throughout the Middle East.

WALLIS SURGE PROTECTION DIVISION

Wallis Surge Protection (WSP) designs and manufactures a range of products to protect electronic systems from transient over voltages, caused either by lightning or by the switching of motors. Sensitive electronic equipment are frequently damaged from the effects of over voltages for which WSP offer a range of products to protect against. WSP Surge Protection products meet the requirements of BS 6651:1999 Annex C.

FOUNDRY DIVISION

The Wallis Foundry Division is a thriving business which specialises in the manufacture of aluminium & copper based alloy products. With an experienced work force and extensive range of production facilities Wallis provides a diverse range of products with the emphasis on quality and customer service. The core client base in the UK includes Water Authorities, the Rail Industry and various water and gas valve manufacturing companies.
RANGE OF PRODUCTS
A.N Wallis manufactures and supplies the following products:

• Copper Tape Conductors – Bare, PVC Covered & Tinned
• Exothermic Welding Equipment
• Earth Rods - Copper Bonded, Solid Copper and Stainless Steel
• Copper & Aluminum Clamps, Connectors & Fittings
• Aluminum Conductors
• Copper & Aluminum Air Terminals & Accessories
• Copper Bus bars, Earth Bars & Disconnecting Links
• Inspection Pits - Concrete & Heavy Duty PVC
• Surge Protection Devices (Transient Over voltage Arrestors)
• Cast Copper & Aluminum Alloy Products

STANDARDS

Wallis Earthing equipment & Cu-nnect Exothermic welding are used in the construction of power stations, substations & power transmission networks. Earthing materials produced by Wallis comply with the requirements of British Std BS7430:1998 'Earthing', & IEEE80.

Earthing and Lightning protection is installed on buildings in order to protect life within the building as well as the structure itself. Wallis products comply with the requirements of the British Standard BS 6651:1999 'Code of Practice for the Protection of Structures against Lightning' and the new European standard. CENELEC BS EN 50164-1
CUSTOMER AND PROJECTS
Wallis supply to wide range of clients including international Companies such as ABB, Siemens, Toshiba, Mitsubishi as well as specialist Earthing & lightning protection installers, electrical engineers and contractors. These companies install the Wallis range of products for and on behalf of consultants and clients.

Projects where Wallis materials have been utilised below (full list is available on request).

• Sub-station Earthing DEWA, Siemens – "The Burj" Dubai, UAE
• Sub-station Earthing DEWA, Siemens - DHCC, & DFC2, UAE
• ARAMCO, Exothermic Welding, Snamprogetti Saudi Arabia
• Sub-station Earthing National Grid/ Siemens UK
• Awqaf Tower Complex, Qatar. Qatar
• Lightning Protection & Earthing to Sabafon (Antennas) Yemen
• Telecommunications Towers for ESAT Republic Ireland
• ADWEA, VATECH, Al Ain West Substation, Al Ain, UAE
• GTC/5/2004 – Qatar Trans Phase VÉ – SIEMENS Qatar
• Rapid Transport System & New Airport Hong Kong
• Meridien Hotel & Citibank Regional HQ, Bahrain
• City Shopping Centre, Bahrain Bahrain
• Lanka Electric Co, Earth electrodes & fittings Tender Sri Lanka
• GTC13 – Earthing, LP & Welding – SIEMENS Qatar
• Doha North Road Street Lighting Project Qatar
• American Airbase at Al Udeid (Voltas) Qatar
• Coast Guard HQ, Kuwait. Kuwait
• Military Installations, Jordan & Cyprus Cyprus
• ADEWA OHTL, Mussaffah to E48, United Arab Emirates UAE
• GTC/123/2007 – Qatar Trans Phase V11 – SIEMENS Qatar
• Grand Hyatt Hotel – On the Creak, Dubai UAE
• Kendah House, Sheikh Zayed Road UAE
• Earthing, BK Gulf, NEW Terminal 2 Dubai International Airport UAE

REPRESENTATION

A. N. Wallis has representation in the following countries:

Bahrain, China, Hong Kong, Cyprus, Egypt, Iran, Jordan, Kuwait, Lebanon, Libya, Malaysia, Malta, Nigeria, Northern Ireland, Oman, Qatar, Republic of Ireland, Saudi Arabia, Singapore, Sri Lanka, Syria, Thailand, Turkey, UAE, UK, Vietnam and Yemen.

OWNERSHIP

A.N Wallis is a British company with headquarters and manufacturing facility in Nottingham, United Kingdom.
Please visit our website to find out more
Related Products and Services
A.N. Wallis & Co. Ltd

A.N. Wallis & Co. Ltd

A.N. Wallis & Co. Ltd

A.N. Wallis & Co. Ltd

A.N. Wallis & Co. Ltd

0

stars based on

0

customer reviews
Write a review