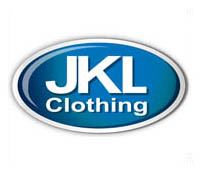 sales

jklclothing.co.uk
Phone: 0114 23 [Reveal]
Fax: 0114 283 5918
JK Leisure Clothing Ltd, are an online clothing company specialising in, Corporate Clothing, Workwear, T-Shirt Printing and Embroidered Clothing.

Workwear
JKL Clothing supply workwear, work clothing and safety wear to the workwear market. The demands that our customers place on the work clothing we supply mean that our garments have to be both comfortable to wear whilst also providing the necessary protection required. Added to this is the fact that our workwear customers expect their work clothing to stand up to the rigours of daily wear and washing and last an expected length of time. It is for this reason that the workwear garments we select for our range of work clothing and safety wear meet the exacting standards of comfort and durability our customers demand.




Although JKL Clothing are a workwear and work clothing online retailer located within the UK we can also supply our complete range of workwear garments to Europe and beyond. We also work closely with our clients to provide advice and assistance when selecting suitable ranges of workwear and work clothing. We do this by taking the time to understand our customer's workwear requirements and getting to know the environment in which the work clothing will be worn and the tasks people will be expected to perform whilst wearing our workwear garments. We will then look at the level of workwear protection and safety wear required and advise accordingly.




Our entire range of workwear garments can be decorated with company logos etc using one of three methods, embroidery, screen printing or transfer printing. JKL Clothing can provide this service using our in house embroidery and printing facilities.
Corporate Clothing
One of JKL Clothing's main focus of business falls within the corporate clothing sector. Our corporate clothing garments include a wide range of suits, trousers, shirts, blouses and ties. Corporate clothing can mean different garments to different businesses. It is for this reason that we select and stock one of the largest ranges of corporate clothing available within the UK. All business's realise the importance of the perception there customers have of them. One of the factors behind this perception is the image portrayed by a business's employees.




Corporate clothing can play a big part in the image a business portrays and having employees dressed in a smart, functional corporate clothing range will add to a business's image and the message this sends to its customers. Our corporate clothing range has been carefully selected to ensure that that we provide both the quality and choice required of almost any business user. As an online retailer we have the capacity to deliver any item of corporate clothing to anywhere within the UK.

Our entire range of corporate clothing garments can be decorated with company logos etc. JKL Clothing can provide this service using our in house embroidery and printing facilities. Whatever range of corporate clothing you require please contact JKL Clothing for help and advice and also to receive a free no obligation corporate clothing quote.
T-Shirt Printing
T-shirt printing and printing onto all styles of garments is another main focus of JKL Clothing's business. JKL Clothing have for many years provided a t-shirt printing service to our customers within the UK. Our t-shirt printing section consists of dedicated staff that are able to provide our customers with all the help and advice they need to produce a printed t-shirt or other garment meeting there exact requirements.

                                                   


T-shirt printing can be achieved using one of two methods. The first t-shirt printing technique that we use is screen printing. Screen printing is ideal for large quantities above 100 garments and involves the production of a mesh screen through which the ink is applied to the garment. The other method of printing onto garments is transfer printing. Transfer printing involves producing a transfer of the design which is then applied to the garment using a heat press. Both methods of t-shirt printing that we employ produce quality prints that will stand up to the rigours of wear and washing.
 
                                                    


T-shirt printing can be a cost effective way of promoting your business or organisation and with the help of our experienced staff we will be able to advise both on the type of printing to use as well as the selection of the appropriate t-shirt or other garment. For all your t-shirt printing requirements, please contact JKL Clothing for a free no obligation quote.
Embroidered Clothing
Embroidered clothing can really add value to your workwear or corporate clothing. By embroidering a logo or message onto your garments you are creating a perception of quality and professionalism that is all important in today's highly competitive market place.

                                                    


Embroidered clothing is another key area of JKL Clothing's continued success. Our embroidered clothing department contains experienced members of staff that are able to provide help and advice when you come to choose your embroidered clothing supplier. Whether you are looking for workwear or corporate clothing for your staff or wish to produce a range of promotional garments for your customers our embroidered clothing team can assist you and point you in the right direction so that you receive the right embroidered clothing to meet your requirements.

JKL Clothing uses the very latest Barudan embroidery machines that ensure our embroidered clothing is of the highest possible standard. We will professionally originate your logo or design and provide you with an actual embroidery sample to approve. JKL Clothing will also provide a free no obligation quote for all embroidered clothing. You can contact us through our website or by telephone. Then simply send through your logo or design and we will provide you with a price.

We are able to embroider onto almost all the garments we stock and can usually despatch embroidered clothing within ten working days of receipt of artwork approval. Whatever your embroidered clothing requirements please contact JKL clothing for a fast, professional and efficient service.
Related Products and Services