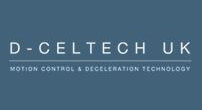 info

dceltech.co.uk
Phone: 01424 8 [Reveal]
Fax: 01424 858 172
Industrial Shock Absorbers | Heavy Duty Crane Buffer Shock Absorbers |
Air Spring Bellows | Stacker Crane Hydraulic Dampers
D-Celtech UK distributes the Weforma Daempfungstechnik GmbH range of deceleration technology components for industrial applications. The company provides high quality Industrial Shock Absorbers, Heavy Duty Crane Buffer Shock Absorber and Industrial Shock Absorber Buffers. These are precision engineered at our modern factory site in Germany and offer increased efficiency and cost savings.

Supported by D-Celtech UK the product range covers the acclaimed Mega-Line® range of industrial shock absorbers as well as heavy duty crane buffer shock absorber for both crane and automated warehouse applications. Stainless steel, plastic & clean room use shock absorbers, compact & miniature shock absorbers, deceleration cylinders, door dampers, rotary dampers, speed controls and gas springs as well as a wide range of air springs, rolling lobes, steel spring isolators & metal cushions for vibration isolation, feed escapements and pallet stoppers for parts handling & transfer systems complete the product portfolio.

The award of DIN ISO9001:2008 confirms the high quality
specification of the product range.

With over 30 years experience in the development of deceleration technology components and having established an excellent reputation for providing a quick response to providing both standard and special versions D-Celtech UK can offer you a solution. If it's achievable, we can offer a solution.

With the help of a calculation software sizing tool for shock absorbers, heavy duty shock absorber buffers, air springs and rotary dampers the best deceleration solution can easily be found. CAD drawing packages are available to download in both 2D & 3D formats.
Shock Absorbers

Extensive range of Adjustable & Self Compensating

models with optional mounting accessories.  

Acclaimed

Mega-Line®

helix-principle offering increased energy absorption.  

Range from

M4 – M115 thread sizes

working temperature range -50°C to +120°C.  

Interchangeable threaded

options with other manufacturer's shock absorbers available.  

QPQ coated corrosion resistant body standard

up to 1.0 series & PTFE protection bellows option

available.  

Choice of 3 Stop Cap materials including non marking and noise reduction option
Heavy Duty

Recent years have seen the size and speed of production cranes and automated stacker crane warehouse systems increase. To accommodate the increase in kinetic energy as a result a range of heavy duty shock absorbers have been developed.

A hydraulic shock absorber is the most cost effective reliable method to dissipate the energy generated by an impact. A spring or rubber buffer will add to the shock loading rather than reducing it and will not dissipate energy at a consistent rate. The moving object is therefore subjected to high shock loading at either the end, or the beginning, of the deceleration stroke.

Due to our CNC-based production we have established a good reputation for providing a very short delivery lead time.
Air Springs

Ideal for vibration isolation.

 

Alternative to pneumatic cylinder.

 

Single, double or triple convolution

models.  

Rolling Lobe

&

Sleeve Type

options.  

Maintenance free

no lubrication required, low cost, durable long service life.  

Stainless steel & High Temp

versions.  

ECO High Temperature versions available
Speed Control

Door Dampers available in single or double ended formats for damping slicing, roll-up, lift & fire doors.

 

Rotary Dampers for Furniture, Electronics, Automotive and Aerospace Industries.

 

Deceleration Cylinders with adjustable force for lid, door and gate closure applications.

 

Single & Double Acting Variable Speed Rate Controls for precise constant machine rate control applications in Glass, Metal, Plastics & Wood Industries
Ancillary Products

Gas Springs for controlling opening/closing of lids, gates, doors etc.

 

Shock Absorbers for Lifts & Elevators. Conform to TUV Lift Directive 95/16/EC; EN 81-1/2.

 

Feed Escapements & Grippers for Parts Handling.

 

Pallet Stoppers & Positioning Cylinders for Conveyor Component Transfer Systems.

 

Metal Cushions & Elastomer Springs for Vibration Isolation
www.dceltech.co.uk
Related Products and Services
Double-Acting Speed Controls WM-VD 36

Gas Springs

Miniature Deceleration Cylinders

Speed Controls WV-M

Mega-Line Miniature M4 - M12

Passenger Lift & Freight Load Elevator Shock Absor

HLS series

LDS series

Single Convolution Air Spring

Rotary Dampers WRD

5

stars based on

1

customer review
Write a review
8 people found the following review useful
By A. Pfan, AJC Enterprises Ltd
Great company. Fantastic service and a pleasure to do business with. Highly recommended.
Was this review useful?


Key Contacts

Mr Adrian Cummins
General Manager
Tel:
Email: acummins

dceltech.co.uk
Payment Methods
BACS
Cheque
Opening Hours
Monday
08:30 to 17:00
Tuesday
08:30 to 17:00
Wednesday
08:30 to 17:00
Thursday
08:30 to 17:00
Friday
08:30 to 17:00
Saturday
Closed
Sunday
Closed