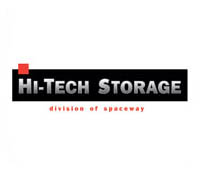 sales

storageadvisory.com
Phone: 01794 [Reveal]
Fax: 01794 835616
Welcome to Hi Techstorage
Hi-Tech Storage is a division of Spaceway South Limited based in Romsey, Hampshire that is dedicated to the supply of Storage and Materials Handling Equipment for us in the warehouse, workshop or Office.

In particular, Hi-Tech specialises in the supply of Apex Storage products (also known as Linpac or Linvar) including Apex Longspan, Apex Pallet Racking, Linbins, Louvre Panels, Linbin Trays, Linspace Shelving, Linspace Benches and Envirobins.

Our website www.hi-techstorage.co.uk features standard Apex products available with up to 20% discount on list prices. Also featured on the website are a number of other storage and materials handling products including:

Boltless Shelving, Workbenches, Cantilever Racking, Cupboards, Trucks & Trolleys, Small Parts Storage, Tool Storage, Perfo Panels, Access & Lifting Equipment, Plastic Containers, Recycling & Waste Bins, Lockers & Locker Room Equipment, Matting & Flooring, Office Furniture, PVC Strip Curtains, Roller Conveyors, Cycle Shelters, Smoking Shelters, Safety Barriers, Container Trucks, Roll Containers, Euro Containers, Hazardous Substance Storage, Security Cabinets, Spill Response Kits, Pallet Trucks, Mobile Access Steps, Grit Bins.

As well as the standard "catalogue" Apex Products we are also able to obtain spare parts and components for all their racking and shelving systems. Therefore if you need any Apex racking or shelving uprights, end frames, beams, shelves or beam clips then we can supply these also.
Image Showcase (click images to enlarge)
Although we are an approved Apex distributor we also have strong, longstanding relationships with all of the other biggest brands and manufacturers in the industry, including the likes of Bott, QMP, Treston, Lion Steel (Probe), Link 51, Packer Products, Beaverswood, Redhill, Linpac Allibert, George Utz, Metalrax, Rivetier, Stormor to name but a few.

We are not intrinsically linked to any single manufacturer and so will always try to provide our customers with the right product to suit their individual requirement. Whether your requirement is large or small, supply only or supplied and installed, we can help.

The complete range of products is available to buy online at www.hi-techstorage.co.uk which is backed up by our knowledgeable and friendly sales team who have a wealth of experience within the Storage & Handling industry. If for any reason you cannot find exactly what you are looking for or would like some advice on the items that you are looking at, please do not hesitate to contact us.

Our relationships with some of the country's leading storage equipment manufacturers also means that we have the capability to arrange for bespoke products to be designed and made to our customers specification – therefore if you feel your requirement is unique or specialist, or you have found a standard product that is almost what you are looking for, then we may still be able to help in providing the right product for you.

As mentioned above SAC is a division of Spaceway South Limited, a Space Solutions provider specialising in the design and installation of Office and Warehouse fit outs including the supply and installation of products such as Mezzanine Floors, Racking & Shelving, Partitioning and Office Furniture.

Please visit the Spaceway website at www.spaceway.co.uk for full details of the products and services that we can offer.
www.hi-techstorage.co.uk
Related Products and Services