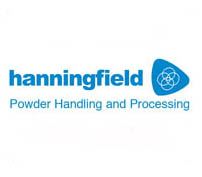 sales

hanningfield.com
Phone: 01702 5 [Reveal]
Fax: 01702 549 888

Material Conveying, Size Reduction, Powder Containment and Material Handling
Hanningfield Process Systems is a leader in the design and manufacture of world-class process equipment for the pharmaceutical industry. The company has four main areas of knowledge: material conveying, size reduction, powder containment and material handling systems.

Hanningfield Process Systems have over 20 years experience with powder processing equipment. We are proud that our products have been supplied worldwide and to have supplied process solutions to GSK, Merck & Co., Roche, Pfizer, Abbott Labs, Eli Lilly, Johnson and Johnson, Sanofi-Aventis and many other companies, both large and small. Our experience and expertise makes us confident we can solve your process problem too.



Material Conveying

Vacuum Conveyors

Vacuum conveying is the ideal solution for the contained transfer of powder, granules and similar process materials. Hanningfield 'Uni-Vac' conveyor has a throughput of up to 4,000 kgs/hr and can hold from 3 to 100 litres. The system has an easy-clean design to provide the ideal solution for the pharmaceutical and allied industries.

Vacuum conveying is a method of transferring material in a fully contained and hygienic way. Material, such as powder, pellets or granules is loaded into the conveyor and is transported to an end-destination via pipe work. Vacuum technology provides a cost effective flexible solution to the safe conveying of bulk materials across a broad spectrum of process industries.

Capsule Conveyors

The Capsujet is a proven system in the transfer of hard-shelled Gelatin capsules. Designed and built to overcome the problems associated with conventional mechanical systems, the Capsujet is ideal for the automatic loading of high-speed capsule filling machines.


Size Reduction

Conical Screen Mills

The Uni-Mill conical screen mill draws upon Hanningfield's wealth of experience in size reduction for the process industries. Conical screen or 'cone-milling' is ideal for achieving a fine, uniform particle size. The mill can achieve a throughput of up to 7,200 kgs/hr and is highly efficient, the low energy Uni-Mill is perfect for the pharmaceutical, food, chemical and consumer goods industries.

Lump Breakers

The Hanningfield Lump Breaker, also known as a 'pre-breaker' or 'kibbler' is an excellent means of breaking large lumps of agglomerated material The Lump Breaker is capable of extremely high throughput, up to 10,000 kgs/hr.

The Hanningfield Lump Breaker is used for reducing large lumpy material prior to further processing such as size reduction milling and fine grinding. The compact design makes the unit easy to fit within existing production set-ups.



Powder Containment

High Efficiency Separator Cyclones

The Uni-Dust powder recovery cyclone captures excess dust between the process machine (e.g. tablet press/capsule filling machine) and the LEV. Situated within the process room, the cyclone prevents a build up of dangerous powders from being generated in the central dust extraction system.

Manufactured from 316L stainless steel, the Uni-Dust cyclone is a hygienic method of capturing excess dust, and can be retrofitted to existing processes without compromising existing process validation; this makes the Uni-Dust the ultimate powder containment solution,

Hygienic Process Valves

The Sterivalves range of stainless steel modular hygienic valves offers the ideal solution for the control of powders and liquids in the pharmaceutical and associated industries. Most valves can be manufactured to meet special applications and come with an extensive range of accessories including actuators, position sensors, mounting flanges and control systems.

Special lightweight PTFE bodied valves can also be supplied. One of the major advantages of the Sterivalve system is the compact design that offers a very slim profile to the main body. Modular construction and interchangeable parts helps keep the spares requirements to a minimum.

Silicone Dust Caps

The Uni-Cap is hygienically moulded in one piece from FDA compliant pure silicone rubber, offering a durable easy-clean solution to containment of powder during transfer. Standard material is translucent silicone, but special colours can be supplied subject to quantity and colour request. A corresponding range of stainless steel support rings is also available, manufactured from 316L stainless steel; various surface finishes can be provided.

Silicone Sleeves

The Uni-Connect silicone sleeve system is ideal for connecting two items of process equipment using Tri-Clover type couplings. The use of a flexible connector provides a simple, effective method of height adjustment and also compensates for misalignment.


Material Handling

IBC/Drum Handling

The Hanningfield Uni-Hoist is perfect for the lifting of containers such as IBCs, drums and bins. The hoist boasts a cGMP design which specifically considers the needs of the pharmaceutical, food, chemical and allied industries. For example, the hoist does not use a hydraulic lifting mechanism, presenting a more hygienic operation.

Bin Blending

The Uni-Hoist can be used to perform blending, through the rotating of a bin. This provides a simple, cost effective solution to the blending of powders for the pharmaceutical, food and associated industries. Bin blending is becoming evermore popular due to the high productivity gained through no operational downtime. The ability of the hoist to function continuously is of great benefit to end users.

The advantage of bin blending is that the hoist can perform its function bin-after-bin. Hence, there is a need only to change the bin between processes, and not to wash out the entire bin, as is the case with alternative blending methods such as V-Blending.

Equipment Positioning

The Hanningfield Uni-Hoist is often utilised for the positioning of equipment. Process equipment such as mills and vacuum conveyors can be hoist mounted to give operational flexibility, in terms of both mobility and height. The integration of process equipment with the Uni-Hoist facilitates improved operations through enabling equipment to be positioned wherever the need arises.
Related Products and Services