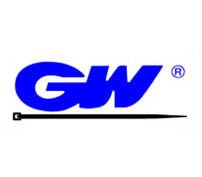 gwcabletie

aol.com
Phone: 02087 9 [Reveal]
Welcome to GW Wiring Products Ltd
Established in 1980, GW is a global business with a mission to manufacture and distribute high quality cable ties at competitive prices. We have two warehouses in Europe which are well placed to meet delivery requirements anywhere in Europe. All warehouses stock a complete range of cable ties and offer next-day delivery services.

If you have any special requirements, we are able to manufacture custom made cable ties to suit your every need. All you need to do is email us your design and the quantity you require.

Our philosophy has always revolved around quality and service. We use only Du Pont Polyamide 6/6 to ensure consistency in product quality and full compliance with the RoSH directive. Our cable ties are UL and BSI ISO 9001 & ISO/TS 16494 certified and meet CE, MIL, and DIN specifications.
Product Range
Cable Ties
General Wiring manufactures a wide range of cable ties varying from 100 mm to 1030 mm long, with tensile strength from 8 kg to 113.5 kg. In addition, we can offer our cable ties in a large range of colours, materials, and properties (e.g. UV).

Specialised Cable Ties
We have a large range of specialised ties such as push mount ties, lashing ties, mountable head ties, external cable ties, and ball ties.

Identification
We offer a range of identification solutions such as marker ties, marker pads, security marker tie, security marker pad, and customised printed cable ties.

Releasable Cable Ties
GW can offer cable ties that will allow you to reuse them time after time. These include, releasable cable ties, relievable cable ties (for automotive industry), releasable ball ties, and releasable stainless steel cable ties.

Security Ties
We can provide you with temper proof cable ties in a variety of design such as security tie, security marker tie, security tab, and fixed length security tie.


Stainless Steel Ties
Stainless Steel ties in both 304 and 316 grade are available. Variety of designs including standard stainless steel ties, anti-slip stainless steel ties, ladder stainless steel ties, and releasable stainless steel ties.

Tape Ties
We also supply hook and loop ties in a variety of size and packaging.

Cable Tie Tools
GW can supply cable tie tools to cut cable ties or stainless steel ties.

Accessories
We have a wide range of accessories to go with our cable ties: reusable twist tie, cable marker, wall plug bases, saddle tie mount, push tie mount, cable tie mount, low profile mount, marker pad, cable clump, circuit board support, spiral binding, and quick tube.

Terminals and Heat-shrink tube
Competitively priced pre-insulated crimp terminals and heat-shrink tube are available upon request.
Summary
For further information please visit our website and do not hesitate to give a member of our team a call, we will be more than happy to help.
www.gwcabletie.com
Related Products and Services

0

stars based on

0

customer reviews
Write a review
Approvals & Certificates
ISO 9001 Quality management systems – Requirements
ISO/TS 16949 Quality management systems – Particular requirements for the application of ISO 9001:2008 for automotive production and relevant service part organizations
Key Contacts

Mr Peter F.
Sales
Tel: 02087952099
Email: gwcabletie

aol.com
Payment Methods
BACS
Cheque
Opening Hours
Monday
09:00 to 17:00
Tuesday
09:00 to 17:00
Wednesday
09:00 to 17:00
Thursday
09:00 to 17:00
Friday
09:00 to 17:00
Saturday
Closed
Sunday
Closed