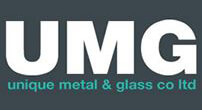 Mike.Dyer

metal-glass.com
Phone: 01246 2 [Reveal]
Fax: 01246 208 791
Welcome to UMG (Unique Metal and Glass) Co Ltd

UMG – Unique Metal and Glass, established in 1999 with experience going back many more years, are one of UK`s leading providers of exquisite entrance canopies and architectural glazing.

If you want to add that touch of elegance or flare to your building, whether it's a small canopy for your house, or a one million pound project, UMG's aim is to work closely with our clients and deliver a professional service from start to finish.
In addition to entrance canopies we also supply; balustrades and staircases, Fire Resistant Glass, automated glazed entrances, walkways/linkways, Heat Resistant Glass and shelters. Materials we use in our designs include glass, polycarbonate, structural steel and stainless steel.
Image Showcase (mouse over images to enlarge)
All projects are completed 'in house` by our highly skilled team of designers using the latest 3D software. We can offer conceptual images and layout drawings; we also offer a structural calculation facility.

The company can offer to take responsibility for an individual element or alternatively offer full project management and control over the associated works and trades of the project.

At UMG we appreciate that the nature of our work is highly visible and therefore the end result must have the right visual impact. We also appreciate that clients will expect to receive a service tailored to meet their particular demands and objectives.

Centrally located in Chesterfield and close to the M1 motorway, we are able to give a first class service to the whole of the UK.
Product / Service Range
With over 250 completed projects, some taking a few days, others taking many months, we have selected four varied installations that we hope you find interesting.

1. Entrance canopy and balconies at Dalefield Road

One of our recent projects was part of a retirement village at, Normanton, Wakefield. The building is a three storey 'Super Home' and the largest residential building in Normanton. The client was SYHA (South Yorkshire Housing Association). They were very keen to get the right balanced look for the entrance to the building. Working with the architect, UMG designed and fabricated the feature entrance, plus first and second floor curved balconies. The canopy and curved balconies are an integrated structure designed so as not to place excessive loads onto the timber building frame.

The canopy is fitted with polycarbonate panels that are curved to match the roof section above. The balconies are fitted with 10mm clear toughened safety glass with galvanised Durbar plate balcony decks. (Related image below)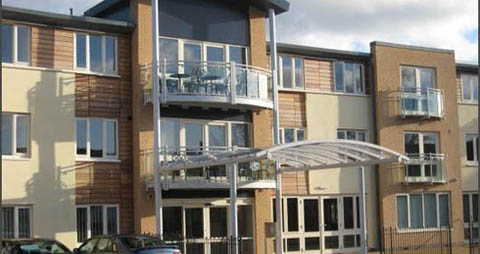 2. Box canopies for Ascot Racecourse

Our brief was to replace canvas roll-out canopies over the private boxes looking out over the racecourse, with modern looking durable canopies. Working in close liaison with the main contractor Altus Andrews, a design was accepted for the six canopies. To support the canopies we had the problem of not being able to mount off the local wall, we overcame this by designing a system for the structural steel work to run along the roofs and cantilever out over the boxes. The canopy was enhanced by using etched patterned toughened and laminated glass. With the design and manufacture completed, installation started on site. We were aware of the limits of access, but, having fully researched and completing a comprehensive Method Statement, our professional installation team ensured that the canopies were completed on time, for the 2009 Royal Ascot. The new canopies were received with many compliments right up to the highest levels. (Ascot Entrance image to the right).

3. Canopy and staircase at Redditch

The instruction was to completely overhaul the entrance and lobby areas by providing a new façade, entrance canopy and replace the ageing stair balustrade within the lobby area itself, with polished stainless steel balustrading, finished with glass infill panels. UMG were given full control over the project from initial conception to final installation and presentation, receiving much acclaim from the client.
4. Heat Resistant Glass & Fire Resistant Glass
Passive glazed smoke curtain / screen form a permanent barrier to control the spread of smoke and fire. Bespoke design toughened fire resistant glass and heat resistant glass, with a glazing system to provide a permanent barrier. Controls the movement of fire and hot smoke within buildings by forming a fixed, transparent high temperature barrier, suitable for installation in new or existing buildings where control is a requirement.
Descriptions
A canopy provides an attractive structure that provides shelter or shade to a building. Usually placed outside entrance doors, a canopy protects people entering the building, keeps the weather away from the doors and allows natural light into the area. Clear, toughened, sometimes laminated glass is the natural choice, although now modern plastics including polycarbonate are becoming increasingly popular. Structural steelwork, usually hollow section for its pleasing looks, forms the support for the canopy glazing. The steel is either powder coated or finished with a durable wet paint finish.

Walkways and linkways similar to the description of canopies form covered shelter between buildings, or from one doorway to another. They are usually cantilevered from the building, having the necessary guttering to remove the rainwater.

Modern balustrading and staircases, now usually in glass and stainless steel either for a new build, or refurbishment can transform the look of a building. Glass balustrades are a must for customers seeking a sleek, timeless design. Here at UMG we pride ourselves on designing using the latest British Standards, ensuring each installation conforms to ensure no problems ensue with building regulations.

Summary

Managing Director, Mike Dyer or any of the experienced design team, will be happy to discuss your requirements either by phone or, if you wish, on your site.

Pease visit our website www.metal-glass.com for further information and more photographs of some of our many projects. If you wish to contact us with your requirements our email address is umg@metal-glass.com.
Looking forward to hearing from you soon
Related Products and Services