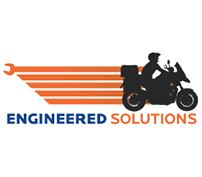 paul

engineeredsolutions.org.uk
Phone: 01661 8 [Reveal]
Fax: 01661 854 233
Welcome To Engineered Solutions
Welcome to Engineered Solutions, we are a leading supplier of storage systems and material handling equipment throughout the UK. Our website contains an online store offering thousands of products and below is a small selection of the products we have to offer:
Racking:

"The ideal bulk stock and order picking system. Sturdy, robust, high quality pallet storage systems with a full range of accessories. Applications include "drive in" or through block storage, "live" rolling pallet storage, narrow aisle, "push back", double deep and space saving mobile storage. We also have multi-tier systems."

Shelving:

"Choose from dozens of top quality shelving products including wide span systems up to 3000mm wide, strong steel and timber decks, stainless steel overlays for food, catering and pharmaceutical applications. The medium duty shelving assembles in minutes, carries up to 305 kgs. per bay and is excellent value. Steel shelves, sides and backs are available with a range of small parts storage products to support this durable, useful storage tool."

Workbenches:

"Full range of fabricated and self assembly work benches from £79. Full range of accessories which include pull out drawers, cupboards, anti-fatigue mats, work surfaces, vices, louvered, pegwall panels and lighting."

Mezzanines:

"Mezzanine floors for warehousing, manufacturing, office and retail applications. Full fit outs include mechanical and electrical design, partitioning, special and standard stairs, lifts, palletised and component loading systems and conveyors. Floors meet all building regulations. Loft space conversions are also available."

Heavy Duty Tool Lockers:

"Up to 8 drawer units available with or without locking cupboard doors or simple cabinets with single shelf and locking door for tools, jigs and fittings. Available in a full range of sizes." We stock a wide range of different lockers, please visit our website to view the full product range that includes Lockers for Office, Schools and Work.

Storage Cabinets:

"Full range of cabinets suitable for paints, solvents, janitorial and cleaning materials, pesticides and agro-chemicals, petroleum and flammable liquids, personnel, clothing and protective equipment, medical and first aid and office stationery and records. Cabinets available in all standard sizes and made to order."

Forklift Attachments:

"Forklift attachments including fork extensions, forks, tipping skips, low loaders, drop bottom skips, fork mounted jib cranes both fixed and telescopic, personnel cages fixed and folding with a full range of accessories. Other applications include drum handling up to 4 drums at a time rotating and pouring, fork mounted weighing equipment, coil and carpet booms, sweepers and grabs. We will design and make anything you require."

Industrial Tents

:

"Standard and custom made industrial tents for warehousing, manufacturing, office, retail and agricultural accommodation, permanent and relocatable." Our Portal Frame Buildings are also available in a wide range of sizes for many different applications. They can also be manufactured bespoke to your specific requirements.

I

nternal Partitions:

"Low cost way to divide up warehousing space or segregate activities, cut down dust or fume migration or reduce noise. Available as single or double skin options.

PVC Strip Doors:

"Reduce noise, vermin, birds, sound and heat loss with PVC. strip doors. Excellent internal screens to divide up operational space without restricting access. Available in a range of colours, sliding tracks, mobile versions and welding screens. This self extinguishing high quality product really cuts costs."

Trolleys:

"Full range of Sackbarrows, Dollies, Trolleys and Bogies, Skates, Barrow Handling Equipment, Horticultural Barrows, Market and Groundsman's Barrows, Turntable Trucks, Industrial and Commercial Trolleys, Cash and Carry Trolleys, Retail Trolleys, Distribution and Industrial Warehousing Trolleys and Manufacturing and Assembly Pallets."

Access Equipment:

"Fibre glass, wood, steel and aluminium ladders made to measure or select from our standard or heavy duty range. The product range includes timber and aluminium trestles, swing back steps, single, double and triple extension ladders, roof ladders, industrial steps, multi-purpose and free standing ladders and maintenance steps, platform steps, warehouse steps, telescopic steps, surveyor's ladders, tower scaffolding."

Containers and Bins:

"Tough plastic containers and bins divisible for small parts storage, excellent assembly or maintenance accessory and will easily transport with a complete range of vehicle fit out options." Our range of Bins and Containers is diverse with containers of all shapes and sizes available for all possible requirements.

Weigh Scales:

"We provide a full range of weigh scales for counting, transport weighing or sale-by-weight. This equipment saves hours of time and provides precision for onward shipment on vehicles and enables you to check received and despatched goods quickly."

Mobile & Static Lift Tables:

"Full range of lifting tables from 150 kg capacity up to 10,000 kg or more by design. Heights of lift up to 3m. These versatile low cost lifts start at just £256 delivered to any UK mainland address. Platforms available with tilt, handrails, and roll off stops. Interlocking gates and enclosures available for inter-floor goods lift applications. The ideal tool for workshop and assembly applications. This equipment is also ideal for machine feeding and transfer car applications and lends itself easily to automation. We also design and make special equipment for flame-proof, theatre stage, air cargo and military applications."

Pallet Handling:

"The Hi-lifter and Hi-lifter electric make excellent low cost work Positioners for loading and unloading pallets, also the standard warehouse pallet truck which lifts 2.5 tonnes comes standard with nylon rollers and is available with weigh scales, galvanised or in stainless steel and a full compliment of sizes to fit applications from printers pallets through to food and pharmaceutical industries in both wet and dry conditions. The pallet trucks are available with a range of fork lengths to accommodate special pallet sizes and reel handling."

Vehicle Loading Systems:

"This includes mobile yard ramps to 12 tons, dock levellers, manual and automatic, loading bay doors, curtains, shelters and full range of supporting ancillaries including lights, bumpers and wheel guides."

Gravity Conveyors:

"In 3m standard lengths, available with adjustable stands, lift up gates, end stops, ball tables, bends, parallel, taper and split rollers and flexible track, mobile and fixed. Also skate wheel versions available." Contact us for more information on and a free site survey

Powered Belts:

"Full range of powered belt conveyors to feed mezzanine floors, load vehicles, pack and unpack containers. Models available with elevating and retracting booms, special vehicle lifts for feeding goods from ground level into HGV's or containers. Also powered roller systems available."

Stainless Steel Units:

"A range of made to measure food-grade stainless steel kitchen tables, cupboards and sink units are now available." We also stock a range of stainless steel trolleys for both industrial, food and healthcare industry sectors.

Overhead Lifting Equipment:

"1 tonnes to 50 tonnes available as floor mounted. Goliath, Semi-Goliath, overhead travelling, gantry or wall or floor mounted jib cranes. Excellent maintenance and machine tool supporting equipment to load work and tooling. Overhead cranes for heavy lifts, fabrication and metal processing applications."
End of Line Solutions:
"Customised end of line solutions for filling and packaging your products. This puts your products into a format which makes them easier, cheaper and faster to handle. It is a critical part of the onward distribution process from warehouse assembly or manufacturing line."

Can't See What You're Looking For?
"Please ask, whatever your requirement, we can design, build, finance and install. Contact us using our website link, email submit form or give us a call"
www.engineeredsolutions.info
Related Products and Services