Ultimately Superior...
Than all of our competitors. A bold statement, but true - the trusted Businessmagnet directory has been totally re-developed with 100's of new features to help you connect with new clients or suppliers faster than ever.
Businessmagnet Apps
Browse the UK's ultimate B2B directory

on the move, store contacts, email suppliers quickly, all from any device with an internet connection
more info
Activity Feed
British Encoder Products Co
Place pointer

here

to reveal number

Inception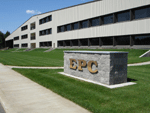 British Encoder Products Co, (BECo, the European Division of the multi-national Encoder Products Corporation), was founded in 1987, beginning operations by manufacturing a range of incremental and absolute encoders designed especially for the European Market. Today, more than 20 years later, BECo manufactures the most complete line of incremental and absolute shaft encoders in the UK, meeting the diverse needs of a wide range of global customers. BECo's core philosophy is that each and every customer deserves quality products, superior customer service, and expert support. Adherence to these principles has enabled BECo to achieve its goal of maintaining long lasting customer relationships.

Products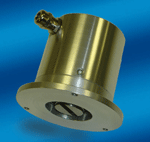 As inventors of the original Cube encoder, our North American Division, (EPC), has also been responsible for a large number of "firsts" in the encoder industry, including the first use of Opto-ASIC technology and the first use of flex mounting for hollow shaft encoders, to mention just two. These innovations have not only been widely imitated, they have often become industry standards, including the original 'Cube' 711/716 Series. The European Division, British Encoder Products, manufactures a wide range of high-precision, rugged, reliable encoders available in all popular formats right here in the UK, at sensible prices, and with remarkably short lead times. The UK manufactured 'Shafted' Encoder range includes industry standard sizes 15 (38mm), 20, (50mm), 25 (63.5mm), 90mm, and the widely used 58mm. Our 'Hollow Shaft' range provides a wide variety of 'full through shaft', and 'blind bore' configurations to meet the diverse needs of the of industrial and motor control applications sectors. The Absolute Series provides accurate positioning information even in the event of power loss. In addition, EPC/BECo has developed many ingenious, unique custom encoders for a diverse group of corporate customers.

Innovations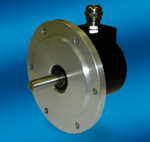 • Produced the first 'Cube' 711 & 716 Series shaft encoder - now an industry standard.
• Designed and introduced the first flex mount style coupling for hollow shaft encoders, Series 755, 260, 15, 725T, and 760.
• Was the first to offer 6000 PPR, in quadrature, in a standard size 38mm housing, Series 755, now up to 30,000 PPR.
• Was the first encoder company to offer the SUPER FAST 'expedited' for most of our product range.
• Designed and manufactured the first encoders to operate above 100° C temperature, for brushless motor applications.
• Produced the first encoders that offer internal mechanical isolation for extreme environments.
• Leads the industry WITH A THIRTY SIX MONTHS PRODUCT WARRANTY.

Quality System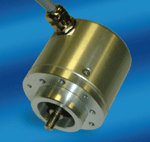 When selecting an encoder supplier, your top three criteria will most likely be Quality, Reliability, and Price. These three issues have been our top priority, during our entire 30 plus years as a manufacturer of optical shaft encoders. To ensure that Quality remains a top priority, we have invested heavily in a Quality System that has successfully been audited to the requirements of ISO 9001:2000, an internationally recognized standard for comprehensive Quality Systems. This Quality System incorporates procedures for timely preventive and corrective actions so that the quality of your encoder will keep improving. One visible measure of our emphasis on quality is EPC/BECo's best-in-the-industry three-year warranty!

Locations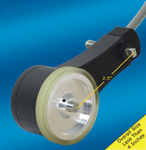 Our Corporate Headquarters and North Americas Division are located close to beautiful Sandpoint, Idaho, 63 miles from the Canadian border. A newly built 100,000 sq/ft facility is where we design, enhance, and provide customized encoders for our global customers. This location is ISO 9001:2000 registered. From this location the Americas Division supports and manufactures encoders for our customers in North and South America as well as encoder components and some completed units for other EPC divisions. British Encoder Products UK Manufacturing Facility, (located in Wrexham, North Wales,) provides the same super fast manufacturing service for the European, African, Middle Eastern, and Australian markets, as well as manufacturing a range of incremental and absolute encoders for other EPC divisions. BECo also undertakes the design and manufacture of some 'Machine Tool Specific' encoders which directly replace many of the difficult to source, Fanuc, Tamagawa, Nikon, Mitsubishi, and Kuroda devices. Our Asian Division, Zhuhai Precision Encoder Company Ltd, (ZPEC), supports and manufactures several encoder models for sale in the Pacific Rim countries, and we have an associate company, Jayashree Encoders Ltd, (Jencoder), located in PUNE, India, who currently manufacture an impressive range of encoders, for the Indian domestic market
Our intention is always to provide our customers with the best value possible as an encoder supplier. Providing not only sales offices, but engineering, manufacturing and repair services positioned around the globe is part of that value.

Support

The Company enjoys a well-earned reputation for support of our own products, and we also offer a REPAIR SERVICE, capable of repairing and servicing encoders even if not manufactured by our own company. Our lines are open from 08:00 through 17:00 from Monday to Thursday, and from 08:00 to 15:00 Fridays.
 
Products and Services
Payment Type
These are the payment types we accept
Payment Terms
Our payment terms