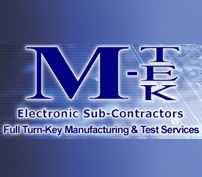 sales

mtek.co.uk
Phone: 01189 4 [Reveal]
Fax: 01189 421 310


Since M-TEK was founded in 1996, we offer Electronic Manufacturing Services and we recognise that every company success can be traced back to having in place traceable, accountable and efficient upstream and downstream open communications throughout its internal and external layers substantiated by good business ethics. Subsequently, M-TEK has steadily invested in the right people, equipments and systems. We specialise in small, medium and volume batches of various complexity. We operate to BS EN ISO 9001:2008, BS EN ISO 14001:2004, IPC-A-610D (Class 3+) and WHMA-620 standards. Our services encompass:
NPI, Rapid Prototyping, Product Testing & Integration & Complete Box Builds

X-ray Inspections

Mixed Technology Double Sided PCB assemblies (SMT& Conventional)

Sub----micron Digital X----RAY Inspection with 70 0 Oblique View Capability

Prototype Assemblies

AOI with Laser Coplanarity Capability Module for QFN,,,, LGAs,,,, BGAs and ICs

Design for Manufacture & Specialist Repairs Scenario Capability

Turnkey Product Assembly & Test (Ful Procurement)

Electromechanical Assembly

Cabe and Loom Assembly

Electronic Manufacturing Services
M-TEK currently employs 27 engineers and operators. With our comprehensive equipment List, flexible workforce, our commitment to invest in people, talent and technology, we are able to offer our customers a more responsive, competitive, efficient and tailored approach to their prototype and/or production assembly requirements.


Services
Sub-Micron X-RAY Inspections (Digital & Oblique Views)

SMT & PTH Assembly (Small, Medium & Volume Production)

Flexi-Rigid and Flexi Circuits Assemblies

Package on Package (PoP) Assemblies

Prototype Assemblies

ìBGA/BGA Rework

Rapid Prototyping (NPI to Volume)

Testing & Programming (Flying Probe, ICT, X-JTAG, ESS)

Debugging & Product Support

Complete Box Builds (inclusive of Cable Assemblies)

UK & Global Procurement Services based on a Audited Secured Supply Chain
Objective: NPI & Production Excellence
M-TEK has always believed in "the Customer always comes first ".

We pride ourselves on our long standing relationships with our customers. This is due to our ongoing commitment to reinvest in people and equipment in order to keep abreast and anticipate technological advances within our customers' product ranges and the electronic industry.

Our objective is to offer this commitment to existing and new customers alike, and continue to expand our services into new sectors and industries.

As a result, our portfolio of services and partners currently encompasses the following industries:
Broadcast & Telecommunications

Performance Automotive

Oil & Gas

Security & Defence

Marine

Research& Technology
For more information regarding Prototype Assemblies, X-ray Inspections or any of our products or services please call a member of our team or visit our website.
Related Products and Services