Todays Opening Hours
Monday : 9:00-6:00
closed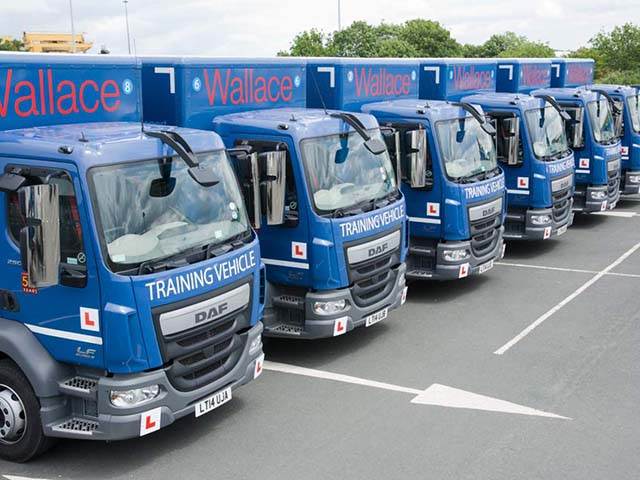 Forklift Truck, HGV Driver, LGV Driver & Construction Plant Training
Wallace School of Transport delivers Lorry, forklift truck, minibus, coach & bus tdriver raining with Lorry training centres in London, Middlesex, Hertfordshire, Essex, Surrey, Berkshire & Buckinghamshire.

Our instructors are fully qualified and experienced and we are accredited by DVSA (Driving & Vehicle Standards Agency), RTITB (Road Transport Industry Training Board) and ITSSAR (Independent Standard Training Scheme and Register).

Our facilities are second to none with our modern fleet of training vehicles which are easy to drive and as our staff are friendly and approachable, we will provide all the support you need to pass your Theory Test (Multiple Choice and Hazard Perception), Initial Driver CPC case study (Module 2), and Show Me - Tell Me Questions and Answers and in preparation for the Off-Road Practical Test to gain your Driver Qualification Card. Please phone if you need help with applying for your Provisional Entitlement with our Quick Start Package. We also carry a stock of current Theory Test Study Material including books, CD-Roms and DVD's as well as On-Line Learning which you could collect from our Park Royal (NW10 7AR) office or we can post to you.
Company Video
Our Services
Our services include HGV Heavy Goods Vehicle Training - class 2 & class 1 - drawbar & articulated which is now known as LGV Large Goods Vehicle, LGV C1, LGV C & LGV C+E. Fork Lift Truck Training Course, please visit our website to view more information on Forklift Truck training and all other services regarding Fork Lift Trucks. We offer lessons and driver training courses in London at our centres at Battersea, Croydon, Dunstable, Enfield, Greenwich, Guildford, Harlow, Heathrow, High Wycombe, Park Royal, Watford and Wembley.
We also offer driver training for PSV/PCV - Passenger Carrying Vehicles PCV D both for automatic bus and manual coach, and D+E Coach + Trailer, and PCV D1 Minibus and D1+E Minibus + Trailer

With the introduction of Driver CPC drivers who need to complete 35 hours of periodic training to gain their Driver Qualification Card (DQC) can undertake training with us at our Park Royal or our instructor can deliver training at your premises. Our Jaupt approved training can be delivered either in 1 day sessions, weekdays and weekends, or as an intensive course, Monday to Friday.

We offer FLT - Forklift Truck Certification for Counterbalance and Reach at our fully equipped Park Royal Training Centre and for Company Clients we can provide Fork Lift Truck Counterbalance training and certification On-Site at clients premises for any type of fork lift including pallet truck, pedestrian stacker, narrow aisle to name a few. Also at our Park Royal Centre we offer truck mounted forklift training - Moffett Mounty - and revering Banksman training.
For anyone seeking construction qualifications at our training centre in Woolwich, London, E16 we can provide CPCS/CITB Telescopic Material Handler, 360 degree excavator, Forward Tipping Dumper Truck, Slinger Signaller and Signaller Banksman

Specialist training for anyone seeking to be a Paramedic or Ambulance Driver is also available. Our simple and easy to drive training vehicles are ideal for those seeking LGV C1. Our 7.5 category vehicles are also suitable for those seeking to drive a horsebox vehicle up to 7.5 tonnes, although for larger horseboxes a full LGV C may be required.

Trailer Training and Driving Test - car and trailer B+E and van and trailer C1+E is a must for anyone needing to tow a large caravan or small and large trailer for work or for pleasure.

Our extended training services also include Driver Development & Advanced Training, SAFED training, Digital Tachograph Training, Managers CPC - Certificate of Professional Competence, Driver CPC, ADR - Dangerous Goods Courses and Lorry Loader Crane (Hiab) for Grab, Hook, Bucket & Clamshell and Remote Control operation as well as MEWPS and IPAF qualifications for scissor lifts, cherry pickers and elevated work platforms.
If you are looking for a driving job we can help with our links to industry and our dedicate driver employment agency - good drivers need never be out of work!
See below for the locations Wallace School of Transport cover:
London
Central London
Greater London
Middlesex
Middx
Hertfordshire
Herts
Buckinghamshire
Bucks
Essex
Bedfordshire
Beds
Home Counties
Surrey
Barnet
Barking
Bagshot
Baldock
Battersea
Beaconsfield
Berkhamsted
Bexley
Boreham Wood
Bracknell
Brentwood
Brixton
Bromley
Broxbourne
Bushey
Byfleet
Camden
Catford
Cheshunt
Chesham
Chingford

Croydon
Dagenham
Dartford
Dunstable
Ealing
East Ham
Edgware
Edmonton
Enfield
Elstree
Epping
Epsom
Finchley
Fulham
Gillingham
Greenwich
Guildford
Hackney
Hammersmith
Harlow
Harrow
Hatfield
Hayes
Heathrow
Henlow
Hertford
Hemel Hempstead
Hillingdon
High Wycombe
Hitchin
Hounslow
Kensington
Ilford
Leatherhead
Leighton Buzzard

Letchworth
Lewisham
Luton
Mill Hill
Merton
Potters Bar
Purfleet
Redhill
Rickmansworth
Romford
St Albans
Sevenoaks
Shefford
Southgate
Southall
South Oxhey
Slough
Stevenage
Staines
Stotfold
Sutton
Thornton Heath
Tottenham
Totteridge
Uckfield
Uxbridge
Walthamstow
Waltham Cross
Wandsworth
Watford
Welwyn Garden City
Wembley
Woking
Yeading
Visit our website for more info or contact a member of our team
Related Products and Services
WALLACE HGV LGV PCV Forklift DRIVER CPC Transport

Wallace Bus & Coach Training in London

C1 drive upto 7.5 tonne

Easy to drive Wallace '14 plate vehicles

Lorry Loader Crane - Hiab Training with WALLACE

Reach Forklift Training in London

Wallace B+E training for Van and trailer licence

Quick Start Package for LGV HGV PCV provisional l

Moffett Mounty Forklift Training in London

Hiab training with Brick Grab attachment

Forklift Training at Wallace Warehouse

Driver CPC training at your site or your choice

Digital tachograph training with Wallace

Counterbalance Training At Your Premises

Driver CPC training at Wallace Park Royal London

Wallace School's helpful staff

5

stars based on

4

customer reviews
Write a review
By Qasim ,
Thank you to my instructor, Mr Sukhdev, for teaching me pcv licence which i have passed first time he is outstanding instructor i can say the best instructor i will recmond any one to him he is good and great guy very friendly and very helpful once again big thanks to him and all the staff at wallace school !!!!!!!!!!!!!!!!!!!!!!
Was this review useful?


By Adam ,
I am writing to thank you for an outstanding and excellent training methods of Wallace instructors, Recently I have undergone B+E training with Paul Murphy and passed my test without mishap. His training methods were very clear and understandable and easy to implement on the roads so I felt confident on the test day. I hope this email will not be unnoticed and Paul Murphy will be praised for his superior performance. If I decide to gain further qualifications WALLACE will be my No1 choice
Was this review useful?


By Robert ,
Thanks to the guidance of your instructors James (Wembley Branch, manual coach) and Terry (Enfield branch, lorry), I always knew what was required of me to confidently pass my test of cat C and D. I will happily and strongly recommend your company to anyone who wants to become a professional driver Gentlemen, one more "big" thank you very much for your excellent service and brilliant advice how to "play" with examiners during the test;-)! See you soon for my C+E
Was this review useful?


By Vladimir ,
Many thanks to you and your instructor John. On Wednesday I have passed my C+E at first time.
Was this review useful?


News & PR
New HGV/LGV Training Vehicles
In April 2014 the law changed. Drivers with a Manual Car Licence can now pass LGV driving test using an Automatic Lorry to get a Manual LGV/HGV licence.
QUICK START PACKAGE
Let us help with your pre-training requirements. Our fast, effecient service is designed to take the hassle out of obtaining your Provisional Entitlement and makes it easy to pass your Theory Test.
Key Contacts

Ms . Ruth Wallace
Director
Tel: 02084533440
Email: info

wallaceschool.co.uk
Payment Methods
Visa
Cash
Visa Debit
Cheque
BACS
MasterCard
Direct Debit
Postal Orders
Opening Hours
| | |
| --- | --- |
| Monday | - 9:00 to 6:00 |
| Tuesday | - 9:00 to 6:00 |
| Wednesday | - 9:00 to 6:00 |
| Thursday | - 9:00 to 6:00 |
| Friday | - 9:00 to 6:00 |
| Saturday | - 8:00 to 4:00 |
| Sunday | - Closed |