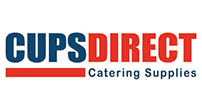 support

cupsdirect.co.uk
Phone: 01206 5 [Reveal]
CupsDirect Paper and Plastic Cups
CupsDirect - Need a more reliable and competitive supplier of high quality disposable paper and plastic cups then our look no further. We supply the trade and business end users with an extensive range of disposable paper and plastic cups.

CupsDirect is based in the south of England; from here we receive a comprehensive supply of plastic cups and paper cups supplies from factories across Europe and hold large volumes of stock for your convenience. Our Cups are available on a next day delivery service as standard throughout the whole of the UK, we have number of different delivery services to Europe and destinations further afield.

Our Website
Our Brand revolves around or website, which includes the latest web technologies, meaning your get an up-to-the-minute website with stress-free ordering platform keeping your shopping experience trouble-free and quick.

CupsDirect web based services bring you the benefit of quick and easy re ordering 24 hours, 7 days a week. Our web based presence streamlines our overheads keeping our prices down, that combined with our purchasing powers brings you the probably the best disposable plastic and paper cups supplies service on the internet today.

Support
Our support is not just limited to the website, CupsDirect customer support is standing by to take your call and questions over the phone and internet now.
Our Popular Product's (Mouse over images to enlarge)
Here is a selection of our most popular product lines

Budget White Plastic Cups - CD5644
Supplied in a box of 2000, it's the cheapest cup on CupsDirect, don't be put off by the price the quality is still great, manufactured in the Europe.

Clear Plastic Cups –CD5649
A clear transparent cup is the next step up from the budget white cups, suitable for all cold drinks and great value, ideal for parties.

Water Cooler Cups -
We stock three different blue water cooler cups, all fit the water cooler cup dispensers and are supplied in boxes of 100, 1500, or 2000.

Paper Coffee Cups
The disposable paper coffee cups range is expanding as we bring more stock online, we have a selection of sizes and designs available, Cupswith lids and sleeves.

Pint Glasses – CD0684
Our pint glasses are popular with our trade customers; we have some excellent prices for those
looking to reduce their overheads, and bring a reliable supply on-board.

Shot Glasses
Ideal for bars and product sampling our shooter glasses supplied in one and two ounces are available
next day delivery.
Special Discount for all Business Magnet Customers

Use the following Code in the checkout to collect 10% of any product on our website: BMAG1
Click the link at the top of the page to visit our website
Related Products and Services