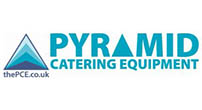 graeme

thepce.co.uk
Phone: 01454 [Reveal]
Catering Equipment Supplies, Commercial Kitchen Design
Pyramid Catering Equipment Ltd

Pyramid Catering Equipment Ltd specialise in commercial kitchen design and catering equipment supplies. Whether you are looking to refurbish your existing kitchen or undertake a completely new development or

Catering Equipment Supplies,

Pyramid has the skills to provide you with the best solution to meet your needs.

Catering Equipment Supplies

Pyramid has links with all major catering suppliers and so can offer a complete range of catering equipment including Falcon, Lincat, Mareno, Imperial, Comenda and Gram. Whether you require a six burner range, fryer, fridge, freezer, microwave or induction hob. Whether it is gas or electric and whether you require installation or simply require delivery Pyramid can offer a fully comprehensive choice at extremely competitive prices.



Commercial Kitchen Design

Our skilled staff has first hand experience of working in the catering industry and therefore have an in-depth understanding of the requirements of the commercial caterer. You may be looking to change your menu and need assistance to redesign and re-specify your cookline and storage requirements, or you may be simply looking to replace your existing worn-out equipment.



One-Stop-Shop Solution

The advantage of using Pyramid compared to most other equipment suppliers is that we offer a true one-stop-shop. Once we have designed your kitchen we can supply and fit the hygienic wall cladding, non-slip safety flooring, suspended ceiling, first fix mechanical and electrical services and extraction.



Project Management

Every installation is fully project managed by our experienced contracts managers to ensure that your new kitchen is fully operational when you need it. Pyramid will liaise with the main contractor when needed to facilitate a stress free experience for you.

As a commercial caterer, your kitchen is your livelihood and should only be entrusted with true professionals who can maximise its potential. Pyramid Catering Equipment Ltd has the skills and experience to provide you with the level of service you deserve.
We offer our Catering Products and Services to the following areas: Bristol, Somerset, Wiltshire, Gloucestershire.
Related Products and Services