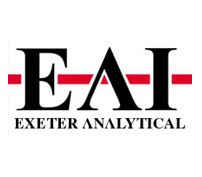 info

exeteranalytical.co.uk
Phone: 02476 [Reveal]
Fax: 02476 323221


Exeter Analytical specialises in the design, manufacture and sales of CHN/O/S Elemental Analysers. We have over 25 years experience in the field of Carbon, Hydrogen, Nitrogen, Oxygen and Sulfur analysis.

We manufacture the world renowned CE440 Elemental Analyser. This instrument has one of the highest specifications of any instrument on the market. The CE440 is widely regarded as the instrument that's sets the standard for CHN analysis.

Our aim is to provide all our customers with the highest level of instrument quality and support. We offer a wide range of consumables for the majority of CHN/O/S analysers on the market today.

Our European headquarters are located in Coventry, England with extensive manufacturing and support facilities in Chelmsford, Massachusetts, USA and agencies throughout the world.
Oxygen Flask Combustion Unit:

The oxygen Flask Combustion Unit is designed to be a safe method for using the Schoniger flask method of igniting samples. This method is a proven technique for the combustion and analysis of elements including Bromine, Sulfur, Chlorine, Phosphorus and a range of metals. The combustion that takes place is a simple procedure involving a few millilitres of absorbent solution in a flask. The sample is placed in an ashless filter paper holder and weighed out. This method is set up with minimal costs and can cope with a wide range of samples.
Advantages:
Safety: Potential explosions are contained within the unit.
Very simple Operation
Combustion is carried out in a sealed flask, minimising product leaks.
The Combustion Unit will not operate whilst door is opened.
 
CE440 Elemental Analyser:

CE440 Elemental Analyser offers a unique horizontal design witch enables ash removal between every analysis, eliminating potential memory effects ensuring the best results possible every time you carry out an analysis. Analysis times take less the 5 minutes and are very low cost, with fully automated maintenance and diagnostics.
Applications:
Environmental - Analysis of oils, fuels and their by-products effects.
Organics & Pharmaceuticals - CE440 can analyse almost every class of organics.
Refractories - Graphite fibres, Ceramics and Nitrates can be analysed.
Polymers - Determine elemental composition of Polymers, Blends and Copolymers.
Volatile/Air Sensitive Samples - Are easily captured using a capsule sealing device.
Related Products and Services