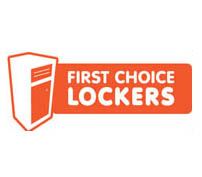 cheryl

firstchoicelockers.co.uk
Phone: 01635 [Reveal]
Fax: 01635 32032
Our aim at First Choice Lockers is to supply and deliver the highest quality of lockers, benches, cloakroom lockers and cloakroom equipment for the UK and by making on line purchasing as easy and as safe as possible.

First Choice Probe Lockers come with a wide variety of choice for the purchaser. Choose between different sizes of compartment, door colours, choose between different locking mechanisms. In addition, you can specify accessories to complement your lockers. Locker stands allow you to clean underneath the lockers, cloakroom bench seating allows users to sit while changing footwear, lockers with sloping tops, prevent the accumulation of clutter on top of the locker.

We supply and install our lockers to the education, healthcare, emergency services, public, retail, workplace, food and drink, construction, architects and leisure industries.




LOCKER OPTIONS

Trespa Wooden Lockers, Fully Welded Lockers, Plastic Lockers, POD Lockers, Vision Lockers, Metal & Laminate Lockers, Lockers, Archway Lockers, Bench Seats, Lockers, Firemans Lockers, Hospital Lockers, Personal Effects Lockers, Police Lockers, PPE Lockers, Security Lockers, Sports Lockers, Stainless Steel Lockers, Swimming Pool Lockers, Compartment Lockers, Utility Lockers, Garment / Laundry Lockers, Small Lockers, Postbox Lockers, Golf Lockers, School Lockers, Wood Door Lockers, Wet Area Lockers, Cloakroom Lockers, Wire Mesh Lockers, Locker Accessories, slatted benches and coat hooks and rails.




FINISH steel lockers

All the steel components of First Choice Probe Lockers are epoxy powder coated with Active coat (Active-coat). All plastic components used in the manufacture of Probe lockers incorporate a silver based anti-bacterial agent. First Choice Probe Lockers ACTIVE COAT is Developed in conjunction with DUPONT

First Choice Lockers are designed to provide lockable storage space for staff and pupils. They are suitable for use in almost any type of establishment where clothes need to be changed or possessions need to be kept safe.




FEATURES

Each Probe Locker features an integral air vent system*, a micro sprung disc lock, 5 knuckle hinges, welded front frame & internal door strengtheners*. *Not available on some Lockers due to manufacturing constraints.

QUALITY ASSURANCE

First Choice Probe Lockers are designed and manufactured in the UK, conforming to BS 4680:1996'Standard Duty' (excluding size specification), ISO9001:2000 and Environmental Management System ISO14001:2004 MEETS BS 4680:1996 MEETS BS 4680:1996 MEETS BS 4680:1996

Contact 1st choice lockers for your on line purchasing for lockers & cloakroom requirement.
Related Products and Services