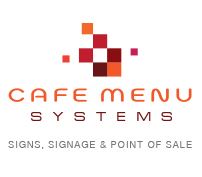 sales

cafemenusystems.co.uk
Phone: 01603 [Reveal]
CHALKBOARDS UK
Reception Sign Systems are an established company, developing and supplying signage, Chalk Boards UK, Chalkboards For Sale and Display Products produced using acrylic and digitally printed vinyl substrates in the UK. Take a look at our website and look at our latest range of products which are aimed at Cafes, Pubs, Restaurants, Bars, Bistros, Delicatessens, Clubs, Canteens, Night Clubs, Hotels, Spas, Gyms, Florists, Hairdressers, Reception Areas, Foyers, Shops and Retail environments... In fact anywhere where you need to display information.

We offer full design and artwork facilities for items which you would like printed – or we can produce from your own artwork files. Everything is comprehensively proofed out to you to ensure you will not be disappointed with any products which involve printing.

Buying from us is easy – you can purchase in-stock items online quickly and simply – or you can talk to us if you require something bespoke or personalised. Our pricing is transparent and the keenest you are likely to find on the internet!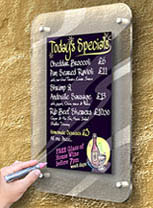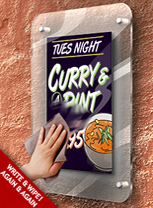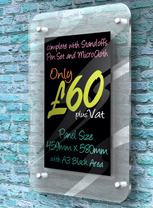 MOUSE OVER IMAGES BELOW TO ZOOM (CLICK TO ENLARGE)
MONOLITH INFORMATION POINT
The Monolith is a Free-Standing Information Point designed for Cafes, Restaurants, Bistros, Bars, Deli's and Fast Food establishments - foyer's, exhibitions or retail businesses wishing to display and change menus and pricing information easily and quickly! It has high impact and presence, with the Acrylic panel appearing to look just like glass.

ACRYLIC PICTURE PANELS
We can also digitally print and mount your pictures onto these cast Acrylic Panels, which not only look great but give you a 'contemporary' option to ordinary frames and canvas block picture mounting. Simply upload your digital file on our site, and once we approve it's suitability and quality for printing the A3 photo panel is printed by us onto vinyl and reverse applied to the rear of the acrylic panel, giving it the protection of the 10mm cast acrylic panel. The look of glass, but with the safety of acrylic.

ACRYLIC WALL MOUNTED EASY ACCESS POSTER / INFO DISPLAY A4/A3
Quality 2 x 3mm thickness Easy Access Pocket A4 supplied complete with 4 x Satin Finish Standoffs.

Simply slide in your printout and create a great looking display. Show your Menu, Information, Photo Display on your wall or Exhibition Panel and quickly update as required.

Supplied Standoffs screw to the wall with supplied screws and hold Acrylic Panel in position with supplied tiny grub screw. Standoffs position the display 15mm off wall and Standoffs are 12mm diameter.

A contemporary and great looking panel at a great price!

CHALKBOARD UK
Our Easywipe Chalk Boards are contemporary and stylish, and come complete with Liquid Chalk Pens and Standoff Wall Fixings. Usually in stock and available to purchase straight-away! Reception Sign Systems offer the best Chalk boards in the UK so click through to our website now and view our full product range to see what we can offer you.

LIQUID CHALK PENS
Visit our website for Liquid Chalk Pens which you can buy online for immediate dispatch. We stock PopArt Wet Wipe pens suitable for internal use and Zig Posterman Waterproof Pens for external use. Our range of pens come in all colours you can think of, if we don't have the colour your require please contact us an we will see if we can acquire it for you.

SNAP FRAMES & TABLE TOP DISPLAY
We always stock A4 Snap Frames and A4 Table Top Acrylic Oval Menu/Information Displays. Great for all kinds of applications and environments at a great price!

STAND OFFS FIXINGS FOR WALLS
We stock two sizes and finishes to suit your budget. Order as few as one set of four stand offs. These are an essential components for most of out sign systems, enabling the display boards to be raised off of the wall and secured in place. They also provide a contemporary look that is in line with all of our associated products.

MONOLITH WEDGE
For printers who can produce their own printed substrates but are looking for a solid, heavy base – these Wedge bases are available to purchase and are usually in stock! They are simplicity to assemble and will take any substrate measuring 600mm wide x up to 15mm width. Ideal for acrylic, mdf or foamex.

LED POSTER/PICTURE DISPLAY FRAMES
This stylish LED edge lit picture frame looks great on walls, and use 30% less energy than traditional technology. The LED panel both lights the A4 centre panel and diffuses light to each of the frame edges, creating an appealing glow to the frame. Your picture, graphic or poster is sandwiched between two panels of acrylic and is simply updated and changed by removing the four supplied stand off wall fixings. 100-240V AC DC, supplied with transformer.

FREESTANDING A4 CATALOGUE DISPENSER
Ideal for exhibitions, foyers, receptions, hotels, hotels, tourist and visitor centres... or anywhere with a requirement to distribute information. A4 brochure display portrait plinth. Clear 3mm polycarbonate display shelf for optimum strength. Silver anodised aluminium leg (50 x 25mm oval). Moulded silver plastic base with internal steel plate for stability Quick and easy assembly. Overall size: 250mm W x 1000mm H x 350mm D.

ILLUMINATED SLIMLOK MENU DISPLAY CASE
A stylish, durable LED illuminated poster display with lockable doors and header. Available in a wide range of standard frame colours. Single or double A4 variations. LED strip along top inside edge. Vandal resistant glazing panels (1.5mm polycarbonate). No need for qualified electrician to install and completely safe.

PREMIUM GRADE CAFE BARRIERS
Our premium grade Adfresco Café Barrier is constructed from polished stainless steel throughout for excellent outdoor performance and high/chip resistance. Fully compliant with Local Authority and Disability Discrimination Act (DDA) requirements. Durable rubber bases allow rolling positioning. Ultimate stability bases. Full printing facility. Amazing pricing on this quality product, you won't be disappointed!

PAVEMENT SIGNAGE & A FRAMES
We stock a range of pavement signage, swing signs, sandwich boards and A-frames for retail and exhibition use. Our A boards are available as frame only or we can supply and fit the graphics/posters for you. Ideal for marketing and advertising new products, special offers and other point of sale applications.

LED EDGE LIT SNAP FRAME
This Edge Lit Snap Frame ticks all the boxes! It's a slimline 25mm deep profile, lit on all four sides, available in A4, A3 and A2 sizes. Differing from more costly frames of a similar nature, which use diffused light across entire panel creating a back-lit panel (which works well, but relies on insertion of a printed item produced on a costly DuoTran or similar), with this frame you get a great effect but by inserting any printed material! Low voltage 12v, economical to run and 50,000hrs life. A very competitively priced item.
Related Products and Services
Acrylic Wall Panels & Standoff Fixings

Chalboard Acrylic Easywipe: FREE Liquid ChalkPens!

Liquid Chalk Pen Set: Wet Wipe

Snap Frames in all sizes: Individually Boxed

Menu Display Case: Slimlok LED Illuminated

Cafe Barrier & Rope Queue Systems

Monolith Style Signage & Wayfinding

Monolith Floor Signage Wedge Base: Coated Steel

Acrylic Menu Holder: Table Top Oval Base

5

stars based on

3

customer reviews
Write a review
By Mike Douglas, Lattitude Agency
Phil at Reception Sign Systems come from a Graphic Design background which we find really helps in communication and what we aspire to achieve with our own clients. Phil's design input and knowledge gives him an edge on our print jobs. It really when the person you are talking too understands our demanding requirements, values us as a client and is willing to go the extra mile.
Was this review useful?


By Martina Roberts, Procurement
I have used this company for the past 2 years and I always know I will receive fast courteous service and advice. We've had no problems on products to date and look forward to working with Reception Sign Systems on future products.
Was this review useful?


By Paul Banks, Design Partnership
We have a working relationship dating back over 15 years. In that time Phil has consistently created original, creative design work for us to tight deadllnes. He is always willing to offer help and advice and is a pleasure to know.
Was this review useful?


Associations
News & PR
Signage & Display Product Brochure
Checkout our NEW Online Signage & Display Brochure. 100 pages of great products to help promote your business at www.cafemenusystems.co.uk
Key Contacts

Mr Phil Tompson
Proprietor
Tel: 01603 432282
Email: sales

cafemenusystems.co.uk
Payment Methods
BACS
Cash
Cheque
Maestro
MasterCard
Paypal
Visa
Visa Debit
Opening Hours
Monday
08:30 to 18:00
Tuesday
08:30 to 18:00
Wednesday
08:30 to 18:00
Thursday
08:30 to 18:00
Friday
08:30 to 18:30
Saturday
Closed
Sunday
Closed