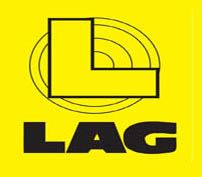 uksales

lagspa.it
Phone: 01293 5 [Reveal]
Fax: 01293 562 388
One of the main European producers of wheels & castors
LAG is a leading castor manufacturer in Italy specialised with production facilities in Modena, Italy. Its well known for its polyurethane wheels and rollers and for the heavy castors and wheels suitable for material handling (e.g. trolleys, dollies, cranes, lifting equipment) applications and OEMs (e.g. trucks, lifts, elevators). A full stainless steel range for the food industry, including high temperature range for the baking sector. (Thermoplastic and High Temperature rubber tyre wheels).

LAG was founded in 1962 to manufacture and market wheels and castors for the medium, heavy and extra-heavy industrial applications.

The production began with rubber tyre wheels: in 1964 LAG introduced in the range polyurethane coated wheels and rollers, that quickly became one of the major products and along the following years the offer has been constantly completed with new types of wheels and castors, suitable to meet most of the different and evolving industrial requirements.
More about us:
LAG's share of the domestic market has gradually increased as top quality and high technology products were developed.

In 1976 LAG began to export, at first to northern Europe and then to the whole of Europe, USA, Central and Southern America, the Far East, Australia and Africa; nowadays export represents approx 65% of our total turnover, to witness our conviction that the whole world is a big potential market.

Today the company comprise two manufacturing divisions: a chemical division, where our own Polyurethane is produced and cast, and a mechanical division, where steel-sheets are pressed, steel and cast-iron hubs are machined. PA6 wheels and rollers are injected. These two self complementing activities make LAG one of the few European manufacturers to have the direct control of the entire production cycle, from raw materials to the finished product.

The activities of the two divisions are co-ordinated and supervised by a skilled and experienced technical department, accustomed to work in close interaction with our clients' counterpart.

Top quality products, "on-time-deliveries", competitive prices from a reliable supplier, together with pre- and post-sales services have been the key to the success in export.

Strict commitment to constancy in quality has enables LAG to obtain its certification according to the ISO 9001-2000, thus offering a further guarantee of reliability to all its
customers.

                   You can find our full range in the RS Components catalogue
www.lagspa.it
Related Products and Services