Businessmagnet Apps
Browse the UK's ultimate B2B directory

on the move, store contacts, email suppliers quickly, all from any device with an internet connection
more info
Activity Feed
Business Gifts Supplier
Place pointer

here

to reveal number
We all know the saying "you never get a second chance to make a first impression". This has never been more true than when presenting corporate gifts. The type and quality of items you present, and the customisation of them, reflect directly on your company or brand. A prestigious, high perceived value gift will make an instant impact. And with the addition of an engraved logo or company name along with your message, your gesture will be remembered for years to come. So don't take chances with your corporate gift giving. When only the very best will do, turn to Uppermost.

Uppermost Business Gifts has been supplying and engraving fine quality corporate gifts since 1981. We have been online with our website Business-Gifts-Supplier since 2002. In this time we have earned a deserved reputation for the high quality of our products, the value-for-money of our offering, and the personal service provided by our account managers.

But don't take our word for it! Just take a look at some of the clients we have worked with over the past three decades: these include BP, ConocoPhillips, Duport, Elsevier, Goldman Sachs, HSBC, Lloyds TSB, Morgan Stanley, Nationwide Building Society, Panasonic, Rolls-Royce, Scottish & Newcastle Breweries, Thomas Cook, Unilever, Willmot Dixon and Yahoo! Europe.

The sections below showcase some of the products in our collection. All are offered with free text and logo engraving along with low, fixed price UK delivery. And there's more! We're giving all Business Magnet users a 10% discount on any order placed on our Business Gifts Supplier website. To get your discount, simply enter the following code into the coupon code box during checkout: busmag. For further information about these products, or to view our full corporate gifts collection, please contact us or visit our website using the details above.
Business Card Holders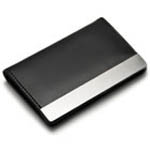 A business card case says a lot about a person - their professional approach and attention to detail, their respect for the cards that they receive in meetings, and their perfectionism to ensure that their own cards are always crisp and pristine when presented. Add to this a brand logo or company name engraved neatly on the silver business card holders, and it all adds up to a very positive impression when meeting new clients, customers, prospects or other contacts. Our collection of pocket business card cases includes 21 different models, mostly silver plated but also some real leather card holders too. All are ideal for engraving with a corporate logo, company name, or marketing message.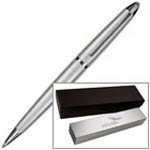 Corporate Pens
What does your pen say about you? Cheap, cheerful and disposable? Or a finely crafted writing instrument for someone who takes their work seriously? When it comes to presenting a pen as a corporate gift or award, the quality of the pen is paramount in symbolising the esteem and respect you have for the recipient. A weighty, sterling silver or silver plated pen, combined with a stylish presentation case, will make a lasting impression every time. Our collection of corporate pens includes ballpoint pens, rollerball pens and fountain pens. We offer prestige writing instruments from Lalex 1938 along with designer corporate pens from Cerruti 1881, Lanvin and Jean-Louis Scherrer. And we offer a range of affordable silver plated pens, all supplied with free engraving and bulk order discounts.
Desk Accessories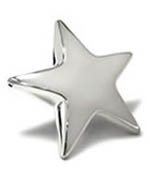 Desk accessories are a tried and tested way of keeping your company or brand in front of key suppliers, partners, clients or customers. By adding your name or logo to a mouse mat, memo pad holder, pen stand, letter opener or any one of dozens of desk accessory products, you can ensure that your corporate identity is seen every time the recipient sits down to work. But their popularity is also their problem. With so many companies giving out desk accessories as promotional products, how do you make yours stand out and ensure that the recipient will keep it on their desk or workspace? One sure-fire way is to always go for quality. Who wouldn't want to keep a gleaming, silver plated, engraved desk accessory instead of a cheap colourful printed plastic one? Add to this the fact that the quality of your corporate gift says everything about the quality of your own company or brand, and its clear to see why our selection of silver plated calculators, desk clocks, letter openers, magnifiers, memo pad holders, pen stands and other stationery items are always popular as corporate gifts.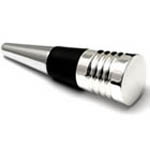 Bar Accessories
From bottle stoppers to coasters, cocktail shakers to corkscrews, a quality bar accessory is certain to get your company or brand remembered every time a drink is poured. Bar accessories make ideal corporate gifts for clients or suppliers that you know well, as they are sure to appreciate the practicality - as well as the quality - of your gift. A silver plated bar accessory is also perfect for employee awards or incentives (again, provided you know your team well), and they make outstanding branded merchandise items for the catering and hospitality sectors. Browse our selection of silver wine bottle and bar accessories, and order online to gain bulk order discounts, free text and logo engraving, and low fixed price UK delivery.
Presentation Gift Sets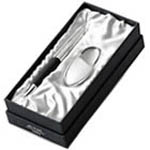 The success of a corporate gift often depends on the impression it leaves with the recipient. Presentation is everything. So it comes as no surprise to us that boxed presentation gift sets are among the most popular products in our range. They tick all the right boxes (pun intended). They have the wow factor when being presented, they carry a real element of prestige, and the contents are as practical as they are stylish. This means they are likely to be used for years to come, thereby keeping your name associated with a cherished gift. Our presentation gift sets include a series of Swarovski Crystal inspired gifts, including sets with ballpoint pens decorated completely with Swarovski crystal studs. For a corporate gift set that leaves a last impression, take a look at our presentation gift sets.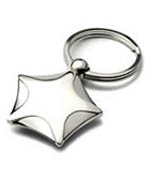 Key Rings & Key Fobs
As a corporate or promotional gift, the humble keying is a tried and tested winner when it comes to keeping your name in front of mind of key customers and clients, suppliers, partners or prospects. But when you have a luxury brand or upmarket image to keep, what better way to promote it than with a fine quality silver plated key ring. Nothing beats that feeling of pure quality that a silver plated finish gives. Our collection of key rings and key fobs runs to 26 different styles, including torch keyrings, calculator keyrings, bottle opener keyrings and keyrings shaped as hearts and stars.
Tankards & Hip Flasks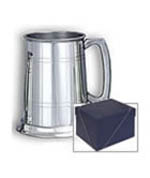 Every salesman will tell you, get your prospect to smile and you're halfway to the sale. So what better way to get your name or brand associated with good times and happy memories than to have it engraved on a pewter tankard or hipflask. Every time your prospect enjoys a drink, they see your name! Our selection of pewter tankards and hip flasks is hugely popular as branded corporate gifts to be presented by sponsors at sports events and competitions, or to be given individually for instance as employee awards. They are appreciated by both male and female recipients and represent a stylish and practical gift or award item. We offer a selection of classic English pewter and silver plated tankards and hip flasks as well as golf theme flasks that are perfect for corporate golf gifts or golfing awards.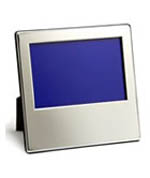 Photo Frames
When the champagne bottles are cleared, and the tuxedos returned to the wardrobe, what better way to reward the winners and participants of your corporate awards ceremony than with a magnificent silver plated photo frame, engraved with details of the occasion and to be used for photographs of the night? Custom engraved photo frames are ideal for commemorating a wide range of corporate events and achievements, from awards ceremonies to golf days to conferences and product launches. Our selection of silver photo frames includes classic single and double frames in a variety of print sizes, as well as stylish curved frames and folding travel frames.
Products and Services
Payment Type
These are the payment types we accept
Payment Terms
Our payment terms