Businessmagnet Apps
Browse the UK's ultimate B2B directory

on the move, store contacts, email suppliers quickly, all from any device with an internet connection
more info
Activity Feed
Stormcut Ltd
Place pointer

here

to reveal number

Specialising in the engraving & and cut-out requirements of the electrical and electronic trades. These would include 1 and 2 gang switches, dash panels, sockets, blanks, control panels, floor-box plates, infra-red remote control facia, stencils and rack mount equipment plates etc.
In addition to working in aluminium, brass, and laminated plastics, I make signs and dash panels in metal and boards such as company logos, engraved in relief.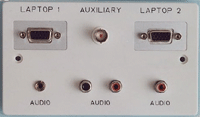 Switch plates

Socket plates

Control panels and plates

Rack-Mount plates

Floor plates

Infra-red remotes

Company logos

Stencils

Templates
1G &2G PLATES
Engrave switch and socket plates.

Engrave blanks plus cut-outs for components and connectors e.g as in R.S. catalogues, etc or as supplied by customer.

Make plates in 2mm satin anodised aluminium with cut-outs and engraving, these plates are a good imitation of available 1G and 2G aluminium, but lack the outside chamfer.
CONTROL PANELS & MISCELLANEOUS PLATES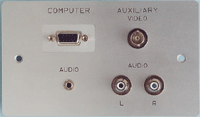 Make plates, engraved and cut-outs to customer specifications in most materials 1, 2 & 3mm satin anodised aluminium, most plastics, perspex etc.
RACK-MOUNT PLATES
Make standard 1U, 2U, 3U, 4U etc. Rack-mount plates, engrave and component cut-outs. Profile cut-outs of customer equipment, e.g. Video-recorders, tuners, amplifiers etc. Maximum 24U.
FLOOR PLATES
Profiled floor-plates made to fit any floorbox as specified by customer. Engraved and cut-outs. Satin aluminium usually looks better than the original.
INFRA-RED REMOTE HAND CONTROLS
Facia and header plates engraved and cut-out to customer specification, normally in black on white 0.9mm micromatt plastic.
TEMPLATES
Templates made for repeat pattern cutting in M.D.F. aluminium, plastics etc.
Products and Services
Payment Type
These are the payment types we accept
Payment Terms
Our payment terms