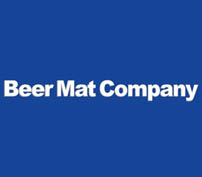 info

beermatcompany.co.uk
Phone: 0161 4 [Reveal]
Fax: 0871 264 3439
Welcome to The Beer Mat Company - Beer Mats & Printed Beer Mats

The Beer Mat Company, founded in 2004, is one of UK's leading specialist printers of Beer Mats, Drip Mats and Bar Runners and we enjoy an unrivalled reputation for outstanding value and reliable service second to none.

By visiting our website, you can see samples of our work, get instant prices and learn all you need to know to about Beer Mats, undoubtedly the most cost effective form of promotional advertising ever devised.
 
For more than a century used extensively by the beer- and beverage industry, many other businesses have now realized the enormous marketing potential of printed Beer Mats, as advertising medium and are using Beer Mats with ever increasing success.....

Our standard sizes are 90 mm. square (with radius corners) and diameter 95 mm. Using the very best super absorbent pulp board enables us to produce the highest print quality, especially important when it comes to printing four colour process.
Our minimum order starts at just 25 beer mats
Environment
Our pulp board is made from 25% recycled paper and 75% natural Pulp board, derived from sustained, carefully managed forests. For every tree harvested another three trees are planted, thus increasing the 'Earth's Lungs' and becoming a natural habitat for all kinds of wildlife, birds and fauna. We deliver world wide
Trees are harvested at about 20 years and their bark removed to be used as compost or chippings for garden ground cover. The remaining white wood is mixed with recycled material, pulped with water and then 'fluffed' (adding air to increase absorbency) before being rolled through chromed rollers to be made into Beer Mat Board, itself which is 100% recyclable after use!
Click through to our website for more information on Beer Mats
Related Products and Services