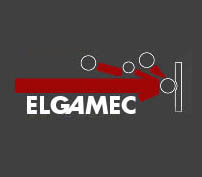 paula

elgamec.co.uk
Phone: 01252 5 [Reveal]
Fax: 01252 541 331
Bead Blasting Services | Metal Surface Finishing Services
Welcome to Elgamec we specialise in providing a range of finishes for metals; Bead Blasting Services, Grit Blasting, Shot Peening and Metal Surface Finishing Services are our specialities. We are focused and dedicated on quality and have been trusted in major projects like the Thrust SSC Land Speed Record project.
Elgamec have been independently certified to the ISO 9001:2008 standard to prove that our services are of the highest quality.
We have years of experience in the shot & bead blasting industry and have worked with a broad range of different companies from architectural components to exhibition displays. Elgamec can process a wide size range from tiny instrument components in hand cabinets, to large fabrications in our 15ft x 7ft x 7ft rooms.
Bead Blasting Services

This is a finishing treatment for metal surfaces, this process requires round beads of glass to be driven through the air towards the surface of the metal. A specially designed bead blasting nozzle is required for this process.

Bead Blasting Services result in a bright, satin, clean finish on complex shapes, this process is one of the most aesthetically pleasing available.

Metal Surface Finishing Services

Metal Surface Finishing Services are processes used for the surface finishing of metal products and objects. As an application it can be used on a variety of components like radiators, automotive parts, Garden Gates and much more...

Metal Surface Finishing Services are used after the coating, painting & repair, it ensures the substrate is given a perfect finish.

Other services offered by ELGAMEC

Alumina Blasting

Shot Peening

Window & Glass Etching

Glass Bead Peening

Surface Bond Preparation

Grit Blasting

Vapour Blasting
Image Showcase (mouse over images to enlarge)
For more information on Bead Blasting Services, Metal Surface Finishing Services or any of the other services we offer, please visit our website or contact us via phone or email. We will be happy to help in any way possible and look forward to hearing from you.
www.elgamec.com
Related Products and Services
Shot Peening

Food Industry seive

Motor Cycle Parts

Food industries

Shot peening

Bead Blasting

Filters

Bead blasting

Pinion Gears

0

stars based on

0

customer reviews
Write a review
Associations
News & PR
What is Sandblasting?
Elgamec Limited is one of the leading bussiness in the uk for all your metal finishing requirements. Please contact us on 01252 518177 for further information
Key Contacts

Mr Nigel Clinch
Director
Tel: 01252518177
Email: nigel

elgamec.com

Mrs Paula Clinch
Director
Tel: 01252 518177
Email: paula

elgamec.com
Payment Methods
BACS
Cash
Cheque
Delta
Maestro
MasterCard
Solo
Switch
Visa
Visa Debit
Opening Hours
Monday
08:00 to 17:00
Tuesday
08:00 to 17:00
Wednesday
08:00 to 17:00
Thursday
08:00 to 17:00
Friday
08:00 to 16:00
Saturday
Closed
Sunday
Closed