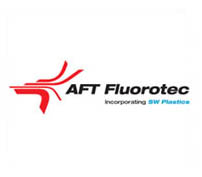 info

fluorotec.com
Phone: 01992 [Reveal]
Fax: 01992 554490
Welcome to AFT Fluorotec
You have reached AFT Fluorotec we are a specialist processor of PEEK and PTFE materials, we also use engineering plastics to manufacture complex precision machined components. Our experience within the industry is extensive, our team are all skilled professionals and the best in the country.
AFT offers a range of compression moulded PTFE tube in virgin PTFE and has developed its own "AF" range of filled PTFE compounds, with in-house moulding capability up to 1000mm diameter. All materials are fully certified and tested.
We have been producing high quality products for over 25 years & are continually investing in processing technologies to stay ahead of the field. AFT Fluorotec have 2 manufacturing facilities in the Hertford and Kent, UK.
We manufacture a wide range of PTFE and PEEK products that can help a wide range of industries including;
Aerospace
Construction
Medical

Military
Offshore
Oil & Gas

Pharmaceutical & Scientific
Semiconductor
Sports & Leisure

Transportation & Automotive
Valves & Instrumentation
Water & Environment
Why Choose AFT Fluorotec?

High Quality, Reliable Products, Delivered on Time


First Class Customer Service


Technical Assistance on Material Selection


Rapid Response to Enquiries


No Nonsense Approach
Please visit our website to find out more or contact a member of our team now!
www.fluorotec.com
Related Products and Services