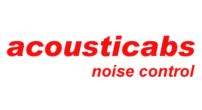 info

acousticabs.com
Phone: 01759 [Reveal]
Fax: 01759 305268
Acoustic Barrier Panels | Noise Control Panels
Acousticabs Noise Control, established in 1982, provides solutions for Industrial, Environmental, and Building acoustics. We have developed this focus with a broad range of products complemented by innovative designs for special applications. Our broad range of products and solutions includes:
Acoustic Barrier Panels

Acoustic wall panel treatments in schools, offices and sports halls reducing reverberation times.

Impact resistant Acoustic Barrier Panels are used in sports halls whilst acoustic wall panel treatments in other areas can take the form of fabric faced, painted or stretch fabric acoustic wall panels and treatments.

Acoustic Screens

Acoustic s+B23creens constructed from our SPS/V panels or APP system to enclose plant and machinery. Acoustic Screens can be installed internally or externally. The acoustic screens are frequently installed at roof level around HVAC equipment. Large acoustic screens are constructed from our profiled APP system. Mobile acoustic screens are available for temporary screening of noisy processes.

Acoustic Enclosures

Acoustic enclosures for large and small machinery. Acoustic enclosures constructed to create control cabins - fitted with glazing, electrics and aircon - delivered to site as a ready to use, plug in unit.

Demountable panels incorporated in acoustic enclosures allow ease of maintenance access.

Acoustic Baffles

Suspended acoustic baffles and floating acoustic panels. Acoustic baffles are available in a wide range of finishes and colours.

High pressure cleanable perforated aluminium faced acoustic baffles supplied for industrial areas.
The above is only a brief description of the range of our products.

For further information please visit our website www.acousticabs.com / phone 01759 305266 / email info@acousticabs.com
Please visit our website for more information
Related Products and Services